From Candy Striper to Critical Care Nurse Educator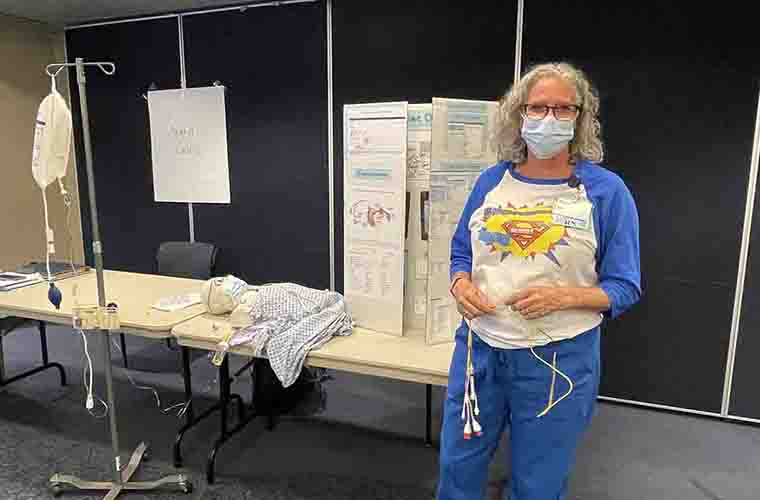 Diane Miller is known as an outside-the-box thinker, and she brings that quality to teaching now.
Diane Miller's relationship with BayCare goes back a long way. Her family moved to Clearwater from Fort Wayne, Ind., in 1972. Her dad worked for Honeywell and helped develop the mainframe computer at Morton Plant Hospital. As a little girl, Miller often played in the basement at the hospital.
Around age 14, she became a candy striper at Morton Plant, proudly wearing the trademark pink-and-white apron over a white dress. She pushed a cart with chocolate candy, magazines and stuffed animals around from floor to floor, passed out water to the patients, brought linens to the rooms. It was fun.
Little did she know she one day would have a career there as a nurse, that her career would blossom and that, eventually, she would become an educator training the next generation of nurses. But that's the BayCare way.
"Diane is a testament to what BayCare can do,'' said Ann Skilton, manager of nursing development and practice for the West Region. "She has grown from a nursing assistant to a bedside nurse to an educator through various opportunities and experiences at BayCare.''
Inspired by her older sister who died of cancer at age 15, Miller knew she wanted to be in the medical field. She studied clinical dietetics at Florida State University with a second degree in food service administration. She soon realized her heart wasn't in it. Her mom, a registered nurse, suggested she get a job as a certified nursing assistant (CNA) at a skilled nursing facility and if she liked it, go into nursing.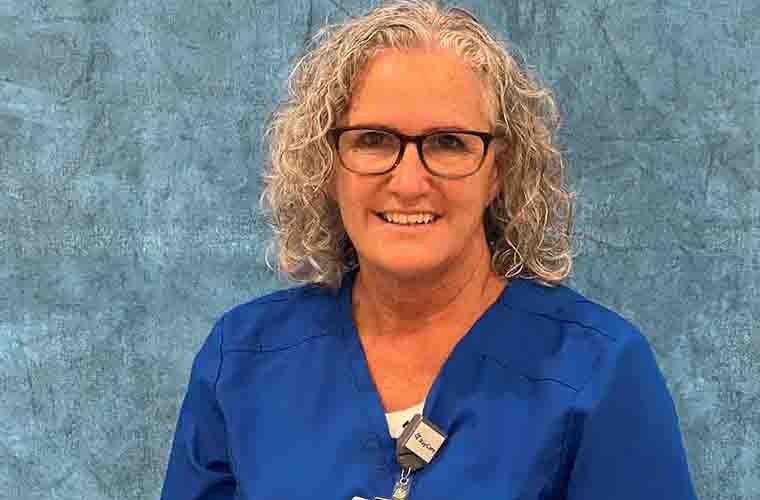 Diane Miller is a critical care educator at Mease Countryside Hospital.
Miller fell in love with it. Soon thereafter, in 1993, she became a CNA at the Madonna Ptak Morton Plant Rehabilitation Center. From there, she advanced through many departments and roles at Morton
Plant and received multiple degrees, from a licensed practical nurse certificate to an associate of science in nursing degree to a bachelor of science in nursing, with BayCare helping to finance her education every step of the way.
She moved to Mease Dunedin Hospital's telemetry and intensive care unit for six years but came back to work on Morton Plant's open-heart unit in 2012, and that's where her career really flourished.
Miller caught the eye of Jennifer Lain, nursing professional development practitioner.
"Her quest for quality in patient care stood out,'' Lain said, "She was always wondering if we could do something a better way, and she would research it and show me the articles she read. She was very inquisitive.''
Miller learned the specialty of cardiac surgery inside and out. She developed a reputation as an outside-the-box thinker. She was an excellent preceptor and brought a can-do spirit to work every day.
Lain encouraged her to get her master's degree and told her she needed to be an educator.
"Her natural affinity is educating,'' Lain said. "She helped teach and develop material in the open-heart internship and liked it. People gravitate toward her.''
Miller began to see herself in the role of an educator. She had "seen it all'' in her career with BayCare, she said, and wanted to share her knowledge and experience with upcoming professionals.
In 2019, an opportunity presented itself and she moved from Morton Plant to Mease Countryside Hospital to become a critical care nurse educator. Diane is assigned to the critical care unit, nursing administration, the cath lab and hemodialysis and is responsible for around 150 team members.
She on-boards new team members, sets the expectations, gives them a tour and assigns any education they still might need. Educators are responsible for the professional development of team members and making sure they can prove their competency to regulatory agencies.Miller also teaches at skills fairs and runs drills as part of the quarterly critical care internship program.
All told, there are nearly 120 educators across BayCare, like Miller, passing on their knowledge and making sure the next generation of nurses is as prepared as possible to serve BayCare's patients.
"The educators are vital – it's everything,'' said Kelly Smith, clinical nurse III on the critical care unit at Mease Countryside. "It absolutely makes you feel more prepared and more confident. It's for the benefit of the nurses and patients as well.''
Miller said Lain has been the biggest influence on her career. Now, after 27 years with BayCare, it's her time to help influence others.
"I find it exciting because I see people getting the chance and opportunities that I was afforded by Morton Plant and BayCare,'' she said. "I think this is an extraordinary gift that BayCare gives to the community. I consider myself a very small part of this process as a way to 'pay it back,' whether it's serving as a role model, providing advice or facilitating learning opportunities.''
It's the BayCare way.