BayCare Team Members Deployed to Southwest Florida After Hurricane Ian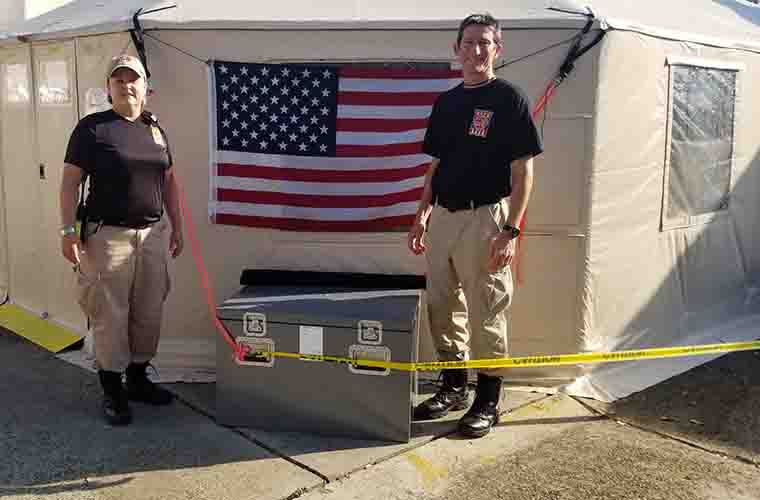 Patty Cravey and Jack Kilkelly
Many Floridians, familiar with hurricanes and their aftermath, know that the National Guard can be deployed to assist in disasters. But a lesser-known program is the Disaster Medical Assistance Teams (DMAT) that the federal government also deploys to help communities recover. Two BayCare team members, Patty Cravey and Jack Kilkelly, were among those deployed just south of Tampa Bay in a heavily impacted area after Hurricane Ian.

When Hurricane Ian weakened and left the area during the late morning of Sept. 29, it meant an eventual reset and return to normalcy for most living in Tampa Bay.

For Cravey and Kilkelly, that return to normalcy was abruptly interrupted by a call to service. They were deployed to Sarasota Memorial Hospital-Venice to provide disaster medical assistance in that affected area. Cravey, a registered nurse and emergency preparedness coordinator at St. Joseph's Hospital-North in Lutz and St. Joseph's Hospital-South in Riverview, and Kilkelly, a BayCare nurse educator and trainer, are members of DMAT of the federal government's Administration for Strategic Preparedness & Response (ASPR). ASPR is part of the U.S. Department of Health and Human Services (HHS). Cravey and Kilkelly were in Venice from Oct. 7 to Oct. 19.

DMAT provides rapid-response medical care when public health and medical emergencies overwhelm state, local, tribal or territorial resources. In the aftermath of natural and technological disasters, terrorism acts and during disease outbreaks, DMAT members are on location performing a variety of roles including patient triage and movement, general and emergency care and hospital decompression. Hospital decompression provides medical care within a hospital that has limited staff or is otherwise unable to provide adequate care to the number of people needing medical attention.

The Sarasota Memorial Hospital-Venice DMAT site consisted of medical tents outside the hospital's emergency department, reminiscent of the long-running M*A*S*H television series of the 1970s and '80s.

Cravey was the site's chief administrator, overseeing the site and acting as a liaison with the hospital's leadership, nurses and emergency department. She was responsible for the transporting and transfer of patients, helping to take pressure off the hospital's ER and functioned as the lead administrator for the DMAT operation.
Kilkelly worked as a nurse, caring for patients in the emergency tents. He worked in the tents with doctors, other nurses, pharmacists, respiratory therapists, paramedics and a full complement of emergency department staff.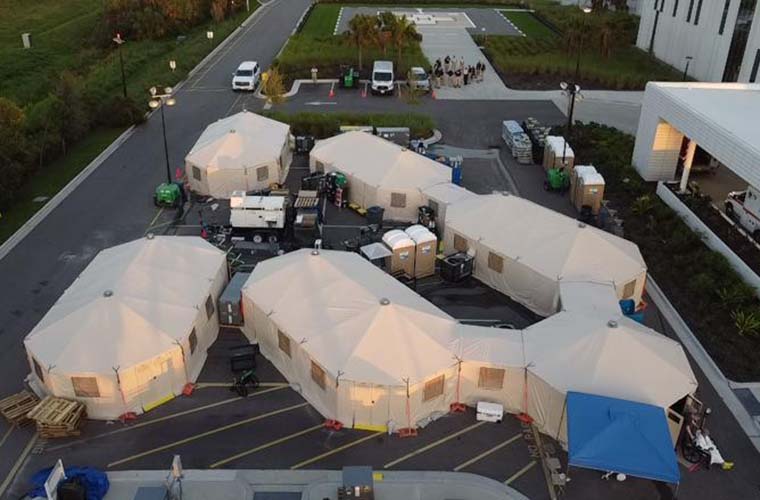 DMAT base of operations at Sarasota Memorial Hospital-Venice.
They were among 51 DMAT members deployed in Venice, according to Peter Cassell, an HHS public information officer (PIO) who was at the Venice site for some of the time with Cravey and Kilkelly. A total of 350 DMAT members were deployed in all of Southwest Florida, Cassell said.
Cravey reported that DMAT treated 646 patients in Venice during her and Kilkelly's deployment.
Kilkelly said the type of patients they saw was similar to the typical emergency department, including people with heart problems, pulmonary embolisms and fractures. He said they did they see some storm-related injuries, such as people who suffered cuts or lacerations while removing and clearing fallen debris.
"We saw what is typically presented to an emergency department but they couldn't handle because they were overloaded," he said.
Cravey said the DMAT tents took 30 to 48 percent of the hospital's 24-hour emergency department volume.
"The hospital's ER was seeing three times its normal volume," she said. "We were there to take that pressure off them. Everything was closed - doctor's offices, urgent cares, pharmacies."
Cravey has been a DMAT member since 2006 and Kilkelly since 2014. Both were deployed most recently out of the area during the COVID-19 pandemic. While serving on DMAT, they are considered "intermittent federal employees" and are compensated by the federal government for their deployment. Their leave from BayCare jobs is to similar to others leaving jobs to serve in the National Guard. Their leave falls under the guidance of the Uniformed Services Employment and Reemployment Rights Act (USERRA), which involves civilian employees leaving their jobs temporarily to provide aid during natural disasters or for military service.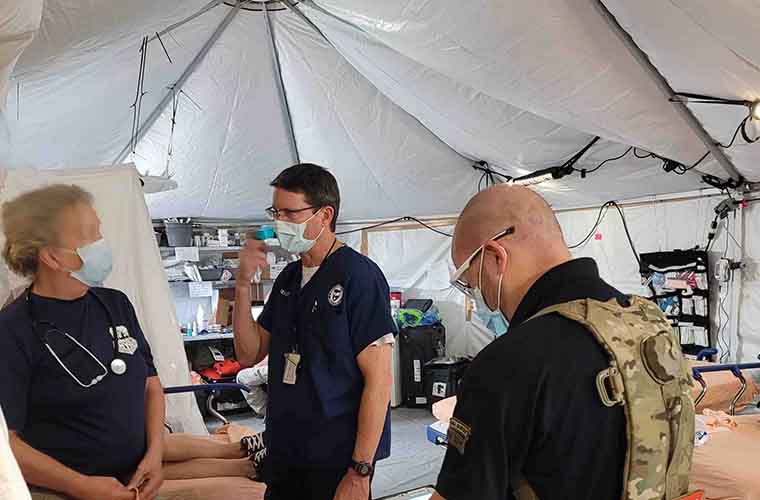 Jack with teammates in a DMAT tent.
While in Venice, they worked 12-hour shifts, 7 a.m. to 7 p.m., for 15 consecutive days. There were no days off. When off-duty, they were housed in tents about a mile from the medical site. They slept on cots and were fed with hospital cafeteria food, military MREs (meals ready to eat) and food donated by community supporters. One comfort was that the sleeping and medical tents were air-conditioned. They were transported back and forth each day from their sleeping tents to the medical encampment.
Cravey said the profile of a DMAT member is similar to those who go on mission trips or serve in the Peace Corps.
"You have to learn and know and have the skillset to adapt and live in an austere environment," said Cravey, who's been with BayCare 30 years, including working in the pediatric emergency center at St. Joseph's Children's Hospital. "It takes a desire to serve, work long hours in a unique and challenging emergency care and critical care environment."
"I feel privileged to do it," said Kilkelly, who's been with BayCare for 20 years including being a St. Joseph's Hospital paramedic and Mease Dunedin Hospital ICU nurse. "It is satisfying, you are helping people who really need it. They genuinely appreciate it. They may not have running water, or their roof was ripped off. They're treated, they feel better, and they come back two or three days later and thank us. They may have lost their jobs, cars and houses and they're coming back thanking us and bringing us lemonade or something else. I actually think I should be thanking them for the opportunity."
Cravey said this deployment was unusual because it was so close, only two hours south of Tampa Bay. She's been deployed eight times in her DMAT career, including to Puerto Rico, Texas and Louisiana. The close proximity was ironic to her. As chief of the DMAT site in Venice, she was informed of patients transferred to other hospitals outside the Venice area, including to BayCare hospitals.
"I thought, that's interesting, that means the health system here is being saturated and overwhelmed," she said. "They're having to transfer admissions to some of our (BayCare) hospitals. It was comforting for me to know that. I thought, 'We've got this.' I considered this deployment unique on many levels - the fact that we were so close to home and able to help our partners to the south."
"NDMS (National Disaster Medical System) responders are everyday superheroes," said Cassell, the HHS PIO. "They come from their local community and set their entire life aside to deploy on behalf of their country to serve in communities most impacted by a disaster."