BayCare Memory Services Guide Couple Through Alzheimer's Diagnosis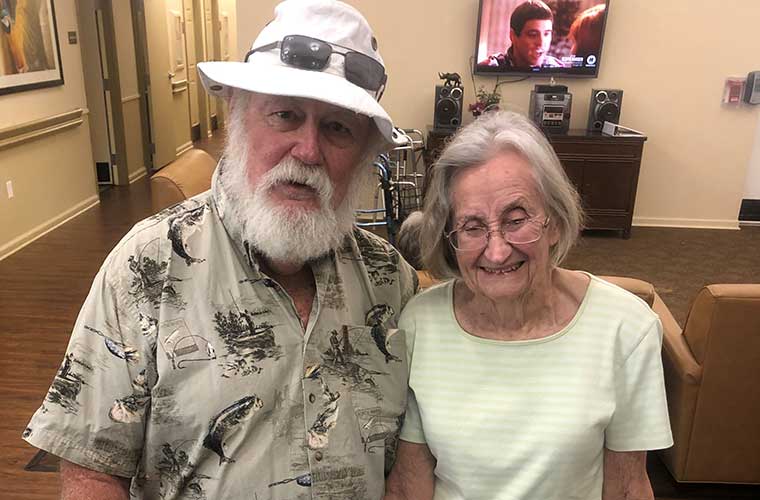 Peter and Judy Laz celebrate their 50th wedding anniversary in 2019 at the memory care facility where Judy now resides. Peter said putting Judy in the facility was the hardest thing he's ever done.
During more than 50 years of marriage, a couple definitely gets to know each other. So it was with Peter and Judy Laz of Redington Shores in Pinellas County. They enjoyed each other's company, spending time with their family and their individual hobbies.

But over time, Peter began to notice little changes in his wife. "Her memory loss was very gradual – just little things that were lost or forgotten," he said. "If you talked with her, she was quite lovely. But after five minutes, you would notice that she was starting to repeat herself."

In the fall of 2010, Judy was tested by her neurologist. "She didn't do well," Peter said. It was then that his greatest fear was realized – Judy was diagnosed with Alzheimer's disease.

"My reaction to her Alzheimer's diagnosis was that it validated my observations," he said. "I don't think our family initially believed the diagnosis. But as time passed, they realized it was correct."

Judy Laz is one of the more than 6 million Americans who are living with Alzheimer's, according to the Alzheimer's Association (ALZ.org). By 2050, the organization says that number will more than double to about 13 million.

Through the Madonna Ptak Center for Alzheimer's Research and Memory Disorders Clinic at Morton Plant Hospital, Peter has been able to get care for Judy, helpful advice and support. November is Alzheimer's Disease Awareness Month.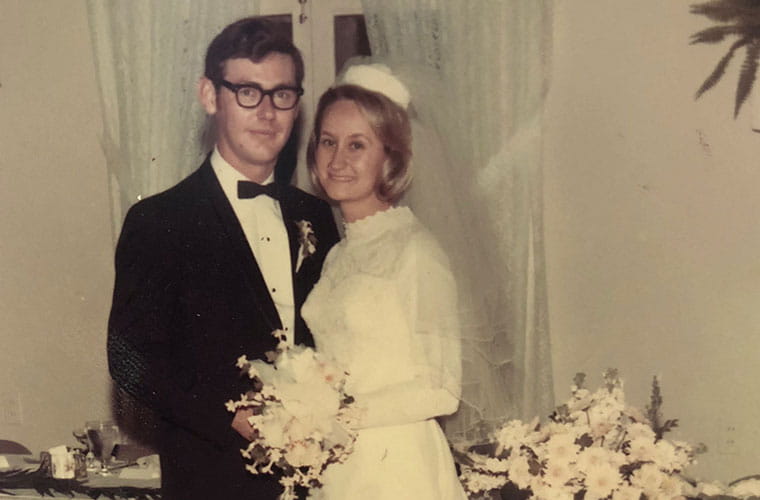 Peter and Judy Laz on their wedding day in April 1969. There was a lifetime to share filled with raising a family, building careers and enjoying their own hobbies.
The Lazes' journey started in New York when Peter's family moved to Long Island. They were high school sweethearts – Peter took Judy to his prom. They married in 1969. They settled in Greenport, N.Y., and raised three children – two sons and their daughter who was adopted from Korea.

They both earned their livings as teachers. Judy taught kindergarten, first and second grades for 35 years. Peter was a high school biology and marine science teacher for 37 years.

"In her spare time, Judy loved to bake wonderful desserts. She also did needlepoint and crewel," he said. "I like to ride my motorcycle and skeet and trap shoot. I'm still an active SCUBA diver in the Caribbean."

After Judy was diagnosed with Alzheimer's, Peter began caring for her, both in Greenport and during winters at their beach condo in Redington Shores. According to the Alzheimer's Association, more than 11 million Americans provide unpaid care for people with Alzheimer's or other dementias.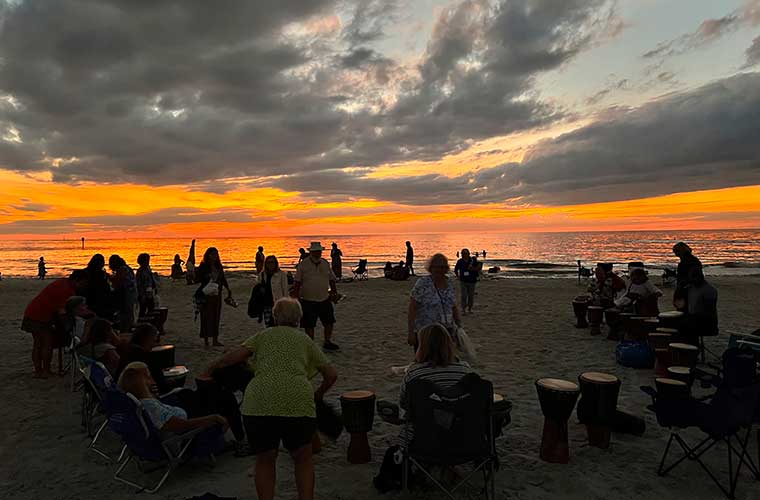 The Madonna Ptak Center for Alzheimer's Research and Memory Disorders Clinic at Morton Plant Hospital and the Memory Disorders Center at St. Anthony's Hospital recently hosted 23 caregivers for a weekend Caregiver Wellness Retreat on Clearwater Beach. Caregivers enjoyed support groups, beach yoga and walks, team building exercises, massages and a sunset drum circle. The retreat is one of the many services the centers offer for caregivers.
He tried to care for her himself but found it overwhelming. While in Greenport, she would attend a town-sponsored adult daycare. When they were in Florida, she would go to an adult care facility in Seminole each day.

While in Redington Shores, he found Celisa Bonner and the Ptak Center through the Alzheimer's Association website. Bonner is the center's coordinator. The center started in 2004 and serves Pasco and Pinellas counties. Patients receive a comprehensive diagnostic evaluation. They see a neurologist, neuropsychologist and master's level social workers.

Bonner met the Lazes 10 years ago when Peter began attending the caregiver support groups. "One piece of advice that Pete always shares with others that he learned from the group was to meet with an elder law attorney to get your Advanced Directives in order and to get them to look at your finances to help plan for the future," Bonner said. "He also learned to give himself permission that it's okay if you need help or know what your limits are in caregiving."

Learn more about the BayCare's memory disorders services

In addition to the Ptak Clinic, there also is a Memory Disorders Center at St. Anthony's Hospital. "Since 2014, we have offered family consultations in which we assist with planning for the future, resources and education," said Kim Saberi, the center's coordinator. "We offer memory screenings, caregiver support groups, caregiver wellness retreats and wellness events for patients and their loved ones at no charge."

In 2018, the couple made the permanent move to Redington Shores. "I put Judy into a full-time memory care facility," Peter said. "It was one of the toughest things I've ever had to do. But I not only did it for her – I did it for me. I was her only caregiver every hour of every day. I was running out of energy, and then patience. Finally, I felt myself getting angry and that wasn't fair to either one of us."

Peter says that it's important for caregivers to take care of themselves while caring for their loved ones.

"I would advise caregivers not to wait to send loved ones to adult daycare and memory care so that they can take advantage of all the wonderful activities that are offered," he said. "I still go to the support group to pay back by helping people just starting on the Alzheimer's journey. The Camp Caregiver Weekend was great fun. Meeting people with a common problem and sharing solutions was a great learning experience."

"Caregivers need to make sure to take care of themselves, too," Bonner said. "Too often everyone is only focused on the patient. … Without self-care you cannot be the best caregiver."

Bonner and Saberi said early intervention and education is key. "Don't hesitate to get the testing for loved ones," Saberi said. "Schedule a free memory screening today. The earlier you intervene, the more that can be done."

"When I cleaned out Judy's car to be sold, I found notes in the center console with directions on how to get to her friend's house, the grocery store and the mall," Peter said. "Look for the signs and get help. And remember, you're not alone."