St. Joseph's Hospital-North Offers Innovative Procedure for Coronary Artery Disease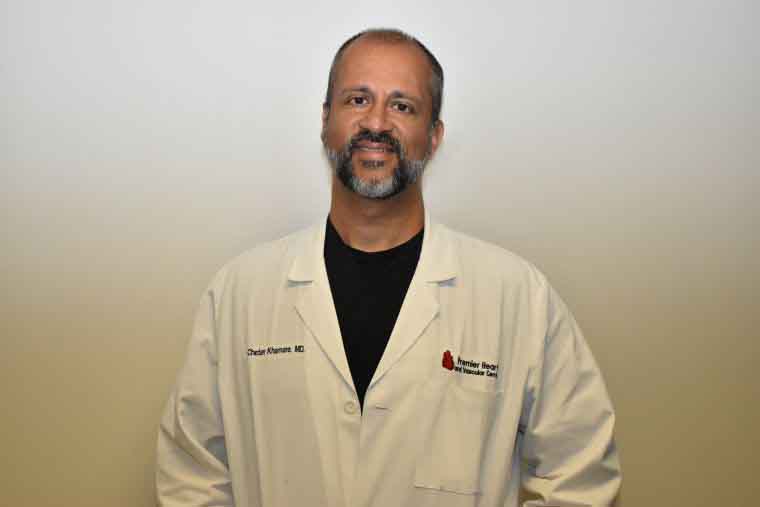 LUTZ, Fla. (May 3, 2022) – St. Joseph's Hospital-North in Lutz is performing Shockwave Intravascular Lithotripsy (IVL), an innovative minimally invasive procedure for coronary artery disease. Coronary artery disease is a leading cause of death in the United States. Shockwave lithotripsy, approved by the Food and Drug Administration in 2021, uses ultrasonic pressure waves to break up calcium build-up in heart arteries. The procedure may eliminate the need for open heart surgery in some cases.

Candidates for shockwave lithotripsy may have a significant narrowing of the heart or substantial heart muscle weakness.

As people with coronary artery disease get older and the disease advances, calcium in the arteries hardens and restricts blood flow. This makes it difficult to install stents, tiny metal scaffolds that can open blocked arteries.

"With this (shockwave lithotripsy), the artery becomes less hard and plaque is softened so you can place a stent," said Dr. Chetan Khamare, a cardiologist at St. Joseph's Hospital-North. Dr. Khamare performed the first shockwave lithotripsy at the Lutz hospital.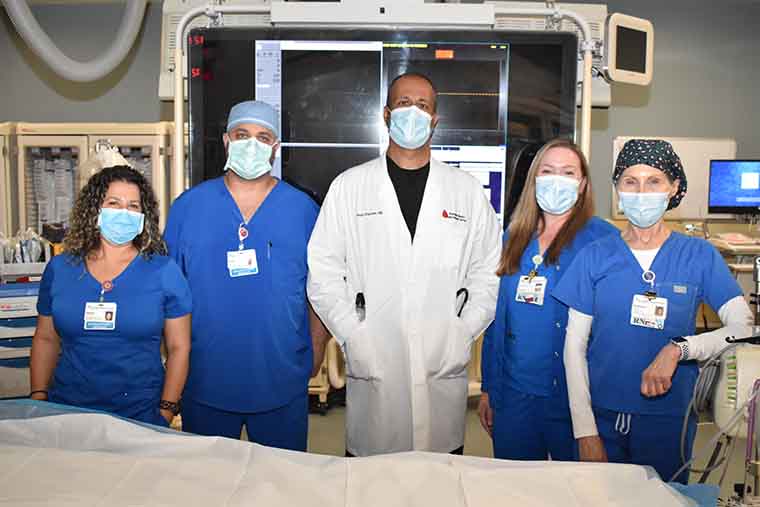 From left, Natalie Milanovic, Allan Reimann, Dr. Khamare, Jessica Schoonover, Rebecca Anderson. The group is involved in performing shockwave lithotripsies.
Open heart surgery and atherectomy, surgery drilling through the calcium, are both alternatives to shockwave lithotripsy but carry a higher risk, Dr. Khamare said.

"This (shockwave lithotripsy) is much safer because you inflate a balloon which you would do anyway with any procedure where you are placing a stent," he said.

In the shockwave technology, a catheter is placed in the artery and inflates a balloon at low pressure. Shockwave then transmits ultrasonic pressure waves that delicately break down the calcium deposits. After the calcifications are broken, the balloon is expanded to prepare the artery for stenting to restore blood flow.

Dr. Khamare said it's significant that St. Joseph's Hospital-North has the capability to perform this procedure.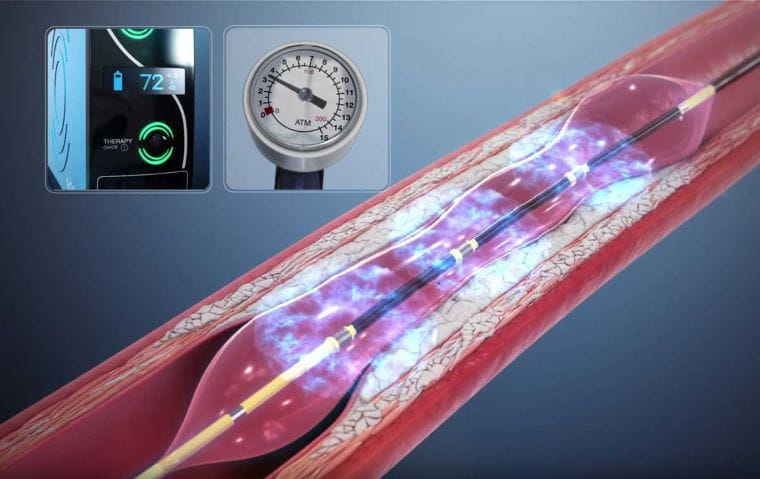 A depiction of a shockwave catheter in an artery.
"We can do it here (St. Joseph's Hospital-North) and not transfer patients to a different hospital," he said. "Patients can receive their care all in one facility. We can do this locally and they can go home from here the next day (following the procedure). This is new, it's offered at St. Joseph's Hospital-North and it's validated. It gives us more options to take care of our patients."

Shockwave lithotripsy is the second recent, newer cardiovascular procedure now being offered by St. Joseph's Hospital-North. The hospital is also performing TCAR, a surgery for carotid artery disease, announced last year.

"With heart disease continuing to be the leading cause of death for all adults, it is exciting to offer a new technology that benefits our patients in a less invasive and safe manner," said Tom Garthwaite, St. Joseph's Hospital-North president. "This new treatment has been referred to as a technology breakthrough, and the ability to have this advanced treatment in our community and close to their home is a 'game changer.'"

BayCare hospitals in addition to St. Joseph's Hospital-North performing shockwave lithotripsies are: Mease Countryside Hospital (Safety Harbor), Mease Dunedin Hospital (Dunedin), Morton Plant Hospital (Clearwater), Morton Plant North Bay Hospital (New Port Richey), South Florida Baptist Hospital (Plant City), St. Anthony's Hospital (St. Petersburg), St. Joseph's Hospital (Tampa), St. Joseph's Hospital-South (Riverview) and Winter Haven Hospital.