COVID-Care is Now in Pill Form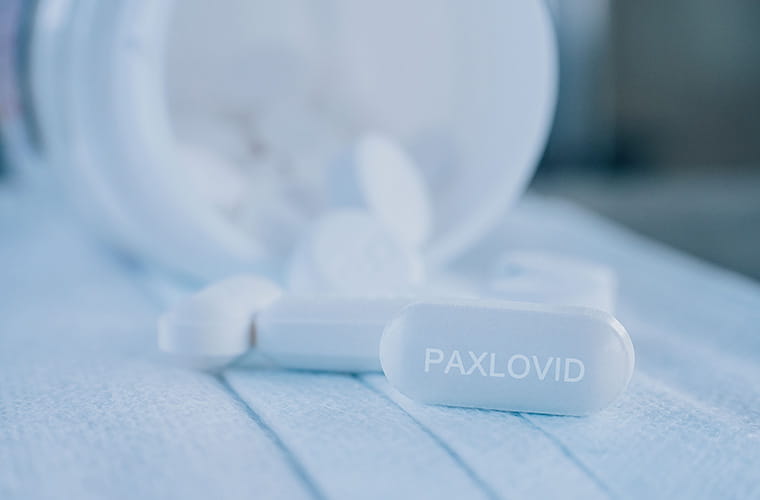 Last Updated: May 25, 2022
Editor's Note: While Paxlovid is the recommended treatment for early-stage, mild to moderate COVID-19 for people 12 years and older who are at high risk for progression to severe disease, the Centers for Disease Control and Prevention (CDC) advises that COVID-19 symptoms may reoccur in a small number of people after completing the treatment. When this occurs, it is often between two and eight days after initial recovery. If you completed the Paxlovid treatment and think you have recurring symptoms of COVID-19, contact your health care provider.
This isn't last year's COVID-19. A year ago, the only treatment for non-hospitalized patients with COVID-19 came by way of a needle (either injection or iv infusion of monoclonal antibody). Now, there is an oral treatment available, which is welcome news with an uptick in COVID cases in West Central Florida.
For about five months now, a new anti-viral oral medication called Paxlovid (nirmatrelvir and ritonavir) has been considered the first step of care for patients with mild-to-moderate COVID symptoms who are also at high risk for progression to more severe COVID complications, including hospitalization or death. The oral medication can be obtained through pharmacies with a prescription from any a doctor.
"COVID continues to be a virus that is adapting, but so are our treatment options. We are now in a situation where we know enough about this virus to know that not everyone at high-risk needs to go to an emergency room. In fact, they can be effectively treated early by a doctor they may already know and trust," said Dr. Laura Arline, chief quality officer at BayCare.
Individuals at high risk of complications from COVID but who are experiencing only early, mild COVID symptoms should call their primary care physician, using a telehealth service such as BayCare Anywhere or visit a BayCare Urgent Care Center rather than visit an emergency room.
"This is about getting a patient the right level of care at the right time. Today, obtaining a prescription for Paxlovid is the standard of care for most higher-risk patients with mild-moderate COVID-19 symptoms and less complicated to coordinate than previous treatments," said Dr. Arline.
Paxlovid was granted Emergency Use Authorization in December 2021 by the Federal Drug and Food Administration. The oral anti-viral showed an 89 percent reduction in the risk of hospitalization and death in the clinical trial, prompting the National Institutes of Health (NIH) to prioritize it over other COVID-19 treatments.
For more information about the FDA's review of Paxlovid, see frequently asked questions.