New Robotic Technology Helps St. Petersburg Woman Become a Two-Time Cancer Survivor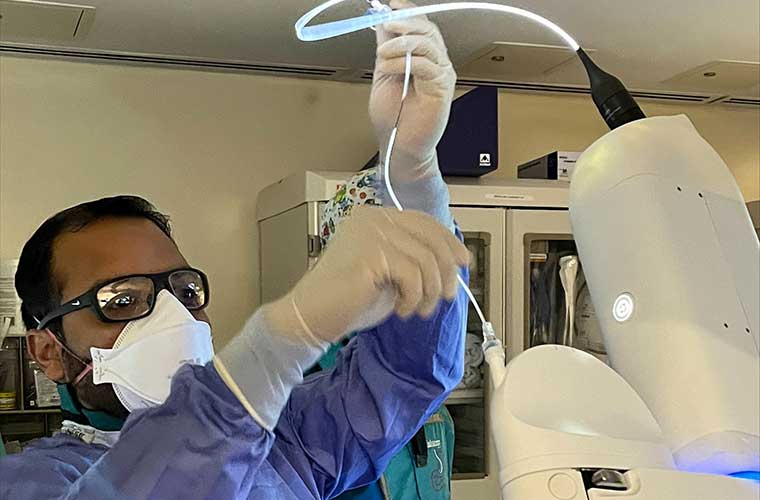 Vinny Samuel, MD, inserts the Ion vision probe to biopsy a peripheral lung lesion, while Michael Kayatta, MD, reviews the images in the background.
The Ion robotic-assisted surgical system helps physicians diagnose lung cancer earlier leading to better outcomes for patients.

Cancer is no stranger to Elaine Healy. "My mother died at 66 from lung cancer," Healy, a St. Petersburg resident, said recently. "And I am a cancer survivor."

In 1999 when she was diagnosed with malignant melanoma, Healy was afraid because she didn't know what the trajectory of the disease would be. "That was very scary," she said. "I was a young mother with two little boys and I was scared."

But when she was told that she had lung cancer in 2021, the diagnosis felt different. This time she felt that her chances for recovery were much better. For the lung cancer diagnosis and treatment, "my overarching emotion has been gratitude," she said. "I haven't had much anxiety. I've been feeling extremely blessed."

What gave her more hope was the work of a team of doctors who used advanced technology at St. Anthony's Hospital to biopsy her lung tissue and get a definitive diagnosis. Then they were able to use robotic technologies to mark the nodule with the Ion Robotic system and remove it with the DaVinci Surgical Robot all in the same day.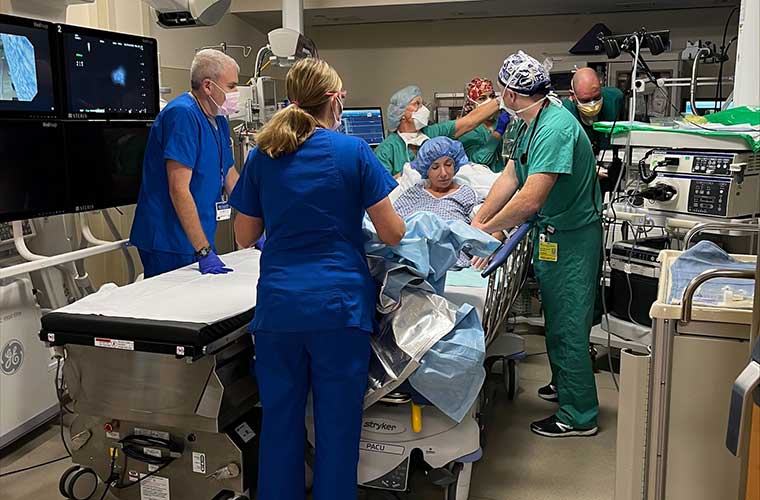 Elaine Healy meets the entire team to discuss next steps while team members from anesthesia and endoscopy prepare for her procedure.
Since May 2021, the hospital has been using Ion, Intuitive's robotic-assisted navigation bronchoscopy system that allows physicians to biopsy smaller and harder to reach lesions. And an earlier diagnosis makes a significant difference in a patient's outcome.
Vinny Samuel, MD, a specialist in pulmonary disease and critical care medicine who is affiliated with St. Anthony's, has treated more than 60 cases using the Ion. Healy's case was one of them. "The lesions we saw were small," Dr. Samuel said. "The Ion robotic bronchoscopy platform allowed us to reach the peripheral lesions with more ease while allowing biopsies to be performed with increased precision."

After their mother passed away, Healy's brother – mindful of his sister's history of smoking – encouraged her to get tested. A scan of her lungs revealed some scar tissue. Her doctor, Warren Abel, MD, who specializes in pulmonary disease, critical care medicine and internal medicine, began monitoring that scar tissue in 2006.

About two years ago, she had a scan in connection with a different issue which again identified small spots on her lung. It appeared that the spots had not changed and no further scans were necessary.

Everything changed about nine months after that. "Somewhat out of the blue, Dr. Abel requested that I get another scan," Healy said. Dr. Abel felt that recent studies indicated that the nodules that Healy had could actually be a type of slow-growing cancer that could appear benign.

After another scan, the nodules appeared to be normal but had grown slightly. A biopsy was then ordered. Dr. Samuel used the Ion robot to perform a bronchoscopy and reveal the lung cancer.
The Ion robotic navigation bronchoscopy system uses a CT scan of the patient's lungs and creates 3-D airway images. After viewing the images, the physician can plan in advance a path to the lesion. The pathway plan is uploaded to the Ion's controller to guide the physician during the bronchoscopy.
Last year on the day before Thanksgiving, Healy underwent the Ion procedure again, this time to dye mark the location of the nodule to assist the surgeon with robotic thoracic surgery.

Since Healy was taken from the Ion procedure in endoscopy directly to surgery, she only had to undergo anesthesia once. "This is one of the many benefits for our patients," Dr. Samuel said. "This technology not only enables us to provide a diagnosis for the patient but can also localize the tumor by dye marking it. This allows our thoracic surgeons to resect the cancer while minimizing the amount of lung tissue removed in cases such as her's."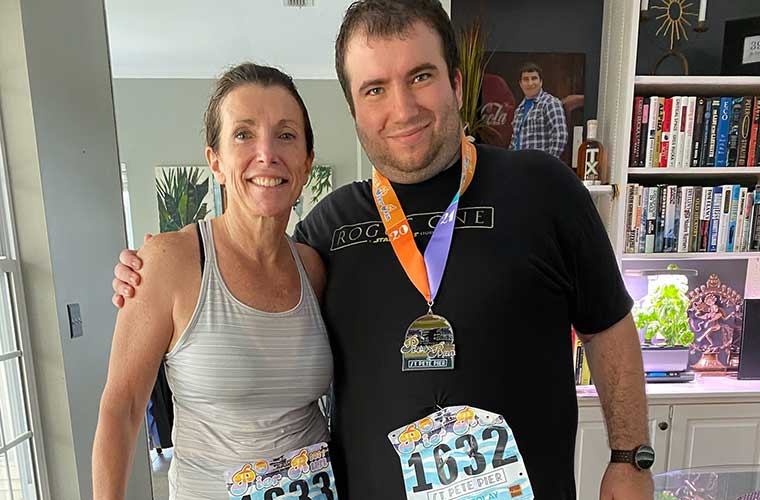 Elaine Healy, shown here with her son Matt after they completed a race on the Fourth of July, likes to stay active. She says she is grateful that the robotic surgery was minimally invasive.
Preserving lung tissue was important to Healy because she spins, swims, bikes and is quite active. She is the co-CEO of a technology company but also owns a gym, Metrix Next Level Fitness in St. Petersburg.
"I'm so lucky," Healy, 59, said. "Dr. Abel was so thorough and determined to get my diagnosis right. Dr. Samuel's deep knowledge and skill with the new technology enabled him to pinpoint the small lesions. And (surgeon) Dr. (Michael) Kayatta's openness to a lung resection all combined to turn my cancer diagnosis into a big success story."

"I had the surgery on Wednesday and then dinner at home on Thanksgiving," Healy continued. "I had excellent care at the hospital and good pain management. My cancer was caught early enough so no additional treatment such as chemotherapy or radiation was required. They actually were able to catch this before Stage 1."

Dr. Samuel was the first pulmonologist to use the Ion technology in BayCare and was instrumental in bringing the Ion system to St. Anthony's Hospital. After the successful implementation of Ion at St. Anthony's, this technology expanded to Morton Plant Hospital, another BayCare facility, to greater serve the community.

Healy said that she would like to see a scan for lung cancer added to annual testing like mammograms or prostate exams. Patients would need to get a referral from their primary care physician to get the testing.

"I know there are people who would rather not know even as they start to experience symptoms," she said. "Getting a lung cancer diagnosis used to be a death sentence. Now there is a procedure that can detect tumors well before you have any symptoms."

To learn more about BayCare's robotic surgery program, click here.