Morton Plant Hospital Performs First Surgery to Help Patients with Sleep Apnea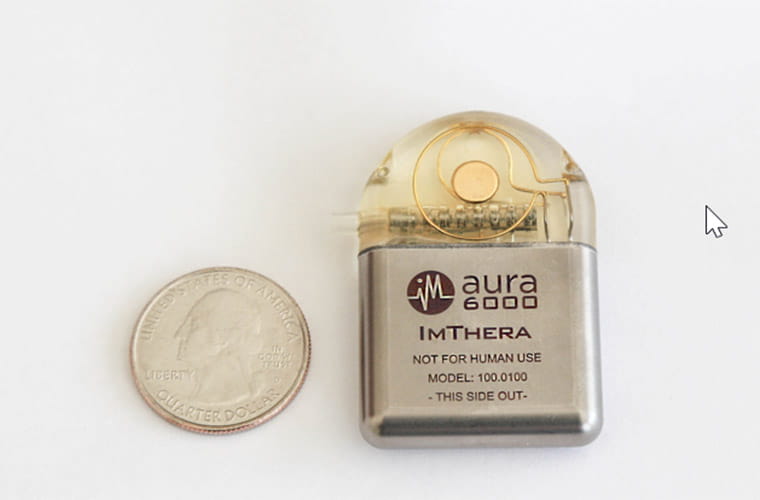 Morton Plant Hospital was the site of the first implant of the LivaNova aura6000 System™ in a trial study designed to help people with sleep apnea.
Otolaryngologist Mitchell Miller, MD, performed the first surgery on patient Bryan Klontz in this randomized controlled trial (RCT), "Treating Obstructive Sleep Apnea using Targeted Hypoglossal Neurostimulation" (OSPREY).
Dr. Miller implanted the aura6000, a quarter-sized rechargeable, battery-powered computer, just under Klontz's collarbone during outpatient surgery. The surgical team tunneled a thin cable under the skin to the jaw area where they connected it to the hypoglossal nerve under the tongue. The device will generate a small electrical charge to help Klontz, who suffers from obstructive sleep apnea (OSA), maintain muscle tone of the tongue, which will prevent or reduce airway obstruction while he sleeps.
The system also has a handheld controller that Klontz can use to start, stop or pause therapy and to recharge the implant.
OSA is a common sleep disorder that affects millions of Americans. It occurs most often due to upper airway obstruction when the tongue, tissue and muscles in the throat relax and block the airway.
Most people with OSA experience periods of loud snoring followed by silence, when breathing stops. Then, they will have a loud gasp for air causing brief arousals from sleep which leads to excessive sleepiness during the day. The cycle repeats throughout the night, but individuals may not know they have OSA unless they have symptoms like excessive daytime sleepiness, wake up feeling unrefreshed or someone else hears them stop breathing during sleep.
"While many people who suffer from OSA cannot imagine life without a continuous positive airway pressure (CPAP) machine, many others do not want to be connected to masks or hoses," said Marietta Bibbs, system manager of sleep disorders for BayCare, "The hope of this trial is to provide these patients with a safe, effective alternative."
Left untreated OSA not only leads to sleep deprived individuals, but it can also lead to serious health conditions such as diabetes, depression, high blood pressure, heart attacks and stroke.
Klontz understands firsthand how OSA affects someone's health. Klontz says he lacks energy and suffers from high blood pressure and low oxygen levels. His doctor attributes these conditions to his OSA and continually advises him to try a CPAP machine.
"I tried a CPAP machine more than 20 years ago," said Klontz. "I am claustrophobic and didn't want the mask on my face. The old machine was so loud it kept me awake. I needed an alternative, but I never found one"
A self-described technology geek, Klontz said he became interested in the trial when he saw an advertisement on social media. He completed the online application and was invited in for testing.
When he had the surgery at Morton Plant Hospital, he became the first patient in the OSPREY study to be implanted with the device. About two weeks later, he found out he would be part of the active group, and his device will be activated. "I am hopeful this will get my sleep apnea under control so my partner and I can get a good night's sleep," Klontz said.
Patients who are randomly selected for the control group will have their device activated seven months after surgery. Once the device is activated patients in both groups will have monthly visits with Dr. Miller and have sleep studies at either Mease Countryside Sleep Disorders Center or Bardmoor Sleep Disorders Center. The sleep centers are accredited by the American Academy of Sleep Medicine and are certified sites for the clinical trial.
BayCare is one of 20 sites across the nation enrolling patients for the study, which is expected to last 12 to 15 months. According to information from LivaNova, the clinical study will determine if patients stimulated with the device do statistically better than those in the trial not receiving stimulation. Throughout the study, independent statisticians will conduct interim data analyses to determine predictive probability of success for OSPREY. Investigators expect to get a clear sense that targeted hypoglossal neurostimulation therapy is the mechanism of improvement for the patients because this is a randomized study and not just observational.
For information on this trial at Morton Plant Hospital, visit the LivaNova website at: https://www.livanova.com/en-us/home/obstructive-sleep-apnea or contact the study coordinator, Marietta Bibbs at 727-725-6455.