BayCare Medical Group Welcomes Dr. Lourdes Pelaez-Echevarria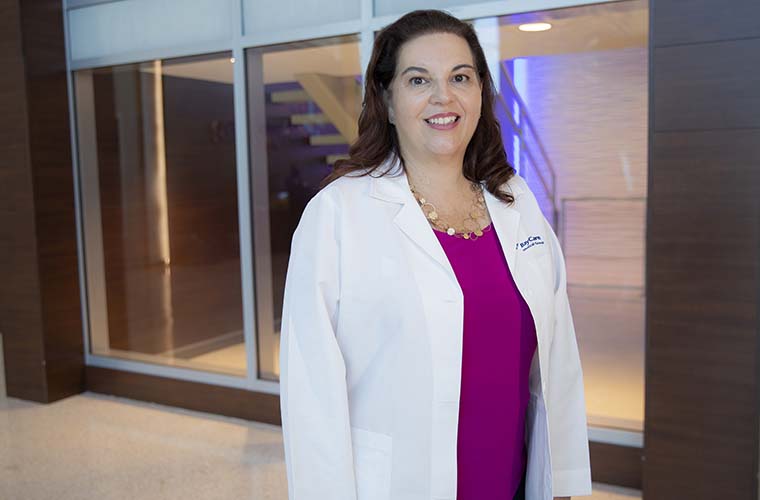 NEW PORT RICHEY, Fla. (March 1, 2022) - Lourdes Pelaez-Echevarria, DO, FACOS, has joined BayCare Medical Group at 6633 Forest Ave., Suite 205, in New Port Richey. She is a board-certified general surgeon and is accepting patients 18 years and older.
Dr. Pelaez-Echevarria specializes in breast, colon, rectal and minimally invasive surgery, and often uses a surgical robot. She is affiliated with Morton Plant North Bay Hospital. Dr. Pelaez-Echevarria relies on her great interpersonal skills and abilities to provide excellent surgical care.

"I take my job very seriously,'' she said. "I realize I have an awesome responsibility to my patients. I believe if I put their needs first, everything else will fall into place.''
Dr. Pelaez-Echevarria speaks Spanish. She is a member of the American Osteopathic Association and the American College of Osteopathic Surgeons.

She received her Doctor of Osteopathic Medicine from Nova Southeastern University College of Osteopathic Medicine in Fort Lauderdale. Dr. Pelaez-Echevarria continued her medical education by completing a general and vascular surgery residency at Rowan University in Stratford, N.J., followed by a minimally invasive surgery fellowship at Baptist Health System/HealthSouth Doctors Hospital in Miami.
Her phone number is (727) 375-2849. She accepts most major insurance plans. Learn more: DrLourdesPelaez.org.

About BayCare Medical Group
BayCare Medical Group is Tampa Bay's leading multi-specialty group providing primary and specialty care throughout the Tampa Bay and west central Florida regions. As part of the BayCare Health System, these passionate and compassionate physicians extend the mission of BayCare to provide extraordinary care for every patient, every time, everywhere.

Locally and nationally recognized as a 2021 Great Place to Work® and Fortune 100 Best Companies to Work For®, BayCare Health System is a not-for-profit 501(c)(3) organization, with a network comprised of 15 hospitals with services including imaging, lab, behavioral health, home health care and urgent care. Our priority is connecting patients to a complete range of preventive, diagnostic and treatment services for any health care need, throughout their lifetime. For more information, visit BayCareMedicalGroup.org.

About BayCare Health System
BayCare is a leading not-for-profit health care system that connects individuals and families to a wide range of services at 15 hospitals and hundreds of other convenient locations throughout the Tampa Bay and central Florida regions. Inpatient and outpatient services include acute care, primary care, imaging, laboratory, behavioral health, home care, and wellness. Our mission is to improve the health of all we serve through community-owned, health care services that set the standard for high-quality, compassionate care. For more information, visit BayCare on the Web at www.BayCare.org.