Pitch for Pink Inspires Breast Cancer Survivors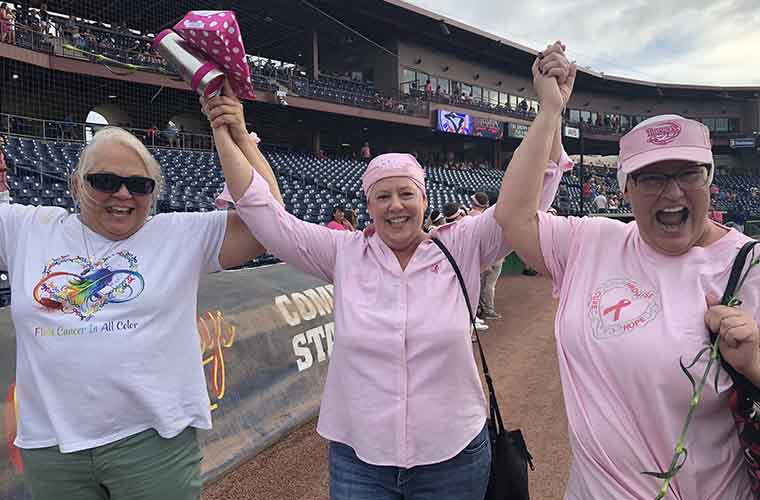 Breast cancer survivors share a bond, and they showed it Friday night at Pitch for Pink.
For years, Michele Reed attended Pitch for Pink as a show of support for the breast cancer patients she helped in her role as a scheduler for Susan Cheek Needler Breast Centers. Little did she know, one day she would be sitting next to them about to participate in the Survivors' Walk with them.
Yet there she was Friday night in the left-field stands at BayCare Ballpark, two years and two months removed from the day she found out she also had the disease. After 199 days of treatment, free of cancer, she joined breast cancer survivors from around the Tampa Bay region at the annual event that raises money for breast cancer services at Morton Plant Mease hospitals.
The women came dressed in pink shirts, some with pink visors, pink scarfs, pink sunglasses or pink hair. Some had been cancer free for years. Others were still fighting the disease. All had smiles and a shared bond for the journeys they had endured.
"Watching all the survivors over the years, it was inspiring to see that they made it through,'' said Reed, who had nearly 20 family members and friends on hand to support her. "To do it myself today, it was very emotional. I had to fight back tears, but I feel very lucky to have the experience.''
Nicki Grasso came from Largo for her first Pitch for Pink.
"It's overwhelming,'' she said. "You look around and see even the players in pink uniforms and it really brings it home how much support we do have. It makes you proud to be in a community that gives back to us like this. It means a lot.''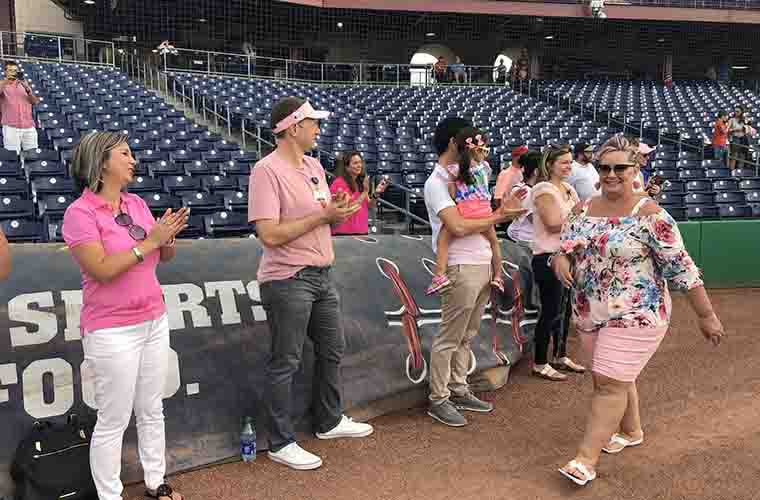 Michele Reed has been to several Pitch for Pink games, but this was her first as a breast cancer survivor.
Before the Threshers game, on the same weekend as National Cancer Survivors Day, the women filed out of the stands and onto the field for the "Survivors' Walk.'' Led by Phinley, the Threshers' mascot, and a snazzy pink sports car, the women proudly walked from third base to home and up the first base line.
The crowd cheered and waved. Players came to the steps of the dugout in a show of support. Doctors and members of the Morton Plant Mease breast cancer teams lined up to greet the women they knew so well.
It was an emotional scene. Hugs were tight. Tears flowed. Joy filled the air.
Dawn Taylor, from Tarpon Springs, and Patricia Feltman, from Trinity, met during chemotherapy at Mease Countryside Hospital. They finished their last infusion together and rang the bell together to signify the end of it. Friday night, they walked together, hand in hand, even though they have more treatment ahead.
"We befriended someone on the field, a survivor of 13 years, a complete stranger,'' Taylor said. "We hugged. It was inspirational.''
"It's a great feeling to walk with these women,'' Feldman said. "There are times you think you're the only one going through this, but you aren't.''
As much as it touched the breast cancer survivors, it meant the world to the caregivers, too.
"The whole reason most of us went into medicine and surgery specifically is to help patients get better,'' said Jason Wilson, MD, medical director for breast cancer services at Morton Plant Hospital. "There's no more fitting tribute then to see these patients be celebrated for their survivorship journey.''
Oncologist Ben Yan, MD, BayCare Medical Group, was there for his eighth Pitch for Pink, sponsored each year by Clearwater Threshers Baseball and Morton Plant Mease Health Care Foundation.
"I love the event because I can see my patients outside the clinic and get to see how happy they are,'' he said. "It's an opportunity to see them from a human standpoint outside of medicine. We get to see them celebrate and enjoy living.''
When the Survivors' Walk ended, Reed moved toward the pitchers' mound, along with Dr. Wilson and breast cancer survivor Patricia Patterson to make a ceremonial first pitch.
A champion of these women and this event for years, Reed felt the support and love of the crowd flow through her.
"I feel really blessed,'' she said.
The game was about to begin, but the memories will last forever.
To view video from this inspiring event, click here.