Morton Plant Team Member Determined to 'Never Say Never'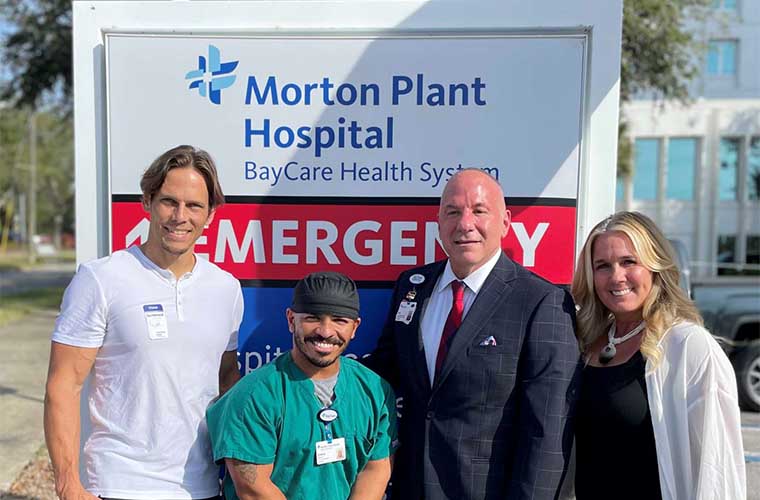 Being a contestant on NBC's "American Ninja Warrior" wasn't something Shane Scudder, a surgical care technician at BayCare's Morton Plant Hospital, envisioned for himself a few years ago, but Scudder doesn't back down from a challenge.
Now Scudder, who stands 4 feet, 8 inches tall, hopes to become the shortest person in the "American Ninja Warrior" finals. That's not surprising for someone whose motto is "Never Say Never."
Scudder was living in Indiana when he decided to follow in his uncle's footsteps and become a firefighter, a career that required him to be fit and strong. He moved to Clearwater in 2018 after his grandmother, who raised him and shaped him into the man he is today, said she needed his help.
In Clearwater, he couldn't get into firefighting immediately. Instead, he joined the Morton Plant Hospital team and inadvertently was introduced to ninja training when a coworker invited him to try obstacle course race training at Jungle Gym in Pinellas Park, a ninja gym.
With the support and encouragement of gym managers Kathy and Jason Bergstrom, as well as Vicki Bridegroom and Melissa Lennon, his managers in the surgical department at Morton Plant, Shane found his passion.
"All the obstacles are bigger than me, so it made me even more determined to excel," said Shane.
As Scudder conquered the obstacles, he sought new challenges and set a goal of competing in "American Ninja Warrior," a sports entertainment game show that features thousands of contestants working to complete a series of obstacles that require strength, speed, agility, precision and balance.
After completing a questionnaire and submitting a video, Scudder, who was tagged the "Ninja Nugget," was selected to compete in the city qualifier for season 11 and again for season 13. He hopes to be selected for upcoming season 14 as well.
Scudder's schedule is enough to make anyone tired. He works at Morton Plant from 5 a.m. to 3 p.m. Monday through Friday. Then he goes to Jungle Gym to teach children's classes from 4 to 7:30 p.m. He also trains three days a week and is studying for his personal training license.
When asked why he teaches children's classes, Scudder quickly replies, "I love being the role model for kids, showing them what is possible. A lot of kids don't have a male role model. I didn't.
"I want my students to learn to 'Never Say Never,'" added Scudder.
Lou Galdieri, president of Morton Plant Hospital and BayCare's market leader for North Pinellas and West Pasco counties, recognizes the importance of Shane's efforts.
"Shane is an inspiration to us all. We are proud to support his efforts," Galdieri said.
To that end, BayCare is a sponsor of the kids and adult ninja competitions Jungle Gym is holding in January. These competitions give individuals of all ages and abilities the opportunity to compete, whether it is to win the competition or simply to prove to themselves they can do it.
Scudder enjoys proving he can do things. To him, getting to the "American Ninja Warrior" finals is just another challenge to conquer. "Never Say Never."