Free Virtual Yoga Program Helps Students Get Limber from Home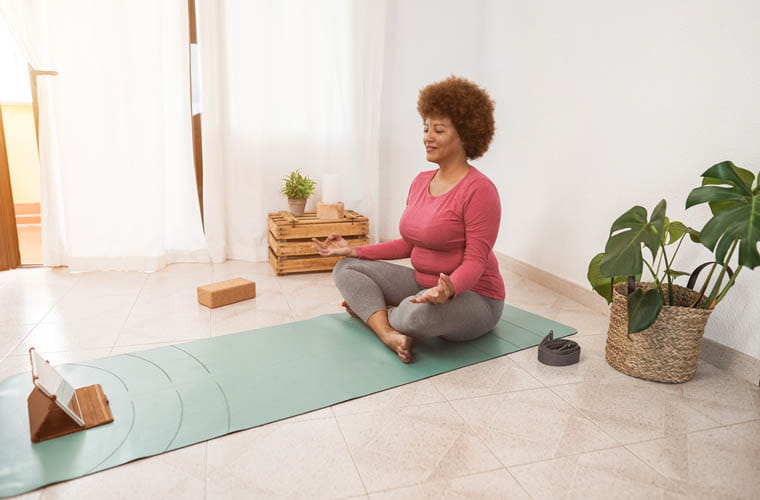 For many years, cancer patients met at St. Joseph's Hospital for a free restorative yoga program that helped them get up, get out and stretch their muscles. The classes helped patients achieve physical and mental wellbeing while they recovered from challenging therapies.
"Our yoga program has helped dozens of patients restore their strength following cancer treatment," said Ronda Buffington, a nurse navigator at St. Joseph's Hospital's Cancer Institute. "In fact, the program was such a success, we eventually decided to open it up for anyone—whether or not they suffered from a physical ailment."
During the pandemic, St. Joseph's Hospital postponed its in-person yoga lessons and moved its program online. Now, aspiring yogis can log on from the comfort of their homes, where they're met by an instructor who guides them through poses and encourages their progress.
"Our volunteer instructor, Maria, is not only a certified yoga instructor, she's also a breast cancer survivor," Ronda explained. "She's patient, kind and knowledgeable. Students find that they're able to relate to her through their shared experience of having overcome cancer."
Maria's own journey to yoga began when her BayCare doctor recommended she take up yoga lessons after a double mastectomy and reconstructive surgery left her feeling stiff. At the time, Maria could hardly lift her hands above her shoulders. But weekly yoga practice eventually helped her regain much of the strength and flexibility she had before surgery. It also inspired her to earn her certification.
"Yoga improved my overall wellbeing," Maria said. "I felt that being an instructor would be good way to give back and help others going through their own recoveries. I survived for a reason."
For Nathalie, a 51-year-old breast cancer survivor, the yoga program at St. Joseph's Hospital has helped improve her flexibility after surgery reduced her range of motion.
"The course has been very accessible and it's great how Maria checks in with us to make sure we're OK," Nathalie said. "She asks for input on what we need from her, and she tries to accommodate when she can. It helps that she's had similar experiences—she understands how I feel because she has been through it."
A resident of Port Richey who works fulltime from home, Nathalie said the program's new online format allows her to get the benefits of the morning exercise before logging on for work--all in the comfort of her home.
Susan, 70, began practicing yoga to stay active in retirement. The program has not only helped her stay limber, but it has also helped with her asthma.
"When I try to exercise at home alone, I forget to breathe," Susan said. "Maria always reminds us to breathe. That helps a lot, and it has really improved my breathing.
"During lock down, I sat around more often and got sort of stiff," she added. "But after starting up these yoga classes, I feel springy again."
Online yoga courses are currently held every Wednesday from 7:30 to 8:15 a.m. Click here to find and register for upcoming courses.