Pregnant Mother Survives COVID-19 After Three Months in the Hospital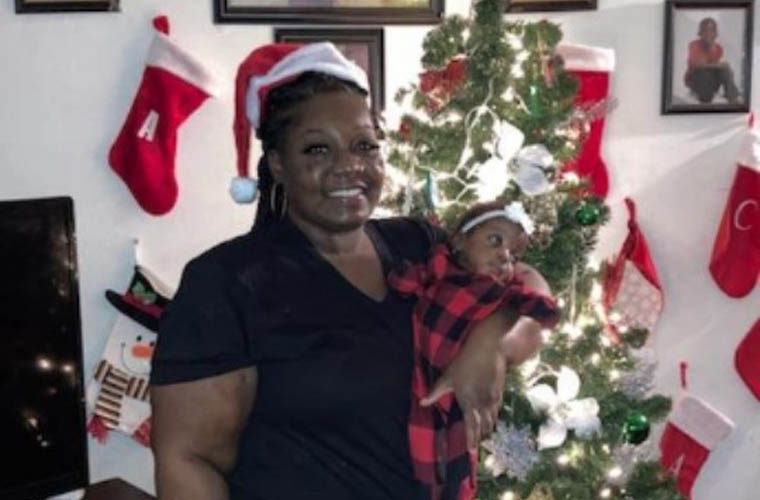 Ashley and Amaiyah Bates celebrate Christmas with family at home.
Where is my baby? The question swirled around her mind when Ashley Bates woke up from a coma at St. Joseph's Hospital (SJH) in September.
Nearly two months earlier, Ashley had gone to the SJH emergency room suffering from a cough and flu-like symptoms. Test results came back positive for COVID-19 and pneumonia—a frightening, dual diagnosis. Ashley was six months pregnant.
As the patient processed the news of her diagnosis, a nurse helped her into a wheelchair, hooked her up to an oxygen machine and admitted her for immediate treatment. It all happened so quickly, Ashley later recalled, she didn't realize the seriousness of her situation.
"I thought I'd just be there for 14 days and go back home," she said. Instead, Ashley would receive care at SJH for almost three months. During much of her stay, she was in a medically induced coma and doesn't remember a thing. But for the frontline workers who cared for Ashley, her case is one they'll never forget.
"We were dealing with a lot of death during that time," said Jasmine Nicholas, a nurse manager on the pulmonary unit where Ashley spent a few weeks. "Everyone knew about her case, about her baby. Ashley was holding on. As a hospital, we all had hope for her."
Intensive Care
Ashley thinks she contracted the coronavirus in early July, when she took a week off work to spend time at home with her two teenage boys on their summer break. Ashley was unvaccinated (at the time, the Centers for Disease Control and Prevention (CDC) had not yet recommended the COVID-19 vaccine for pregnant women) but she took precautions like washing her hands and wearing a mask. She didn't suspect the coronavirus when she started feeling ill.
Respected health care organizations such as the Centers for Disease Control and Prevention (CDC), American College of Obstetrics and Gynecology (ACOG) and Society of Maternal Fetal Medicine (SMFM) recommend that pregnant and recently pregnant woman get vaccinated for COVID-19, since they're more likely to get severely ill from the disease than people who aren't pregnant.
"Getting the vaccine is one of the best ways for pregnant women to protect themselves and their babies against COVID-19," said Dr. Laura Arline, vice president and chief quality officer at BayCare. "A COVID infection can cause serious complications for pregnant and recently pregnant women, as well as their babies."
Soon after Ashley was admitted to the hospital in July, it was clear she would need intensive medical attention to keep her and her baby alive. The coronavirus had already spread to Ashley's lungs. It attacked air sacs necessary for breathing and caused her oxygen levels to drop. Her body struggled to fend off the infection.
In the medical intensive care unit (MICU), Ashley was placed into an induced coma as nurses and physicians assessed her condition.
"There were a lot of unknowns about her case at the time," said Kareena Williamson, a nurse who cared for Ashley in the MICU. When would the patient need a ventilator? How was her baby doing? And would they need to deliver the baby early to save both of their lives?
"Once we learned the baby was OK, we decided to keep Ashley pregnant for as long as we could," Kareena said. "At least as long as she and her baby were doing OK."
The next day, Ashley was placed on a mechanical ventilator to help her breathe.
"Even though she was intubated and we couldn't communicate, I felt such a connection to Ashley," said Jayce Elliott, a nurse on the MICU. "We were all so invested in her case."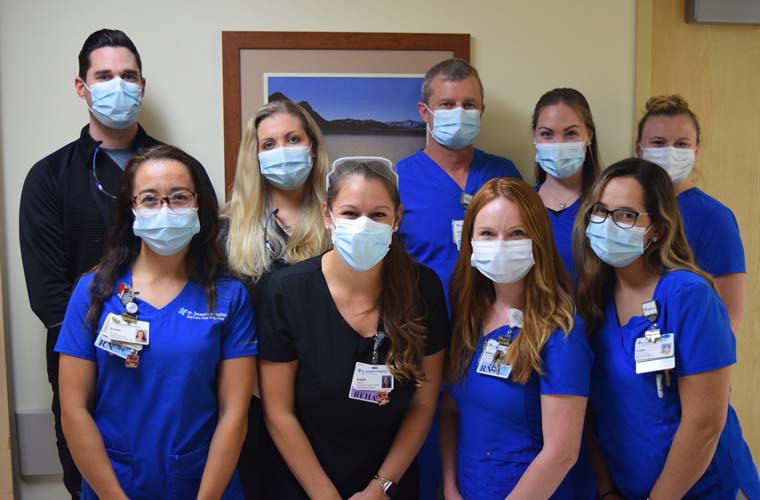 CVICU team members who cared for Ashley Bates during her stay. Top from left: Casey Guidera, Shaela Viars, Ashley Jameson, Kristin Bowen, Madison Reiff; Bottom from left: Emma Cauwenberghs, Kayla Deitz, Alisha Williams, Luisa Otamendi
A Ray of Sunshine
For the next few weeks, the MICU team monitored the patient closely, while a labor and delivery nurse checked on her baby using a fetal monitor. The team searched for every opportunity to help.
"We were trying to do everything we could for Ashely without harming her baby," Kareena said.
Early in the pandemic, healthcare workers discovered that COVID-19 patients breathe better on their stomachs. "Proning" has become a common technique but poses a challenge for pregnant mothers since the position puts pressure on the baby. To get around the issue, nurses put Ashley in a RotoProne bed, which rotated the patient on comfortable pads and allowed her to lie at different angles, taking pressure off her lungs and stomach.
Along with the RotoProne bed, Ashley was given powerful medications to help support her breathing. In what seemed like a miracle, she started to stabilize.
For Tamie Saglimbeni, nurse manager of the MICU, Ashley's case helped team members find strength during the terrible surge of COVID cases caused by the Delta variant.
"Ashley was a ray of sunshine we needed in a very dark time," she said.
Big, Beautiful Eyes
As Ashley's condition improved in August, she was transferred to the cardiovascular ICU (CVICU), where physicians made the decision to induce labor and deliver her baby. That way, they could tailor their care to mother and baby individually, helping them both recover faster.
On Sept. 1, while Ashley was still in a coma, her daughter Amaiyah was born via Cesarean section weighing 4 pounds, 11 ounces.
"Amaiyah has big, beautiful, soulful eyes that melt your heart," said Eme Shumock, the nurse who admitted Amaiyah to the neonatal ICU (NICU).
Ashley's recovery accelerated after her daughter's birth. She gradually regained consciousness in the CVICU as she was weaned off sedatives. Physical therapists worked with Ashley every day to help her get control of her body. The progress was miraculous to witness.
"When we first met Ashley, she was so sick" said Alisha Williams, nurse manager of the CVICU. "It was very uplifting for everyone to see her working towards recovery."
Shortly after Ashley regained consciousness, she began to wonder about her baby. Where was she? How was she? With the help of Ashley's mother, who spent long hours at her bedside, nurses assured Ashley that Amaiyah was doing well. In mid-September, as Ashley continued to improve, she was transferred to the pulmonary unit, where nurses from the NICU brought Amaiyah to visit.
"That was my first time seeing her," Ashley said. "I was just so happy, so relieved."
Ready for Home
Over the next two weeks, Ashley continued to work with respiratory therapists and physical therapists to relearn how to talk and eat now that the ventilator was removed from her windpipe. She regularly got visits from Amaiyah, which lifted her spirits and motivation. She recalls how nurses like Jayce from different units would visit on their days off just to see how she was doing.
"So many good nurses took care of Amayiah and me," Ashley said. "They all really love what they do."
On Oct. 1, the day Ashley was discharged, team members lined up in the hallways to cheer and wave goodbye in a celebratory "clap out." Team members remember the moment as one of immense joy and relief as they watched their patient leave the hospital on a bright and sunny afternoon.
"It was amazing to see the whole hospital there for the clap out," Tamie said. "Ashley's eyes were so bright. It gave us goosebumps."
Over the next month and a half, Ashley continued to visit Amaiyah at St. Joseph's Women's Hospital almost every day. She'd video chat with her two boys and introduce them to their baby sister. They couldn't wait to meet her in person.
"My sons always wanted a sister," Ashley said. "They were so ready for her to come home."
Finally, in November, her sons got their wish—Amaiyah was discharged and went home with her family just in time for Thanksgiving. Amaiyah's homecoming marked the end of a difficult chapter for Ashley. Heading into the new year, she's turned the page to a brighter future, thankful to have her family home and healthy under one roof.
"It feels great to have my family back together," she said. "I feel like I'm whole again. I'm complete."