BayCare Medical Group Welcomes Dr. Nicole Conde and Dr. Mercedez Cruz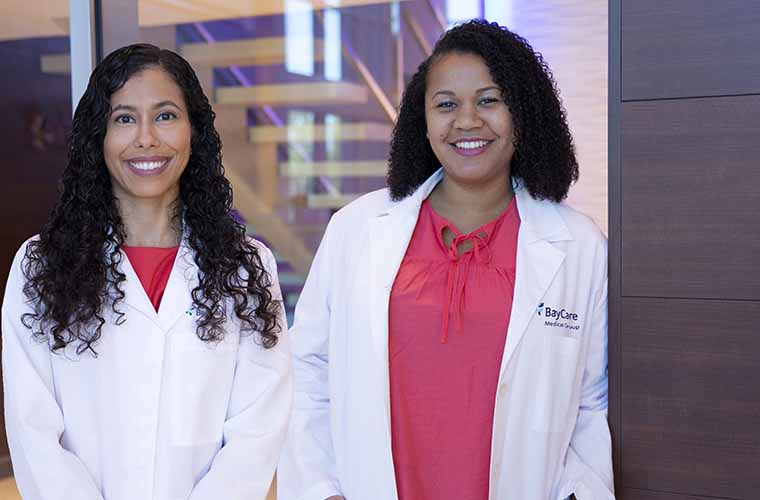 Dr. Nicole Conde (left), Dr. Mercedez Cruz
LAND O'LAKES, Fla. (February 9, 2022) - BayCare Medical Group has opened a pediatrics office in the BayCare HealthHub (Land O'Lakes) at the corner of State Road 54 and Sunlake Boulevard.

Nicole Conde, DO, and Mercedez Cruz, MD, have joined the practice and are accepting new patients, from birth to age 18. Both are board-certified in pediatrics.

The HealthHub, which opened to the community on Dec. 1, integrates multiple health care services such as adult and pediatric primary care, urgent care and imaging at one convenient location.

Dr. Conde received her Doctor of Osteopathic Medicine from Philadelphia College of Osteopathic Medicine in Suwanee, Ga. She went on to complete her pediatric residency at the University of South Florida.

Dr. Cruz received her Doctor of Medicine from Howard University College of Medicine in Washington, DC. She completed her pediatric residency at Baylor College of Medicine/Texas Children's Hospital.

As pediatricians, they know the importance of a healthy childhood and relay this message to all the families they treat. By educating patients and their families, they empower them to make healthy decisions, maintain healthy lifestyles and strengthen their adherence with their treatment plans.
Dr. Conde and Dr. Cruz are committed to developing long-lasting relationships with their patients while providing compassionate, well-rounded care. They conduct various acute/sick visits, well-baby check-ups, annual physical exams, sports physicals and administer routine childhood vaccines. Both physicians are certified in basic life support and remain up to date with the rapidly evolving field of pediatric medicine as members of the American Academy of Pediatrics.

"We are very excited to have Dr. Conde and Dr. Cruz join our BayCare Medical Group and Land O'Lakes HealthHub teams,'' said Jim Cote, senior vice president for Ambulatory Services at BayCare. "The culture of the HealthHub is all services working together to deliver a seamless customer experience. Dr. Conde and Dr. Cruz have jumped right in, participating in the daily huddles and integrating to build one culture to create that experience.''

The pediatrics office is located at 18600 Fernview St., Suite 102, and the phone number is (813) 692-8033. Both doctors accept most major insurance plans.

Learn more: https://bmglandolakes.org

About BayCare Medical Group
BayCare Medical Group is Tampa Bay's leading multi-specialty group providing primary and specialty care throughout the Tampa Bay and west central Florida regions. As part of the BayCare Health System, these passionate and compassionate physicians extend the mission of BayCare to provide extraordinary care for every patient, every time, everywhere.

Locally and nationally recognized as a 2021 Great Place to Work® and Fortune 100 Best Companies to Work For®, BayCare Health System is a not-for-profit 501(c)(3) organization, with a network comprised of 15 hospitals with services including imaging, lab, behavioral health, home health care and urgent care. Our priority is connecting patients to a complete range of preventive, diagnostic and treatment services for any health care need, throughout their lifetime. For more information, visit BayCareMedicalGroup.org.

About BayCare Health System
BayCare is a leading not-for-profit health care system that connects individuals and families to a wide range of services at 15 hospitals and hundreds of other convenient locations throughout the Tampa Bay and central Florida regions. Inpatient and outpatient services include acute care, primary care, imaging, laboratory, behavioral health, home care, and wellness. Our mission is to improve the health of all we serve through community-owned, health care services that set the standard for high-quality, compassionate care. For more information, visit BayCare on the Web at www.BayCare.org.