Bartow Regional Medical Center's Ascent to Top 100
As a nursing student in 2003, the last place Brandon Stephens expected to build a fulfilling career was Bartow Regional Medical Center. His student training rotation at the hospital was cancelled due to quality concerns.
"We were here (at the hospital) for about two weeks and got pulled out because we were noticing a bunch of different problems and the school decided it didn't want us picking up bad habits," said Stephens, who was studying to be an LPN (licensed practical nurse). "So, the school said, 'Let's not bring anyone here.' "
Bartow Regional Medical Center (BRMC) in Polk County is a different place now and an enormous asset to the community's health. In 2021, BRMC made its debut on the Fortune/IBM Watson Health 100 Top Hospitals list. It ranked sixth of 20 hospitals in the small community hospitals category, scoring in the 99th percentile overall in quality of care in comparison with more than 800 other small hospitals nationwide. The hospital also earned a five-star rating from the Centers for Medicare & Medicaid Services (CMS) and launched nationally recognized heart and robotics programs.
These designations are an outward sign of the transformation that has been underway for half a decade, since BayCare Health System, West Central Florida's largest not-for-profit health care provider, acquired the hospital in 2016 after a succession of for-profit owners.
Phil Minden first joined BRMC as president in 2013, showing up at a time when the hospital was caught in a cycle of buying and selling amid a national trend of mergers and acquisitions in the for-profit-hospital industry. He was the 11th leader in nine years.
"I was brought in to lead expansion plans that were apparently underway, but then new (for-profit) ownership came in and those plans were sidelined," Minden recalls. The hospital had a series of three for-profit owners and three different cultures in a span of three years. "That's not good for consistency."
When he learned in 2016 that the homegrown, local, not-for-profit health system BayCare was considering acquiring the hospital, he was optimistic.
"We were hearing good things about them," Minden said. "We were told you couldn't get a better system to take care of your hospital."
As BRMC had repeatedly changed hands, one consistent theme had been a lack of resources. The hospital was in desperate need of a new roof – a network of tarps caught water on rainy days. One of the first things BayCare did was invest more than $8.5 million to pay for much-needed facility upgrades, including a new roof.
"That was how we knew they were serious about this partnership, and it helped convince team members that this was an organization that cared," Minden said.
BayCare also got to work on increasing compensation for team members and providing support through system teams. BayCare would spend a total of $25.3 million for facility improvements from 2016 through 2021, which included $11.8 million for new equipment, from modernizing patient rooms to purchasing surgery robots.
Another challenge facing the hospital was ensuring around-the-clock physician coverage for specialty services and intensive care. BayCare leaders hip worked to re-establish relationships with physician groups in the community to assure them the hospital was on a path to delivering high-quality care for patients.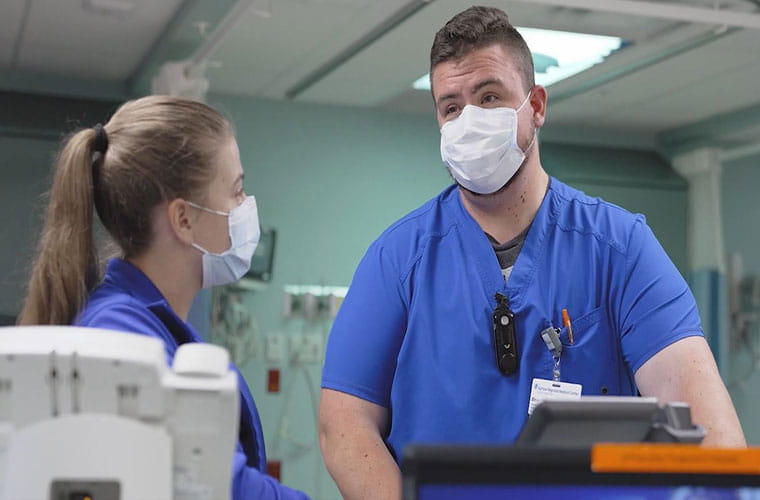 One solution that helped improve access to high-quality intensive care for the small regional hospital was to deploy an eICU service, where very sick patients are constantly monitored by BayCare team members at another location, who alert the onsite team whenever there is a problem.

"Once we were able to get physician support for this, that made a big difference in terms of patient care," said Dr. Mark Vaaler, BRMC's chief medical officer.

Dr. Jeremy Katzmann was the chief of the medical staff during the transition to BayCare ownership, and is also affiliated with The Watson Clinic, a large Lakeland-based physician practice. He remembered physicians being skeptical, after the revolving door of for-profit ownership at BRMC.

"A lot of that changed when we began to see that BayCare was serious about giving us what we needed to care for our patients," he said. "I am still so grateful to BayCare and the executive leadership for coming to the hospital, sitting down with us and asking us what we needed. It was really refreshing."

Another value-add: Quality improvement efforts initiated by Minden upon his arrival now had the support of BayCare's quality infrastructure that vigilantly measures patient outcomes to identify opportunities for improvement. From administrators, who regularly make rounds through the hospital, to frontline team members, those efforts are reinforced daily. And various recognition programs, such as the DAISY Award for Extraordinary Nurses, routinely celebrate team members delivering exceptional care.

While the transformation at BRMC was underway, Brandon Stephens had become a registered nurse and was working in the orthopedic department at BayCare's Winter Haven Hospital. In 2018, when friends went to work at BRMC, he decided to join them, finding a changed place with a wonderful culture. He is now a DAISY Award winner.

"By my second day here, (leaders) were greeting me by my first name," Stephens said. "That comfort level, that family atmosphere, has helped us collaborate in how best to support each other, which carries over in patient care."

In 2019, Minden became the president of BayCare's St. Joseph's Hospital – South, and BRMC's current president, Karen Kerr, was named. Kerr continued to make improvements and expand services, adding a STEMI program, which quickly diagnoses and treats patients having active heart attacks; more surgical services; and a Center of Excellence for robotic surgery.

"When I learned that we made the Top 100 list, I was so happy for this team. It was a testament to everyone who worked so hard for so long," Kerr said. "You can't do all of that without the support of a strong organization dedicated to clinical excellence. I'm so excited to see what the next five years bring."