Nurse Navigators Guide Patients' Orthopedic Surgical Journeys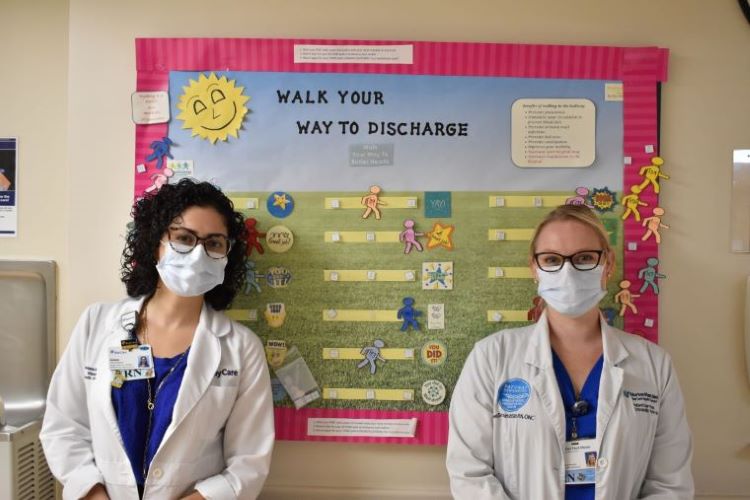 Gina Rowland (left) and Noel Schmidt in front of an "ambulation board" at Mease Dunedin Hospital. The ambulation board tracks patients' walking progress after orthopedic surgery and serves as a motivation tool for patients in their recovery.
BayCare's orthopedic surgery services includes the unique position of "Nurse Navigator." Like the flight or sea navigators who safely guided journeys, nurse navigators guide patients completely through orthopedic surgery working with a surgeon.

For example, nurse navigators are the "go to" people for those undergoing elective total joint replacements such as hip, knee, shoulder replacements or for people coming to the ER with a hip fracture.

Gina Rowland, a RN who manages orthopedic services for BayCare, explains how the navigators are patient advocates throughout the entire surgery process including:
Pre-surgery education (a class, discussions in person, virtual, over the phone, text, email)
Pre-admission testing (i.e. laboratory and blood work)
Before and after surgery during the day of the surgery in the hospital
During a patient's stay in the hospital as an inpatient
After discharge at home
"The main role of the navigator is coordinate the care of the entire patient's journey," Rowland said. "Navigators are there from pre-op (pre-operation) to post-op (post-operation). They are there to support the patient, their family, the surgeon. They are making sure the patient has a good experience. They are in the middle of that hub that everything revolves around. Navigators are there to make sure the orthopedic pathway is successful."
Surgery can be a complex process and involves a myriad of medical and support staff. In addition to surgeons and surgeons' office staff, there are pre-op, surgical and inpatient bedside nurses, anesthesiologists, physical and occupational therapists, patient care technicians, pharmacists, hospital care coordinators, home health and durable medical equipment staff (providers of walkers, canes, commodes, etc.,).
Samantha DeWalt at an education fair for orthopedic nurses at St. Joseph's Hospital.
"We are the touch point for the patient with all the people they encounter or communicate with," said Noel Schmidt, an orthopedic nurse navigator at Mease Dunedin Hospital. "We let the patient know what to expect throughout the journey, at the hospital, about the medications. We provide them education, in a class before surgery. We provide education again upon discharge."
"Navigators make sure the patient gets appropriate care," Rowland said. "Navigators hold everyone responsible. They keep tabs on how everything is progressing."

Samantha DeWalt, a nurse navigator at St. Joseph's Hospital in Tampa, said the biggest attribute navigators provide patients is trust.

"Patients trust me because I'm able to answer all their questions," DeWalt said. "I'm the resource that can help them figure everything out. They are able to rely on me through the time they plan surgery, the time they are in the hospital and the time they get to leave the hospital. I have a relationship with them. They trust me that what I am going to tell them is going to be the right thing for them. I provide them with the education and knowledge they didn't have before. I gain that trust from them. They come to know me as the doer, the person that gets things done for them."

Liezel Garces Camello, a nurse navigator at Winter Haven Hospital, who has been in the position since November 2021, noted the uniqueness of the position at BayCare. Liezel came to Winter Haven after working at a hospital in Miami.

"I do not think a lot of hospitals have this role," Garces Camello said. "We did not have it in Miami. This is a good service we can offer ortho patients. You have a point person coordinating care. Patients have someone closely with them as they go through their journey. It puts them at ease knowing they have someone coordinating and making the process smooth for them. They know they have the support and that one go-to person to call. For example, they don't have to worry about ordering equipment once they get home. I do it for them."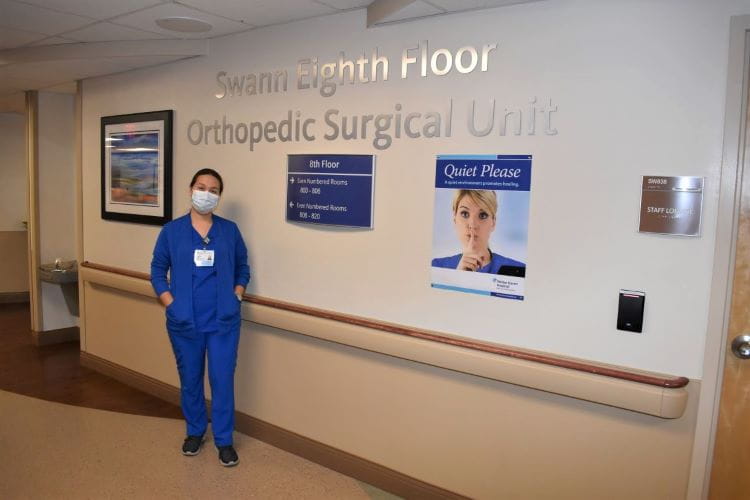 Liezel Garces Camello on the orthopedic unit at Winter Haven Hospital.
Garces Camello said the satisfaction of the job often comes way down the line after the surgery, recovery and recuperation.
"The satisfaction of the job is when patients say 'Thank you' and say they are grateful to me because they had a good experience," she said.
"It takes a team to deliver the best possible outcomes to our patients after joint replacement," said Dr. Christopher Grayson, BayCare medical director for orthopedics. "The navigators are one of the most valuable members of our team. Without their dedication and hard work we would never be able to deliver the high-quality care we do."
Orthopedic nurses have specialized education requirements and need to pass a exam to receive Orthopedic Nursing Certification (ONC). Continuing education is available through the National Association of Orthopedic Nurses.
BayCare currently has orthopedic nurse navigators at nine hospitals – Mease Countryside Hospital in Safety Harbor, Mease Dunedin Hospital, Morton Plant Hospital in Clearwater, South Florida Baptist Hospital in Plant City, St. Anthony's Hospital in St. Petersburg, St. Joseph's Hospital in Tampa, St. Joseph's Hospital-North in Lutz, St. Joseph's Hospital-South in Riverview and Winter Haven Hospital.