St. Anthony's Meek & Mighty Triathlon Finish Line Just the Start for Woodlawn Students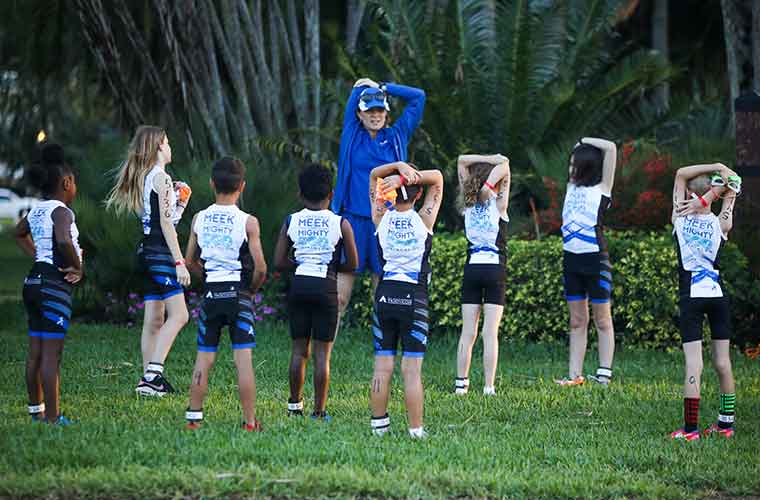 Led by the BayCare Kids Wellness and Safety team, the Woodlawn Elementary School students get in a good stretch before the St. Anthony's Meek & Mighty Triathlon.
VIDEO: Watch Athletes Make a Splash at St. Anthony's Meek & Mighty Triathlon
ST. PETERSBURG – At just past 9:30 a.m. Saturday, Woodlawn Elementary School third-grader Samiya Whitaker – exhausted yet exhilarated – jogged onto the final straightaway of the St. Anthony's Meek & Mighty Triathlon as onlookers called out her name and cheered her on.
She paused for just a moment, then dug deep and ran toward the finish line as the announcer's voice boomed across Vinoy Park, "Here comes Sam-iii-ya Whitaker! Way to go young lady – what a big smile on your face!"
For the record, Samiya was the last of the 13 members of Team Woodlawn to cross the line in the staggered-start event that preceded the 39th annual St. Anthony's Triathlon here on Sunday. But finishing the competition – comprised of a 100-yard swim, a 3.6-mile bike ride and a half-mile run for children 7-10 – was a victory in itself for the 8-year-old who almost never started the race in the first place.
Samiya's uplifting moment was one of the highlights of a Meek & Mighty event held for the first time since 2019 due to the COVID-19 pandemic, attracting some 300 competitors on a sunny, windswept morning beside the downtown St. Petersburg waterfront. The park was packed with spectators who began arriving in the pre-dawn darkness, poised to pull for participants in three age brackets – adults 16 and above, kids 11-15 and the 7-10 group.
That latter group provided by far the most engaging storyline – focusing on Woodlawn, a Title 1 school with a large population of economically disadvantaged students who had been diligently preparing for this moment with support from BayCare and St. Anthony's Hospital.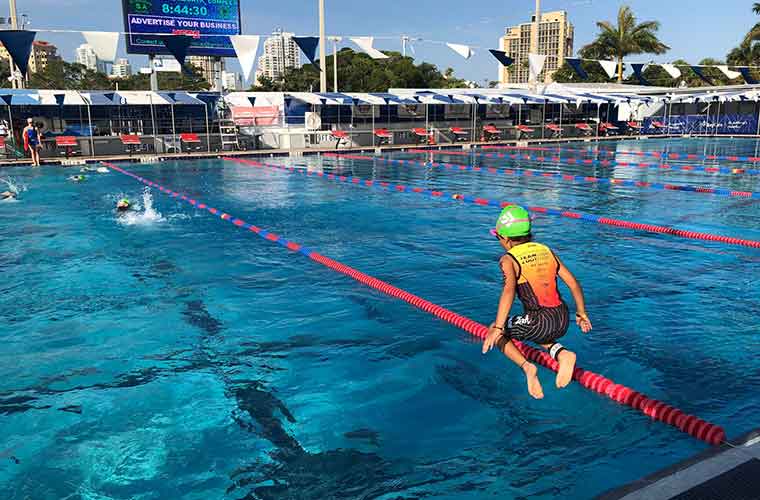 A young swimmer goes airborne before jumping into the North Shore Pool for the St. Anthony's Meek & Mighty Triathlon.
Last August, when Woodlawn fielded a Meek & Mighty team as part of a BayCare fitness program, soft-spoken Samiya was unsure that she would participate with older sister Zaria. Her mother, Lisa Hodges, was uncertain, too – fearing her daughter might be too inexperienced and would feel bad if she couldn't handle the training regimen.
But Samiya overcame her worries and embraced the challenge last year. And some nine months later – after COVID-19 precautions forced a cancellation of the St. Anthony's Triathlon in October – she officially went from meek to mighty with the rest of her Woodlawn classmates beside the downtown waterfront.
"She was nervous a few nights ago, but last night she was ready," said her mom. "She went to bed early and woke up on time ready to go. I'm so proud of her. I told her, 'You can just keep doing this now.'"
That may have been the overriding message for all of the Woodlawn students, who received coaching in twice weekly sessions from members of the BayCare Kids Wellness and Safety team over the past year. As the end of the race neared, one of the coaches, Mendi McDowell, spoke of the finish line as more of a beginning for Woodlawn students.
"For all of these kids, this isn't the end," she said. "If anything, it should have just ignited excitement for a healthy lifestyle overall – or simply getting outside and moving around. So hopefully after today this will just be a jump-start for the kids and even their families together to get out and be active."
Saturday's big moment was a long time in coming for the students. When the Meek & Mighty event they trained for last summer and fall was cancelled, they instead competed in a mini-tri at the school and the nearby Campbell Park Recreation Center pool. But this was the real deal – with a packed crowd of spectators and competitors arriving in the pre-dawn darkness.
Kids and parents gathered at a BayCare tent across from North Shore Aquatic Center pool starting around 6:15 a.m., following a casual celebration dinner Friday evening at Woodlawn. First to arrive was Connor Rogers, 10, accompanied by his parents and older sister. "It's really exciting," said his father, Aaron. "They've been training for this since last August. And what's great about this is how it's introduced them to a healthy lifestyle. It's amazing what BayCare has done to make this happen. I never had anything like this when I was a little kid!"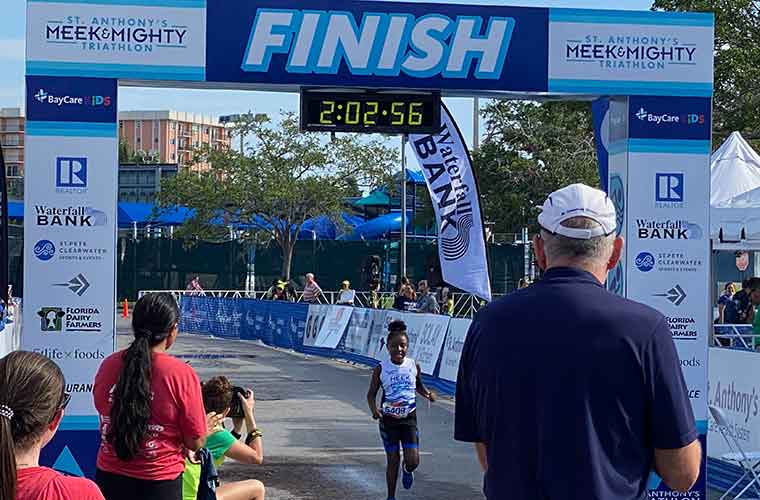 Samiya Whitaker, 8, who wasn't even sure she wanted to participate in the Meek & Mighty Triathlon, smiles as she crossed the finish line.
As the sky began to lighten, following a night of heavy rain, some of the students snacked on oranges and granola bars. Coach Camille Yodzis pinned race numbers on each competitor. And the seven who qualified for the swim portion of the event received bags filled with green caps – signifying their age group – and goggles. And by 6:45, it was time to move the free bikes provided to them by St. Anthony's Hospital to the transition area.
"I feel a little dizzy in my stomach," said 10-year-old Margaret Hevron. Her mother, Melanie, smiled nearby and remarked, "She's super excited. She loves this team."
Any nerves the students may have felt soon faded as Team Woodlawn posed for a group photo and gathered for pre-race calisthenics conducted by McDowell. By now, around 7:15, a massive crowd of spectators and participants had gathered, packing the North Shore Pool bleachers and lining the railings.
The Woodlawn contingent paused to stand for a taped rendition of the National Anthem, and then it was go-time, with months of preparation kicking in. One family, the De Salvos, even sported custom shirts with their name printed on the back to root on third-grader Antonio, as parents Jeff and Nayla dashed from event to event to watch their son.
Watching with extra pride was Woodlawn principal Tammy Keiper, who had worked with BayCare last year in getting the event off the ground. She put her original team together by letting students participate if they kept up with their reading assignments. Now she has a waiting list of students who want to take part next year.
"It's awesome," she said. "They love to hear their names called. And it's just super-exciting that they're here – and they made it."
Especially Samiya, beaming on her way to a finish line that might just be a starting point.
For information on St. Anthony's Triathlon, visit SATriathlon.com.