Tips for Protecting Your Family When Flu Season Collides with COVID-19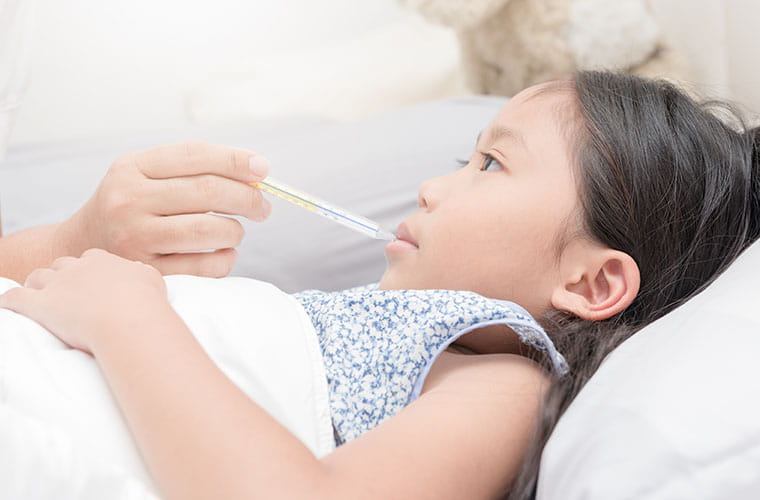 Flu season is expected to arrive right on time this year and it's on a collision course with COVID-19 and the current wave of the Delta variant. Most physician offices are already offering this year's influenza vaccine, hoping to get ahead of this year's flu viruses.
BayCare Pediatric Service Line Medical Director Dr. Christina Canody provides answers to common questions about the flu and the importance of vaccination during a pandemic.

Why is it so important for families to get the flu vaccine this year?
This year, the administration of the influenza vaccine has two really important implications. The first one is that it's always important to get the vaccine because we still have deaths each year attributed to influenza. Despite having a vaccine for prevention and medications for treatment of the illness, on average 200 children and 25,000 adults in the United States die from influenza each year. So, it's something that's real and something we are presented with every year. Vaccines directly reduce the risk of hospitalization or death from the flu.
The second reason is the pandemic. We don't have a lot of information of how the COVID-19 and influenza viruses will behave if you were infected with them at the same time. It's not unusual to see patients with two strains of influenza, or influenza and strep infections at the same time. If somebody were to become infected with COVID-19 and influenza at the same time, it's possibly they could have more severe symptoms and even become critically ill. Already this year, we've experienced record high numbers of respiratory syncytial virus (RSV) infections in children after seeing very few cases last year. Influenza season could rebound much the same, putting more children at risk.

When should we make the appointment to get the flu vaccine?
Typically our flu season in Florida starts in October and then goes all the way through spring break. Last year, it was pre-empted by COVID-19 and all of the precautions in place to prevent the spread. As a result, we experienced a massive decline in influenza infections. This year, we really don't know. We're hopeful that people will continue to take precautions including getting a flu vaccine, mask wearing, good hand hygiene, and staying home when feeling sick and that we'll see lower rates of influenza.
If you've never received the flu vaccine before and you're 8 years old or younger, you actually need to get two doses. So, having those two doses at least a month apart will take a little bit of time. We recommend getting your vaccine as soon as you can. This year's vaccine is already available at your physician's office or a pharmacy near you.

Since there are similarities between flu and COVID-19 symptoms, will children with symptoms be screened for both?
With kids back in school and increasing social interaction, influenza testing will expand as we start to see infections in the community. With the younger kids, they will actually be screened for influenza, in addition to RSV and COVID-19. For the older kids, it's influenza as well as COVID-19 and strep throat when presenting similar symptoms.

Should parents or caregivers be concerned about bringing their child to a doctor's office?
Physician offices work hard to create a safe environment for kids to keep up with the normal checkups and also provide for those who are acutely ill. Pediatric care focuses on prevention and it's important to monitor a child's growth and development. Additionally, putting off a visit for a problem can make it more difficult to treat. Be sure you are familiar with the changes your child's doctor has put into place and bring along your patience, as keeping everyone safe may take more time.
It's also important to keep your child's immunizations up to date. A report from the American Academy of Pediatrics earlier this year indicated that approximately 50% of children are behind on vaccinations due to the pandemic.
In addition, if a child is sick, it's important they are evaluated because although the prevalence of COVID-19 infections is currently in a peak, there are many other illnesses that kids experience. RSV, rhinovirus and strep throat are currently going around and something like strep needs to be treated with an antibiotic to avoid the risk of heart problems. Contact your child's doctor for guidance on testing, treatment and possible quarantine.

Do you think we'll see less flu infections because of extra precautions for COVID-19?
Ideally, we hope for another quiet flu season, however, that's not expected because families have resumed full activities and travel. Following the practices we continue to stress is key: get vaccinated, practice hand hygiene, wear face coverings inside or in close proximity to others, and stay home if you are sick. Understanding that we all have a part in keeping each other safe and healthy is an important lesson for all to remember.