Get Vaccinated: A Powerful Message From a Powerful Man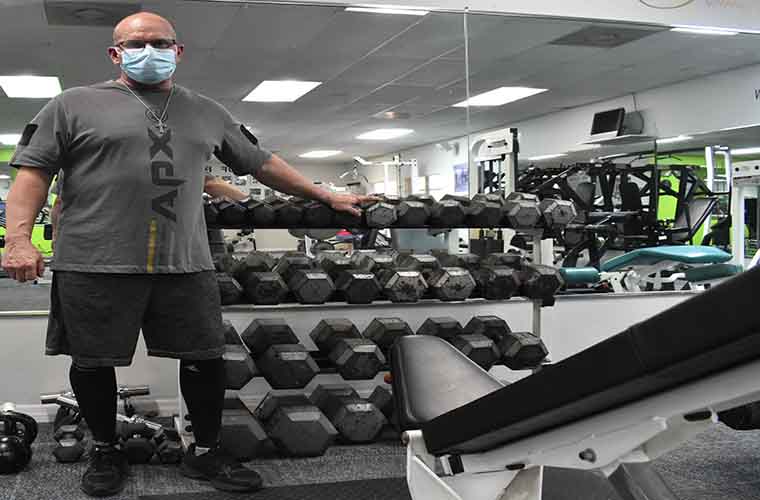 Mark in his Tampa gym in front of a dumbbell rack
Mark Metzger, 55, is a pillar of strength. Literally and figuratively. He's spent a good portion of his life perfecting his physique as a competitive bodybuilder. Mark, who lives in Odessa, shares his knowledge of physical fitness with others as a personal trainer and the owner of a Tampa gym,
Metzgerbodies
.
But COVID-19 delivered a punch to this powerful man that no amount of weightlifting or bodybuilding could stop. He said he was in almost complete organ failure when he was brought to St. Joseph's Hospital-North in Lutz.
"It (COVID) almost killed me," Mark said.
He spent 13 days in the ICU at St. Joseph's Hospital-North. He recovered and was discharged August 10. He's forever thankful for the care he received that led to his recovery.
"They saved my life and were wonderful," Mark said of St. Joseph's Hospital-North. "They are very busy people. Everyone on staff who cleaned my room to the nurses and doctors who were completely amazing. Everyone truly was so helpful and kind. I know they were overworked and tired beyond comprehension, but they did their job with a smile anyway. I'm so grateful to them."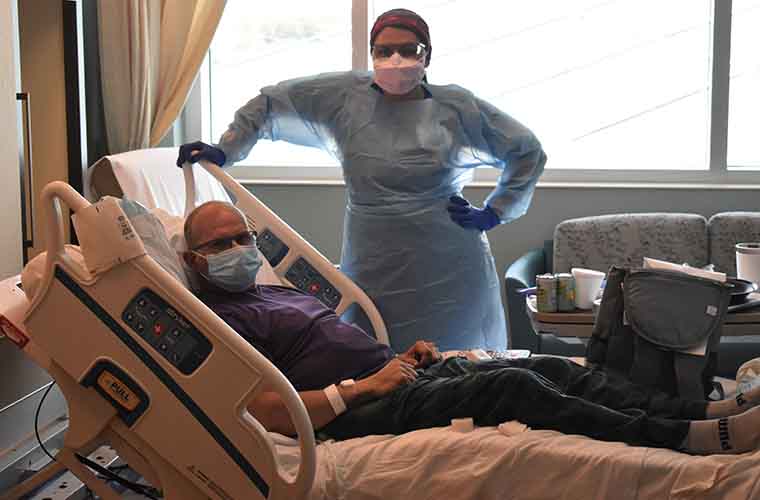 Mark and nurse Alexis Lastres in his room at St. Joseph's Hospital-North on discharge day
Mark was not vaccinated for COVID when he went to the hospital.
"I did not take this (COVID) seriously," Mark said on the day of his discharge. "I had always been healthy. I thought I was OK. I did not think it would hit me. I thought I was invincible to it. I learned a big, big lesson. I want to be an advocate to get vaccinated and let everyone know how serious this is. God gave me another chance at life. I want others to know this could hit anybody and it can kill them. I never want anybody to go through this. Get vaccinated. That's it."
Because of COVID, he lost 30 pounds. At discharge, he needed to use oxygen at home. He's since regained 20 of the 30 pounds and is 210 pounds on his 5-foot-6-inch frame, compared to his normal 220. He no longer requires oxygen at home.
"Overall, I'm doing well," Mark said in an interview at his gym 24 days after discharge. "My progress has been accelerated and even a little faster than I thought it was going to be. My stamina, strength, balance and coherency has been much better than I had hoped for."
He described his breathing as still being "a little tough." His doctor prescribed an inhaler.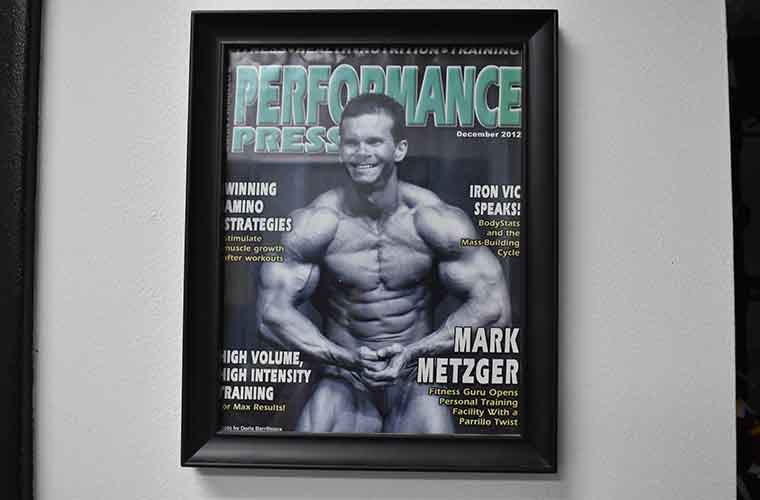 Mark on the cover of a fitness magazine in 2012
"I get out of breath easily," Mark said. "I've got some scar tissue in my lungs but that can be expected and will get better. The inhaler, a common thing, has helped."
Mark is training clients again. He returned to doing his own workouts, although not at the intensity and pace as his pre-COVID regimen.
"It's a process, I don't want to do too much," he said. "Doctors told me you'll put yourself right back in the hospital. That's the last thing I want to do. I'm being careful."
Mark's message to others about getting vaccinated remains as resolute and staunch today as it did on his discharge day. "It's the right thing to do," he said. "I don't want anybody to go through what I went through. No way."
Watch Mark's
story
at discharge and a subsequent follow-up
story
featured by the local television news.