Amid Pandemic, BayCare's Mease Countryside Hospital Expands Capacity With Opening of Bilheimer Tower
Expansion and renovations in Safety Harbor total $156 million
SAFETY HARBOR, Fla. (Sept. 17, 2021) – As our region's health care resources have been taxed amid the COVID-19 pandemic, BayCare is proud to announce the opening of a new patient tower at Mease Countryside Hospital that will improve health care delivery in Pinellas County.
The addition of the Bilheimer Tower, named in honor of Nancy and David Bilheimer for their substantial gift, means Mease Countryside Hospital now has a majority of private rooms for patients. It also brings all critical care rooms together in one location, increasing the capacity from 26 to 34 while improving efficiencies for physicians, team members and support services. In total, this project creates 76 new licensed beds plus an additional 30 observation beds for patients needing extended examination before being discharged or admitted.

The completion of the tower also creates a new main entrance for the entire hospital. It is the second major completion milestone in this 5-year expansion and renovation project. The first milestone, completed in February 2019, opened a four-story parking garage and elevated pedestrian walkway from the garage to the tower.

"This project allowed us to expand our campus, add more private rooms and be better prepared to meet the health care needs of our community for years to come,'' said Matt Novak, president of Mease hospitals. "With the addition of this tower, we've gone from 31% private rooms to 82%. We are extremely grateful to the Bilheimers for their generosity and their role in making this happen."
The four-story patient tower features 104 private rooms and increases the number of licensed beds at the hospital to 387. The hospital worked closely with the architect to design a warm, friendly environment for patients and visitors.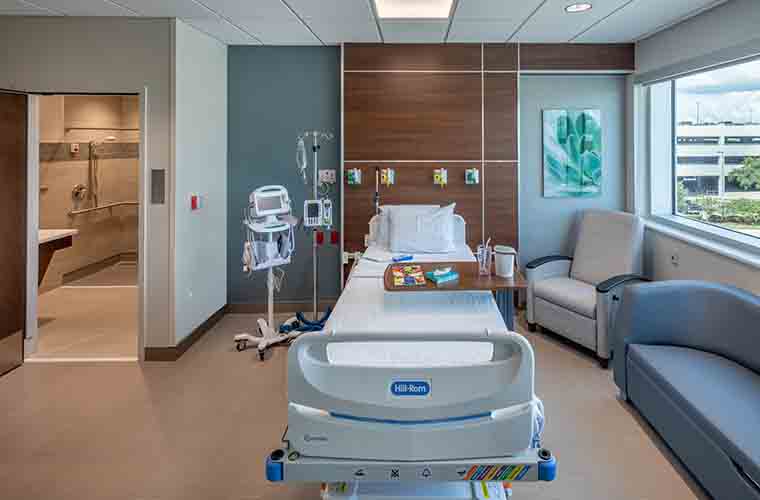 All patient rooms are spacious and include a sleeper sofa and chair to keep guests comfortable when visiting their loved ones. Décor in a neutral palette punctuated by blues and greens provides a restful environment.

Artwork is incorporated in the headwall to help create a homey feel. Artwork in the Bilheimer Tower was carefully chosen by Safety Harbor's Syd Entel Galleries. Curator Susan Benjamin sourced local artists from the Tampa Bay area as well as national and international artists resulting in a variety of art on each floor, including abstract photography and textured expressions.

"We wanted it to be warm, welcoming and really be a place of healing and comfort for our patients and their families,'' Novak said.
The new tower includes a grand main entrance including a covered drop-off area for weatherproof convenience.
Floor-by-floor highlights include:

First floor: New main entrance and lobby, admitting and registration, volunteer and guest services departments, 30-bed observation unit, Entel Education Center, gift shop, telemetry room and outdoor tranquil garden courtyard.

The 30-bed Paula and Peter Vosotas Observation Unit is adjacent to the Emergency Department. The space provides improved efficiencies for patients needing extended observation before determining need to admit or discharge.

The Entel Education Center is named for the Entel family that has contributed both professionally and financially to Mease Countryside Hospital. Dr. Erwin Entel (retired) and son Dr. Robert Entel, a radiologist, have been on the hospital's medical staff. Syd Entel and her husband, Dr. Erwin Entel, supported the hospital's surgery center that had to be demolished to make way for the Bilheimer Tower. The new Entel Education Center moves meeting rooms from the basement level to the ground floor to provide a more accessible environment for learning and patient education, as well as recognition of the ongoing contributions from the Entel family.

The peaceful outdoor courtyard is in the center of the ground floor of the Bilheimer Tower. It provides dining and seating areas, a children's play space and a noise-cancelling water feature.

Second floor: This area includes 34 critical care rooms, combining two previous patient care units.

Third and fourth floors: Each floor includes 35 acute care rooms supporting medical and surgical needs. These rooms are all private with sleeper sofas and chairs for visitors. The third floor includes a spacious discharge room, and the fourth floor a rehabilitation gym.

The tower construction nearly completes the new construction phase of the $156 million expansion and renovation plan devised to create a more connected hospital campus. Remaining construction projects include expanding areas for materials management services and connecting the Bilheimer Tower to the Villa Tower. Other areas scheduled for renovation include the entire surgery department, respiratory department, all lobbies on the first floor and the cafeteria.

Mease Countryside plans to relocate patient units and services into the new building on a rotating schedule in the upcoming weeks, then renovations will begin on the vacated spaces.
The architect is Freeman-White of Charlotte, N.C., and the contractor is Haskell Construction of Jacksonville.