"Innovative Program" at St. Joseph's Hospital Helps COPD Patients Stay Healthy at Home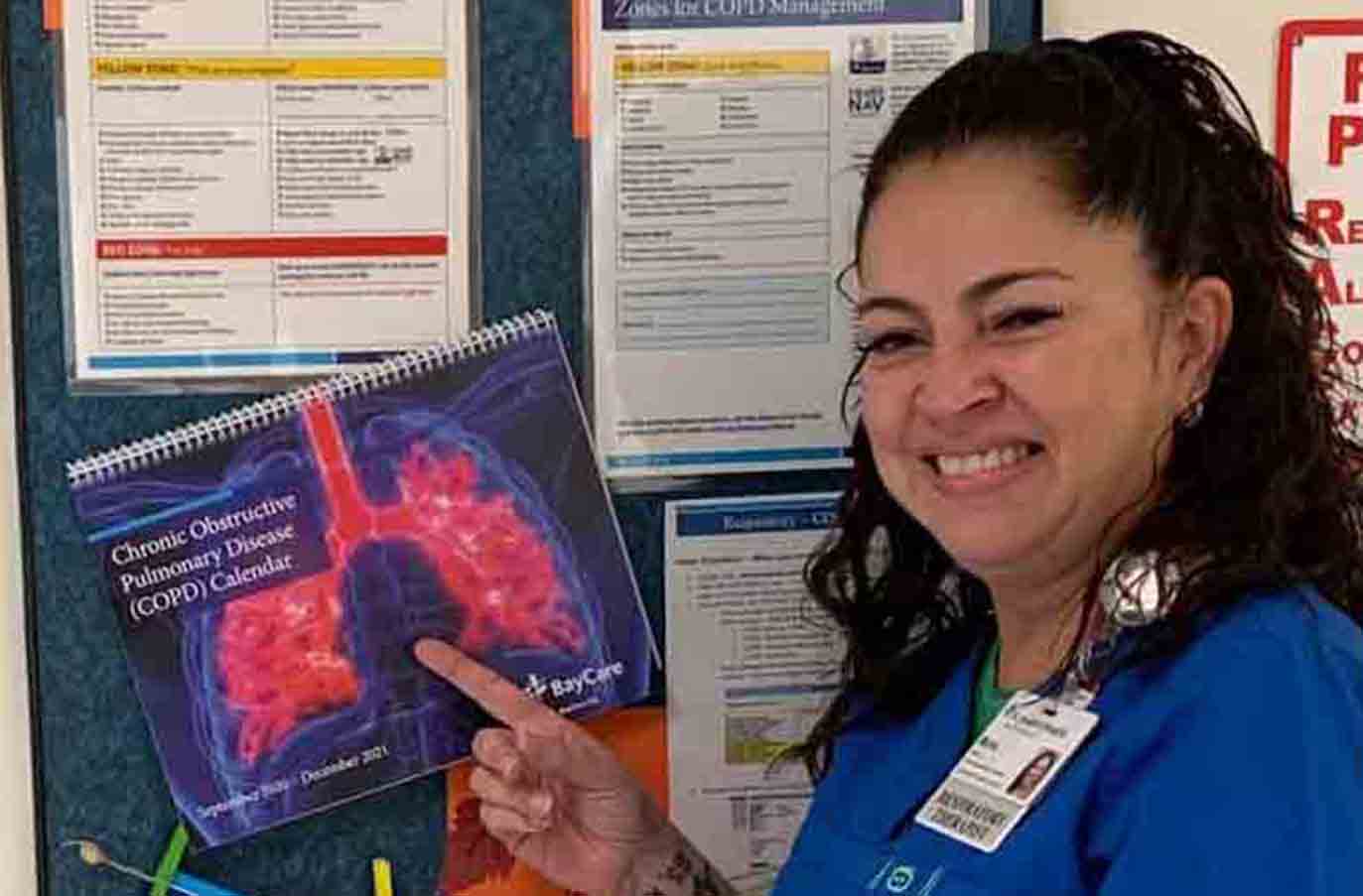 As a pulmonary patient navigator, Maria Daniels focuses on reducing readmissions rates for COPD patients.
Maria Daniels cares deeply about her patients. She wants to help them stay healthy at home, rather than in the hospital.
Maria is a pulmonary patient navigator at St. Joseph's Hospital, where she educates patients about their lung health and works closely with team members to ensure high-quality care. She has always loved working at the bedside. She appreciates the autonomy and opportunity to apply her education in real-world situations. But most of all, she loves watching patients get better.
"The greatest thing is the satisfaction when you see a patient turn around, come back and say hello after you thought they weren't going to make it," she said.
A few years ago, Maria left a leadership position at another health care company to return to the beside at South Florida Baptist Hospital. Soon after, she brought her two decades of experience as a respiratory therapist to St. Joseph's Hospital. Her role involves empowering patient to care for their lung health.
The pulmonary patient navigator position was created about five years ago to help reduce readmission rates for patients suffering from chronic obstructive pulmonary disease (COPD) and other lung ailments. Data shows it's been a success.
SJH's readmissions rate for COPD patients has dropped significantly over the past few years. In 2018, the standardized readmission ratio, which is calculated by comparing the number of observed readmissions with the number expected, was 1.22. It dropped to 0.90 by 2019 and 0.85 by 2020. Maria was featured in a recent article by the American Association for Respiratory Care, which
recognized SJH's respiratory care as an "innovative program."
Educating patients is key to making sure they make informed decisions about their lung health. For example, if a patient is a smoker, Maria teaches them about how smoking harms their lungs and helps them sign up for classes through Tobacco Free Florida, which offers nicotine replacement therapy free of charge.
In one instance, one of Maria's patients would have benefited from a nebulizer but was uncomfortable bringing the bulky device with him to work. Maria informed the patient about pocket-sized nebulizers that he could carry around discreetly. The patient was so excited to learn about the device that he purchased one immediately.
Living with COPD can be complicated, Maria said, but "once a patient knows what their supposed to be doing, they get it. It helps them to have somebody present to sit there one-on-one and review their lung history."
Each day, Maria views patient charts and conducts interviews with patients to learn more about their conditions. Beyond their medical chart, she asks them about their living and working situations to find any factors that might be contributing to their condition. She then works closely with team members across disciplines to ensure the patient continues to stay healthy after discharge.
"It's not a one-pony show," she said. "You have to have a good relationship with all these people."
As with team members across BayCare, COVID changed Maria's workflow and required her to expand her skillset.
"Even though my prime focus is readmissions, I've been pulled left and right" she said. "I love it because I've learned new things."
And through it all, Maria's passion for patient care remains unwavering. She still loves working at the bedside and watching patients get better. And when they're discharged, she still hopes they're able to stay healthy at home, rather than in the hospital.