How to Reduce COVID-19 Risks During the Holidays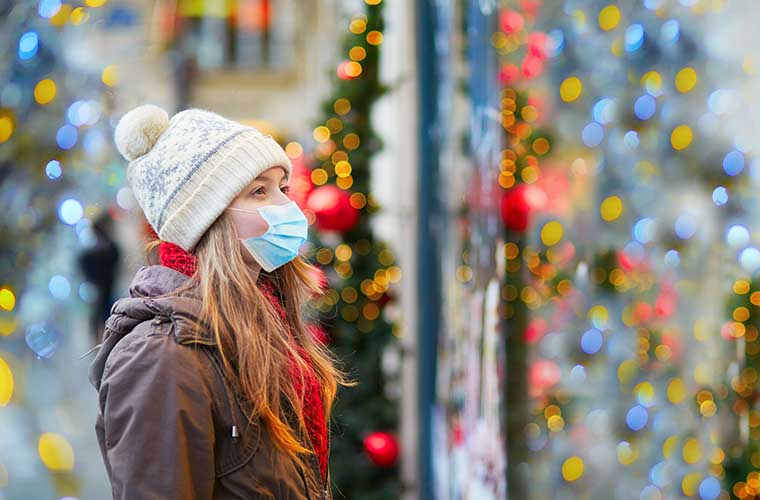 The holiday season is here! That means festive gatherings and celebrations kick into high gear across the country.
As you begin planning holiday celebrations, keep in mind that COVID-19 is still in our community and increasing in some parts of the country. While millions are getting vaccinated, medical experts predict a potential winter wave that could collide with the holidays.
"The COVID-19 situation is better than last year, but we still need to be mindful of a potential increase of infections around the holidays and through the winter months," Dr. Nishant Anand, BayCare's executive vice president and chief medical officer. "As we celebrate the season with friends and loved ones, we should continue to do our part to help keep each other safe and healthy."
To help you celebrate the holiday season safely, below are some ways you can minimize COVID-19 risks.
Get Vaccinated
Dr. Anand urges everyone who is eligible to get vaccinated. Vaccines are the best line of defense against serious complications from a COVID infection. Scientific data has shown that COVID-19 vaccines approved by the U.S. Food and Drug Administration (FDA) including Pfizer, Moderna and Johnson & Johnson, can help prevent serious complications from the virus, hospitalizations and even death. If you're eligible for a booster shot, a single booster shot from the FDA-approved vaccines is available for vaccinated individuals in certain populations.
Plan Smaller/Outdoor Gatherings
While large gatherings for the holidays can be fun, consider hosting a smaller gathering. According to Dr. Anand, large gatherings especially inside and in poorly ventilated areas, could increase the risk of spread. If the indoor setting is the only option, wear a well-fitted mask and properly social distance, even if you're fully vaccinated. If possible, Dr. Anand recommends socializing and eating outdoors instead of indoors to reduce the chance of exposure.
Visiting Crowded Malls and Stores
Malls and grocery stores are crowded with people during the holiday season. Going shopping in stores filled with people can highly increase the risk of exposure to COVID-19. These environments allow the virus to thrive and spread a lot quicker. Dr. Anand recommends wearing a mask inside crowded malls and stores, even if you're fully vaccinated.
Traveling
As traveling comes back to life, airports, train stations and bus stations will be filled with large crowds. If you plan to travel during this holiday season, you should take all safety precautions including wearing a well-fitted mask, even if you're fully vaccinated. If you plan to travel in a group or family with unvaccinated people, choose driving a car or other safer travel options. Do not travel if you have been exposed to COVID-19, you are sick, or if you test positive for COVID-19. If you are not fully vaccinated and must travel, get tested both before and after your trip.
Practice Safety Measures
While many are vaccinated, it's important to continue to practice safety measures to help slow the spread of the virus. First and foremost, wear a mask and properly social distance in crowded and inadequate ventilated spaces. Frequently wash your hands. The more frequently you wash your hands, the less likely the virus or other contagions will be able to infect you or others. People with a medical condition or with a low immune system, who are fully vaccinated and have received a booster shot, should take all the safety precautions until otherwise advised by their health care provider.
Get Tested
If you think you have been exposed to COVID-19, get tested as soon as possible. There are different testing resources available in the Tampa Bay area including BayCare Urgent Care centers and community and retail sites. BayCare Urgent Care offers rapid antigen and traditional PCR testing for patients who are symptomatic. Both tests are offered in conjunction with an urgent care visit and evaluation by a health care provider. For those individuals who are asymptomatic and wish to travel, BayCare offers an effective and reliable rapid PCR test that can detect COVID-19 in 30 minutes.
For more information on COVID-19, visit BayCare.org/Coronavirus.