Exciting Finish and Large Donation: Pelican LPGA Won't Soon Be Forgotten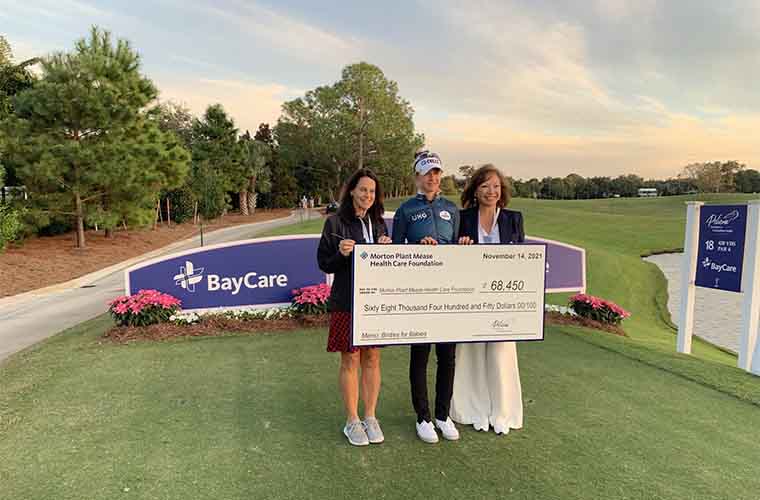 The 2021 Pelican Women's Championship ended in dramatic fashion Sunday when Nelly Korda bounced back from a triple bogey on the 17th hole to best Lexi Thompson, Lydia Ko and Sei Young Kim in a playoff.

The tournament also ended in excitement for Morton Plant Mease's Women's Services, which was the recipient of the money raised through the LPGA's "Birdies for Babies" charitable program. At the conclusion of the tournament, the LPGA presented Ernestine Morgan, President and CEO of the Morton Plant Mease Health Care Foundation, and Shari Crowe, director of Women's Services for Morton Plant Mease, a check for $68,450, representing $50 for every birdie scored during all four rounds of the tournament.

"Not only was this a fantastic event featuring the world's top women golfers right in our backyard, but the generosity of the LPGA will leave a lasting impact on our community," said Crowe. "These funds will allow us to help women experiencing pregnancy-related hypertension, particularly those underserved and minority pregnant women with decreased access to prenatal care and higher rates of pregnancy mortality and morbidity related to this complication of pregnancy."
The money will be used to purchase home blood pressure monitoring kits and educational tools around signs and symptoms of hypertension. Home monitoring will allow a provider to monitor the patient for changes in blood pressure, including dangerous elevations that can increase maternal morbidity and mortality.

On Tuesday, Nov. 9, BayCare served as the presenting sponsor of the LPGA's Women's Leadership Summit. A diverse panel of local civic and business leaders, as well as LPGA Tour players and executives spoke to attendees. Gail Ryder, Vice President of Behavioral Health, was one of the guest speakers.

A founding partner of the Pelican Women's Championship, BayCare also was the tournament's Official and Exclusive Heath Care System. Additionally, BayCare supported the tournament's volunteer program that recruits and deploys hundreds of individuals to assist in managing the event

"We are proud to be part of such a well-run event featuring top women athletes," said Lou Galdieri, President of Morton Plant Hospital and BayCare's Market Leader for North Pinellas and West Pasco counties. "I am grateful to the LPGA for its commitment to helping the women in our community. We look forward to the return the Pelican Golf Championship next year."

About Morton Plant Hospital
Since 1916, Morton Plant Hospital has been committed to improving the health of all we serve through community-owned health care services that set the standard for high-quality, compassionate care. Our 599-bed hospital is proud to offer nationally recognized care delivered in more than 50 specialty areas. Morton Plant Hospital offers innovative, accessible, and quality services to provide our community with a lifetime of compassionate, convenient care. For more information, call (727) 953-6877, or visit us on Facebook or at 300 Pinellas St., Clearwater, Fla.

About BayCare Health System
BayCare is a leading not-for-profit health care system that connects individuals and families to a wide range of services at 15 hospitals and hundreds of other convenient locations throughout the Tampa Bay and central Florida regions. Inpatient and outpatient services include acute care, primary care, imaging, laboratory, behavioral health, home care, and wellness. Our mission is to improve the health of all we serve through community-owned, health care services that set the standard for high-quality, compassionate care. For more information, visit www.BayCare.org.