BayCare Medical Group Welcomes Dr. Sachin Vaikunth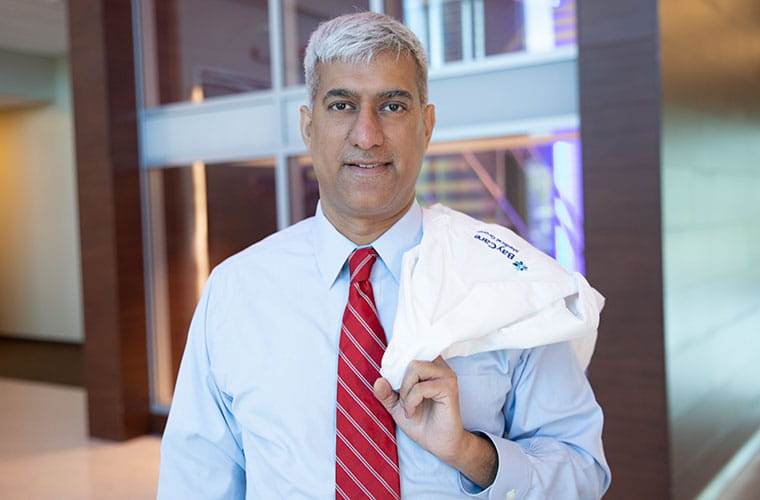 NEW PORT RICHEY, Fla. (November 18, 2021) - Dr. Sachin Vaikunth, MD, a board-certified general surgeon, has joined BayCare Medical Group and is accepting new patients 18 and older at 6633 Forest Ave., Suite 205 in New Port Richey. He has advanced training in minimally invasive laparoscopic, bariatric and robotic surgical procedures. Dr. Vaikunth is affiliated with Morton Plant North Bay Hospital.

Dr. Vaikunth provides his patients with the most advanced surgical procedures, and he's known as an informative, approachable and compassionate medical provider.

"We are very excited to have Dr. Sachin Vaikunth join our BayCare Medical Group and Morton Plant North Bay Hospital teams,'' said Brandon May, president of Morton Plant North Bay. "Along with Drs. Eric Borock and Lourdes Pelaez-Echevarria, the addition of Dr. Vaikunth, and his decade of high-quality, general surgery and robotic experience, will further strengthen our solid surgical services offering.''
An accomplished author, Dr. Vaikunth has contributed numerous articles to national peer reviewed publications. He's a member of the American College of Surgeons and the American Medical Association and is also certified in advanced cardiac life support and the fundamentals of laparoscopic surgery.
Dr. Vaikunth received his Doctor of Medicine from Vanderbilt University School of Medicine in Nashville, Tenn. He continued his medical education with a residency in general surgery at the University of Michigan Health System in Ann Arbor, Mich., and a fellowship in minimally invasive bariatric surgery at the University of Pittsburgh Medical Center.
His office phone number is (727) 375-2849. Dr. Vaikunth accepts most major insurance plans. Learn more: DrSachinVaikunth.org

About BayCare Medical Group
BayCare Medical Group is Tampa Bay's leading multi-specialty group providing primary and specialty care throughout the Tampa Bay and west central Florida regions. As part of the BayCare Health System, these passionate and compassionate physicians extend the mission of BayCare to provide extraordinary care for every patient, every time, everywhere. Locally and nationally recognized as a 2021 Great Place to Work® and Fortune 100 Best Companies to Work For®, BayCare Health System is a not-for-profit 501(c)(3) organization, with a network comprised of 15 hospitals with services including imaging, lab, behavioral health, home health care and urgent care. Our priority is connecting patients to a complete range of preventive, diagnostic and treatment services for any health care need, throughout their lifetime. For more information, visit BayCareMedicalGroup.org.

About Morton Plant North Bay Hospital
Established in 1965, Morton Plant North Bay Hospital is a 150-bed facility committed to improving the health of everyone it serves. Morton Plant North Bay has received the Gold Seal of ApprovalTM for Primary Stroke Care from the Joint Commission. Morton Plant North Bay Hospital is located at 6600 Madison St., New Port Richey, Fla. For more information about Morton Plant North Bay, go to www.baycare.org/mpnb.