BayCare Knows Food is Medicine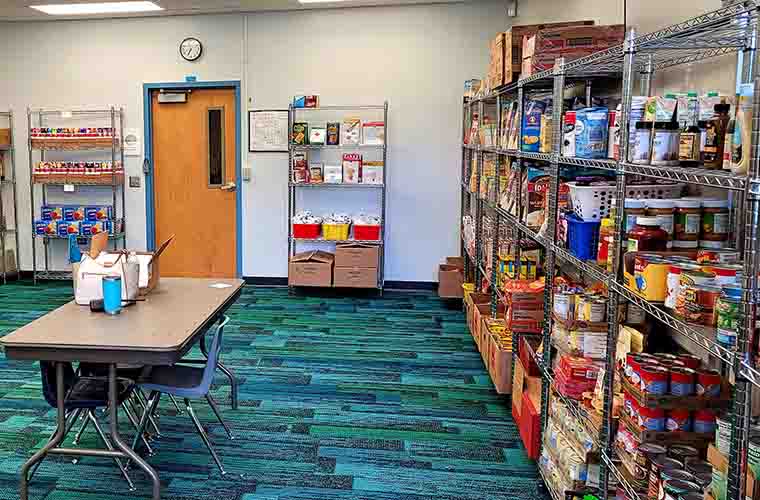 BayCare supports 18 public school pantries in lower-income neighborhood across four counties, including this one at Eisenhower Elementary School in Clearwater.
The world's best medicine can't compensate for hunger or poor nutrition.

That's why BayCare, West Central Florida's leading not-for-profit health care system, is now asking patients about their access to food. And the timing couldn't be better, given the impact the COVID-19 pandemic has had on many households' food security.

In recent months, three different Community Benefit initiatives at BayCare have matured to improve the chances that patients who are food insecure receive the food assistance they need to improve the chance of long-term recovery.

"Any health care professional will tell you that food is the first medicine," said Tommy Inzina, BayCare's president and CEO. "Without good nutrition, maintaining one's health is significantly harder and no medical intervention can compensate for what we need first: good and dependable access to food."

BayCare's 14 acute care hospitals are now asking hundreds of patients each month about food insecurity upon discharge and they are providing a "Healing Bag" of food to those who are food insecure. BayCare has also invested in an online, interactive database of social service agencies in the community so that medical staff – or anyone else in the community – has easier access to identifying longer-term resources for individuals who need help, be it with food insecurity, lack of housing, limited transportation or even job training.

The big picture is to help patients individually, and the community holistically. The goal is to better address what the World Health Organization has labeled the "social determinants of health," which are the social and environmental factors that impact a person's health, such as dependable access to nutritious food.

Responding to Demonstrated Need

BayCare began focusing much of its Community Benefit effort toward food insecurity after its 2019 Community Health Needs Assessment found great need across the four counties it serves: Hillsborough, Pinellas, Polk and Pasco. That focus came into even sharper relief with the onset of the COVID-19 pandemic, when food pantries and social service agencies reported significant spikes in demand for food.

Earlier this year, BayCare deepened its relationship with the region's largest hunger relief agency, Feeding Tampa Bay. One project involved a $450,000 investment by BayCare to support 18 public school food pantries in lower-income neighborhoods across the four primary counties BayCare serves.

BayCare also has been expanding an effort begun at a couple of its hospitals in late 2020. All 14 of BayCare's acute care hospitals now are distributing "Healing Bags" to patients upon discharge who identified themselves as food insecure.

The bags contain staples such as pasta, grains or canned goods estimated to last two to three days, and they include information about how to connect to community resources for food as well as other resources individuals may need. So far, 1,700 bags have been distributed, with the number growing weekly as each hospital's team becomes more familiar with the resource. In coming months, BayCare plans to expand access to Healing Bags to patients discharged directly from hospitals' Emergency Departments.

A New Tool for Social Determinants of Health

The next step in BayCare's commitment to addressing food insecurity was updating the health system's patient record system so that case managers are prompted to ask every vulnerable, high-risk patient with significant social needs about food security and record the answer. Patients are asked questions such as, "In the past 12 months did you worry that you would run out of food before you had money to buy more?" Those who answer "yes" are offered a Healing Bag. Just as importantly, case managers also work to connect those patients with longer-term food access in their neighborhood if the patient wants the assistance.

To facilitate that connection with long-term services, BayCare made another major investment to serve the community: $100,000 to underwrite West Central Florida's own portal to a real-time listing of social service agencies. Previously known as "Aunt Bertha," the "FindHelp.org" platform works nationwide and has two functions. Members of the public can go to their local site, such as the one now sponsored by BayCare, "FindHelpFlorida.org," and enter a zip code to seek out services.

Another function allows authorized users, such as BayCare's case managers and financial assistance navigators as well as personnel at other local service agencies, to communicate confidentially to pair patients with resources available in the community. With the patient's permission, the patient advocate can use the platform to provide a warm introduction for the patient with a social service agency, expediting resources for the patient.

Longer term, BayCare envisions the FindHelpFlorida.org platform assisting its clinical teams across the health system, including BayCare Medical Group, Ambulatory Services division (Urgent Care centers, laboratories and imaging) and Behavioral Health services. Providers will be encouraged to ask about food security and provide the same confidential referral for services if the patient agrees.

"Our goal is to make hunger no different than any other ailment that is a barrier to health," said Lisa Bell, BayCare's Community Benefit manager, whose team has helped drive implementation of the initiatives across the BayCare system. "Food insecurity gets diagnosed and treated – by identifying a dependable source of nutrition not just for today or tomorrow, but for the foreseeable future."

Serving Hillsborough, Pinellas, Polk and Pasco Counties

BayCare's 14 acute care hospitals include: In Hillsborough County, St. Joseph's, St. Joseph's Children's, St. Joseph's Women's in Tampa, St. Joseph's-North in Lutz, St. Joseph's-South in Riverview, and South Florida Baptist in Plant City; in Pinellas County, Morton Plant in Clearwater, St. Anthony's in St. Petersburg, Mease Countryside in Safety Harbor, and Mease Dunedin; in Polk County, Winter Haven, Winter Haven Women's and Bartow Regional Medical Center; and in Pasco County, Morton Plant North Bay in New Port Richey. A 15th acute care hospital is scheduled to open in 2023: BayCare Hospital Wesley Chapel.