Cinco de Mayo Recipe: Mexican-Spiced Shrimp Ceviche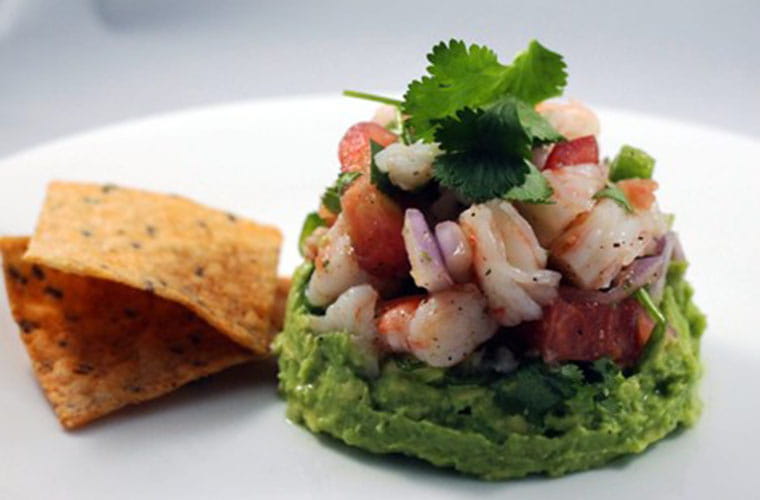 On the menu at Bartow Regional Medical Center for Cinco de Mayo: Mexican-spiced shrimp ceviche, one of Chef Mike Hanyok's go-to meals for the holiday.
Chef Mike was born in Washington D.C. and grew up in Maryland. His parents and grandmother inspired his love of cooking and by the time he was in middle school, Mike was cooking in nearby restaurants. He attended culinary school in Pittsburgh and eventually moved to Orlando to work in various restaurants. He started at Bartow Regional Medical Center in 2017.
"I'm very happy with BayCare and the team here," Mike said. "This is a wonderful facility and it's a challenge each day to come up with creative meals, but I feel we're successful."
His shrimp ceviche meal is inspired by the holiday and can be served with smashed avocado and Pico de Gallo or on an avocado rose.
Ingredients
For shrimp ceviche
15-25 shrimp, sliced in half lengthwise
Salt and pepper, to taste
2 tbsp lime juice, preferably fresh
2 tbsp extra virgin olive oil
1/2 cup julienned tomato, diced
1/4 tbsp mild chili powder
1/4 tbsp cumin
For Pico de Gallo
1/2 cup tomato, diced
1/4 cup red onion, chopped
1/4 cup ground pepper
1/4 cup seeded jalapeno
2 tbsp cilantro
1 tbsp extra virgin olive oil
Salt and pepper to tast
For smashed avocado or avocado rose
1 avocado
Lime juice to taste
Salt and pepper to taste
Achiote powder (for garnishing)
Directions
For the ceviche, poach shrimp in boiling salted water until just cooked and cool down slightly in a mixing bowl. Add rough chopped cilantro, tomato and green pepper, lime juice, sliced chives, mild chili powder and cumin. Mix well and add salt, pepper and olive oil.
For the Pico de Gallo, add the tomato, red onion, green pepper, jalapeno and cilantro in a mixing bowl and combine. Drizzle in about a tablespoon of olive oil and add some cilantro, and salt and pepper to taste.
To serve with smashed avocado:
In a mixing bowl, scoop out the pulp from an avocado and discard the seed. Gently smash the avocado (larger pieces are fine). Add lime juice, salt and pepper. Gently combine and set aside. Place a dollop of guacamole on a plate and gently press down to form the foundation of the dish and add the ceviche mixture on top of the guacamole. Add a little dollop of the Pico de Gallo on top of the shrimp. Garnish with cilantro sprigs and dust the plate with achiote powder for garnish. Serve with a few corn chips.
To serve with an avocado rose:
Scoop out the meat of an avocado and discard the seed. Lay it flat on a cutting board and slice thin, widthwise. Fan the avocado meat into a long line with hands and roll keeping the shingled meat slightly together to form the shape of rose pedals. Place the rose to the side of the plate, sprinkle smashed or julienned corn chips to form a pile for the foundation. Place ceviche on top of the chips and add Pico de Gallo, cilantro and achiote powder.
Yield: 5 servings
Per serving
Calories 175
Fat 5 g
Cholesterol 285 mg
Sodium 800 mg
Total carbohydrates 8 g
Protein 24 g