New Physician Joins Winter Haven Family Health Clinic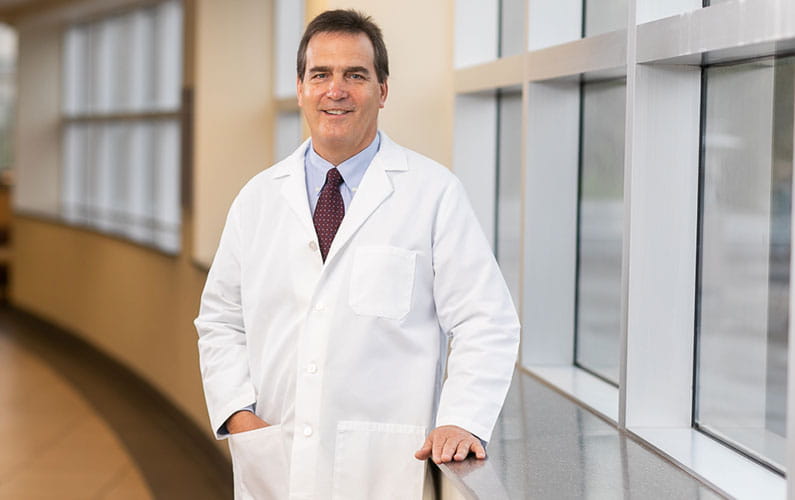 Dr. Robert Atkins will also train residents of the Family Medicine Residency Program


POLK COUNTY, Fla., (May 18, 2021)
– A new BayCare Medical Group primary care physician is now seeing patients at the Family Health Center located in Winter Haven.
Dr. Robert Atkins is seeing patients at the clinic, located at 1201 First St. S., Suite 100A, and also will serve as training faculty at the family medicine residency program, which is poised to welcome its second group of residents later this month.
Atkins' path to medicine took a more roundabout route than others. Growing up in eastern Kentucky, he noticed that health care wasn't easily accessible for everyone. He felt pulled to the healthcare field as he was completing his engineering degrees at the University of Kentucky in Lexington, but he ultimately ended up in the mining profession, working as a civil engineer in the mining field.
"I had a great career, but there was this hole," Dr. Atkins said. After 25 years in the profession, he finally did go to medical school – enrolling at St. Matthews University School of Medicine when he was 44 to earn his Doctor of Medicine degree. Dr. Atkins then continued his medical education by completing a family medicine residency at the University of Kentucky College of Medicine in Lexington.
He stayed in Kentucky and began his medical practice in 2008. He became the director of the family medicine residency program at the university, focused tightly on training physicians to work in rural areas.
Part of what drew him to Polk County was his desire to connect underserved communities with medical care. Now that he's settled in, he looks forward to treating patients using a holistic approach.
"It may not be just about the medicine we're giving them for blood pressure – it may be that we need to connect them to food resources. The medicine doesn't always make a difference if you're not treating the whole patient."
He's also enjoyed working with the resident physicians.
"We have such different life experiences, and that's what's been great," Dr. Atkins said. "I'm definitely excited for Match Day, when we'll meet the new residents."
Dr. Atkins is seeing patients of all ages and specializes in geriatric care.
When he's not at the clinic, he's spending time with his wife, and keeping in touch with his four children and three grandchildren.
To make an appointment with Dr. Atkins, visit
DrRobertAtkins.org
or call (863) 280-6080.
About BayCare Medical Group
BayCare Medical Group is Tampa Bay's leading multi-specialty group providing primary and specialty care throughout the Tampa Bay and west central Florida regions. As part of the BayCare Health System, these passionate and compassionate physicians extend the mission of BayCare to provide extraordinary care for every patient, every time, everywhere.
Locally and nationally recognized as a 2021 Great Place to Work® and Fortune 100 Best Companies to Work For®, BayCare Health System is a not-for-profit 501(c)(3) organization, with a network comprised of 15 hospitals with services including imaging, lab, behavioral health, home health care and urgent care. Our priority is connecting patients to a complete range of preventive, diagnostic and treatment services for any health care need, throughout their lifetime. For more information, visit
BayCareMedicalGroup.org
About BayCare Health System
BayCare is a leading not-for-profit health care system that connects individuals and families to a wide range of services at 15 hospitals and hundreds of other convenient locations throughout the Tampa Bay and west central Florida regions. Inpatient and outpatient services include acute care, primary care, imaging, laboratory, behavioral health, home care, and wellness. Our mission is to improve the health of all we serve through community-owned health care services that set the standard for high-quality, compassionate care. For more information, visit
www.BayCare.org