Recipe: Herb-Crusted Cod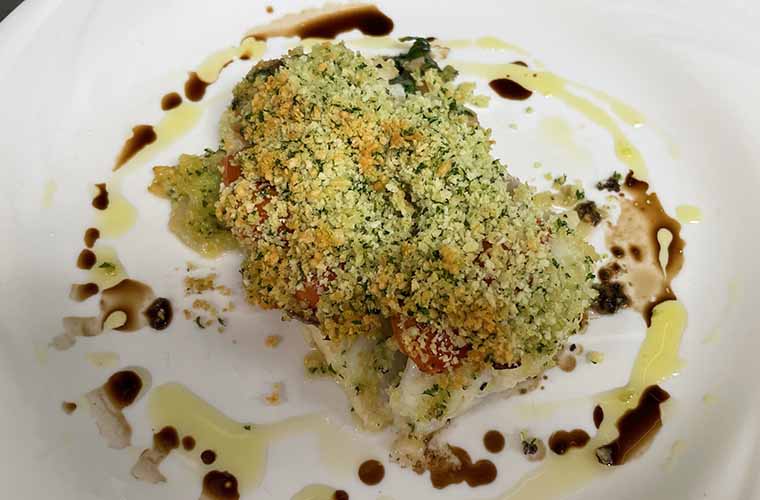 For St. Patrick's Day, Morton Plant Hospital's Executive Chef Sean Sill made this delicious and healthy herb crusted cod. Chef Sill has been Morton Plant Hospital's chef for more than five years, but he didn't always have aspirations of being a chef. His career journey began simply when he needed a job and a hotel in Pittsburgh hired him to wash dishes. He quickly worked his way up to cold food preparation and then became a line cook. He found he loved cooking and creating new dishes and decided to enroll in the Pennsylvania Institute of Culinary Arts. After graduation, he moved to Sarasota and worked in several country clubs before coming to Morton Plant.
Ingredients
4 oz. cod
5-6 grape tomatoes
1/2 oz. fresh, peeled shallot
5 fresh basil leaves
3/4 oz. panko bread crumbs
1/2 bunch fresh parsley
1/2 oz. shredded parmesan cheese
Directions
Sear fish in nonstick, sauté pan until light brown.
Remove fish from pan and add tomatoes and shallots to pan. Cook until al dente.
Add basil and remove from heat.
For Cod Topping
Combine the panko, parsley and parmesan cheese in a food processor until blended.
Top cod with tomato garnish, then top with panko topping.
Preheat oven to 350 degrees and bake cod for six to seven minutes. Serve hot.
Yield: 1 serving
Per Serving
Calories 273
Fat 5.3 g
Cholesterol 59 mg
Sodium 394 mg
Total carbohydrates 25.9 g
Protein 31.6 g