BayCare, Feeding Tampa Bay Team Up at Food Distribution Event at Pasco Elementary School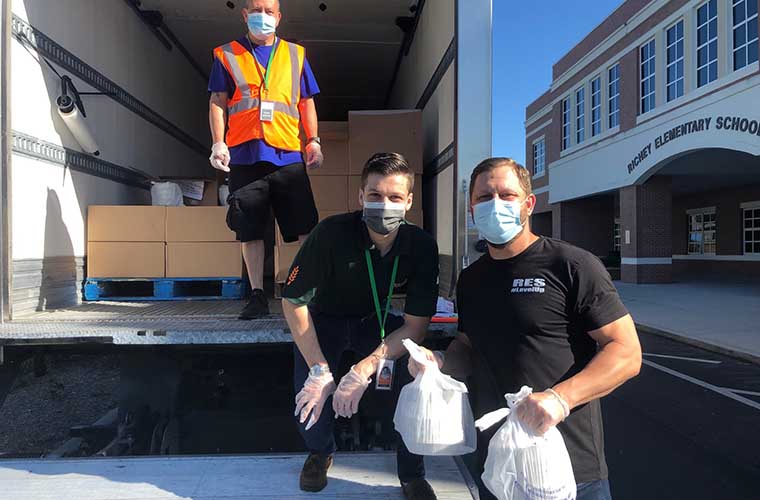 Excitement was in the air at Richey Elementary School in Pasco County on Friday morning. Music played and the school mascot Tiger greeted kids at the drop-off on the last day before spring break. But that's not all.
Staff and volunteers from BayCare's Community Benefit Team and Feeding Tampa Bay were on hand to distribute 1,000 meals to more than 60 families in need.
"It's been great. There's a lot of families here, a lot of excitement, a lot of appreciation,'' said Brandon May, president of Morton Plant North Bay Hospital, which is a short walk away.
According to Feeding Tampa Bay, one in four children is food insecure. The timing of the event was intentional to coincide with the closing of school next week, when children will have reduced access to food.
The families who registered received an assortment of 10 frozen meals, including chicken nuggets, Salisbury steak, vegetables and macaroni and cheese. Every family in line was asked if they wanted the meals.
This event is part of a larger commitment BayCare has made to serve local families by creating a food pantry at the school. Called the Feeding Minds School Pantry, it is expected to open after families return from spring break. BayCare plans to open 16 pantries across four counties, providing free groceries for families.
The project aligns with BayCare's mission "to improve the health of the people we serve.'' BayCare's 2019 Community Health Needs Assessment demonstrated a need to connect people with food, and the coronavirus pandemic exacerbated that. The assessment showed an alarming number of people are running out of food before they have money to buy more.
"It's not right for kids to go to bed hungry,'' May said. "Health starts with nutrition. I'm immensely proud of this initiative. This event is just the beginning. It doesn't end with spring break.''