Free Health Clinic in Wimauma to Serve Low-Income, Uninsured Hillsborough Residents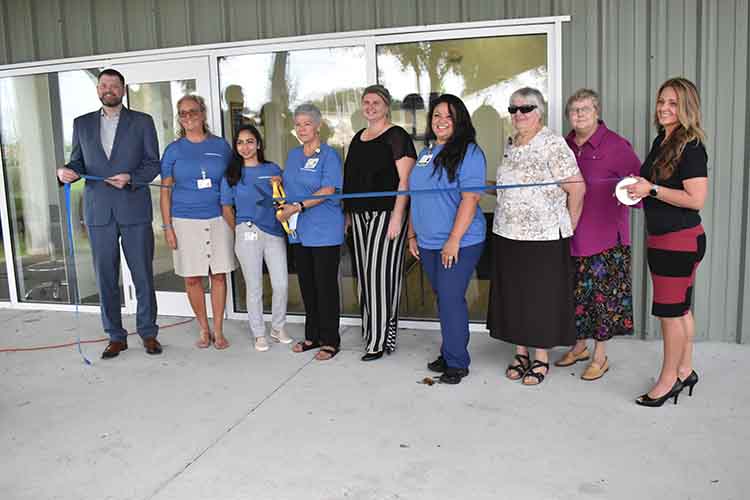 BayCare and Catholic Charities representatives cut the ribbon at La Esperanza
Riverview, Fla. (June 30, 2021) – La Esperanza, a medical clinic that provides free health care to low income residents without employer-provided insurance is getting a new, permanent home in Wimauma.

BayCare Health System and Catholic Charities, Diocese of St. Petersburg, held a blessing and ribbon-cutting today at the new location for La Esperanza, 16640 U.S. Highway 301 South, Wimauma. La Esperanza is tentatively scheduled to open for patients at the new location in August. La Esperanza, which opened in 2013, has been previously housed at Our Lady of Guadalupe Mission in Wimauma. The English translation for La Esperanza is "The Hope."

"Establishing a permanent space for La Esperanza Clinic shows our unwavering commitment to serve the most vulnerable members of our communities," said Collen Walters, Vice President of Mission and Ethics at BayCare. "The journey to find a site that was easily accessible has been a long but important one. Along with our Catholic Charities partners, Faith Community Nurses and the Allegany Franciscan Ministries, we never lost sight of the impact that a permanent home for the Clinic would have on those in need in Wimauma."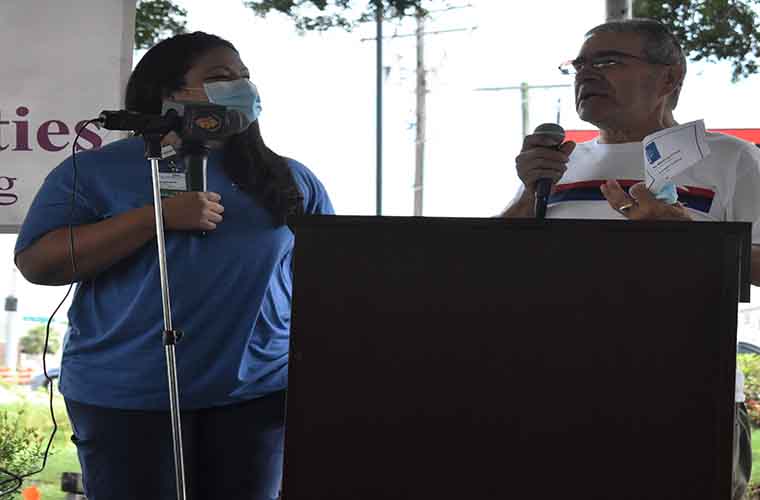 Riverview's Jose Posada (right), a La Esperanza patient, speaks at the ceremony
In addition to BayCare's Faith Community Nurses providing services at La Esperanza, doctors affiliated with nearby St. Joseph's Hospital-South in Riverview provide medical care there.
"This has been a long time coming," St. Joseph's Hospital-South President Phil Minden said. "It's been a struggle. The goal all along was to find a fixed location. This gives us stability and the ability to bring consistent services routinely every day."

Minden noted that when La Esperanza opened in 2013 it served 121 patients. In 2020, the Clinic served 698.

"People in Riverview, Wimauma and South County have a hard time finding primary care and access can be difficult in this area," Minden said. "Having this permanent location is important in so many regards. We're excited to be part of it."
Jose Posada, a Riverview resident, spoke during the program about his experience as a La Esperanza patient.

"I am very appreciative of the services I have been given here," Mr. Posada said through an interpreter.

He said the Clinic recently helped him through a medical situation.

"I am so grateful for this clinic," he said.
For more than 20 years, BayCare and Catholic Charities have provided Free Medical Clinics to underserved and uninsured Hillsborough County residents. Beginning in 2000 at the San Jose Mission in Dover, the service later expanded to La Esperanza Clinic in Wimauma. Services at these clinics include primary medical care, routine well woman exams, health promotion, disease prevention and health screenings for high blood pressure and diabetes.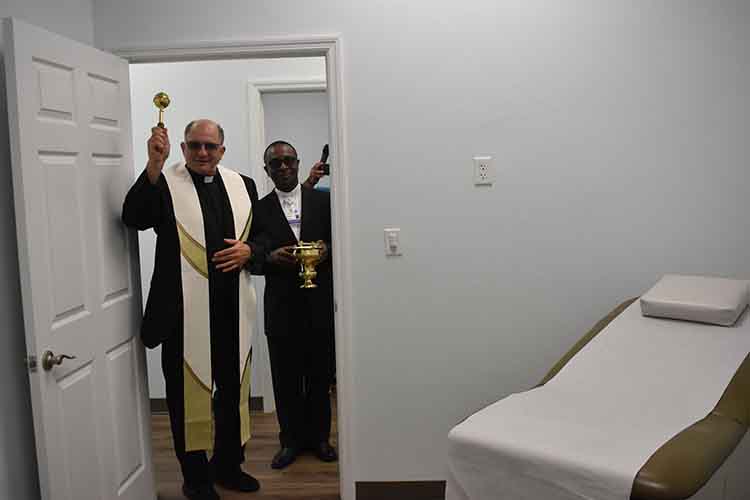 Reverend Monsignor Robert Morris (left), Catholic Diocese of St. Petersburg and Fr. George Gyasi, St. Joseph's Hospital-South chaplain, bless an exam room
Since 2000, the Free Medical Clinics have served more than 40,000 people and saved dozens of lives.
"We are proud to help address, in partnership with BayCare Health Systems and others, the ongoing health care crisis," said Maggie Rogers, Catholic Charities Executive Director. "Everyone deserves to have access to good health care. This move to the new clinic site will allow us to better fulfill our mission of providing basic health care to the underserved in our community."
About BayCare Health System
BayCare is a leading not-for-profit health care system that connects individuals and families to a wide range of services at 15 hospitals and hundreds of other convenient locations throughout the Tampa Bay and central Florida regions. Inpatient and outpatient services include acute care, primary care, imaging, laboratory, behavioral health, home care, and wellness. Our mission is to improve the health of all we serve through community-owned, health care services that set the standard for high-quality, compassionate care. For more information, visit
www.BayCare.org
.
About Catholic Charities, Diocese of St. Petersburg
Catholic Charities, an accredited Non-Profit agency since 1945, is a leader in serving the poor and vulnerable within Pinellas, Hillsborough, Pasco, Hernando, and Citrus counties. Under the auspices of the Diocese of St. Petersburg (
www.dosp.org
), it served over 11,000 individuals last year through three umbrella Ministries of Mercy – Foundations of Life, Friends in Need, Shelters of Hope - with services including but not limited to providing food and shelter, immigration and citizenship assistance, respite care and medical screening, and pregnancy and adoption assistance. Learn more at
www.ccdosp.org