Chemotherapy Patient Has Positive Attitude, Outlook In Her Cancer Journey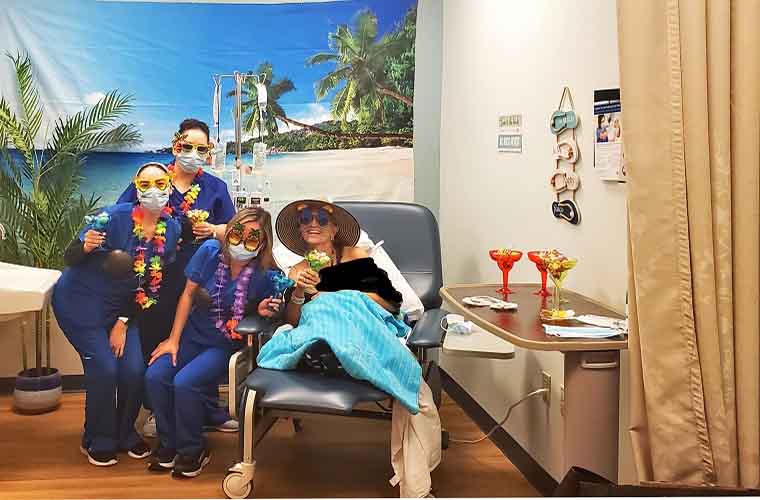 Mary Paul with team members at the infusion center's "Tropical Island Room"
For Mary Paul of Odessa, chemotherapy sessions at St. Joseph's Hospital-North's infusion center are like a day at the beach.

Mary, 65, has been receiving chemotherapy every two weeks at the Lutz location since February following surgery at the hospital by Dr. Quan Tran to remove a cancerous tumor in her colon. Her oncologist is Dr. Jennifer Giglia. She's undergoing chemotherapy to rid her body of any cancer that may have spread from the tumor.

Chemotherapy, understandably, is not one of most people's desired activities. It can be disconcerting, cause anxiety, fear, nervousness and dread. Not many people look forward to having an IV port regularly placed into their bodies.

But Mary has made lemonade out of lemons. She appreciates the private, themed, infusion rooms at St. Joseph's Hospital-North. Her favorite room is the "Tropical Island Room" with a beach and seaside décor, atmosphere and motif.

"I love that room," Mary said. "If I have to do this, I feel like I'm doing it at a beach."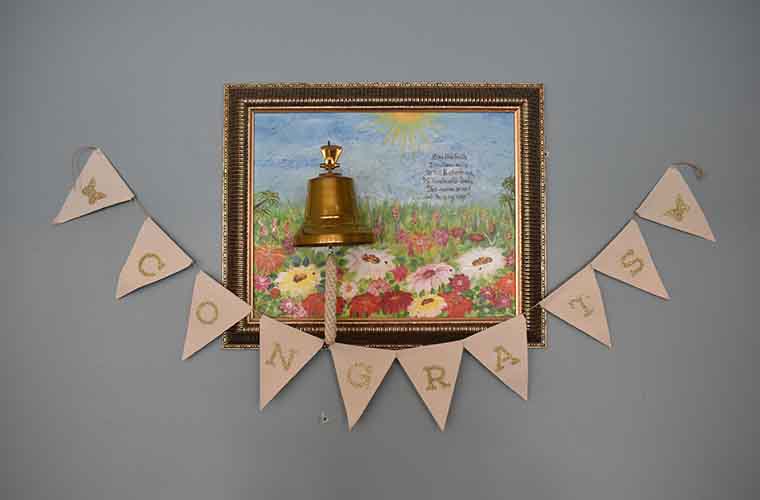 The bell in the infusion center that gets rung when a patient completes chemotherapy
Mary recently passed the halfway mark of her 6-month chemotherapy schedule. Mary and infusion team members celebrated the milestone by dressing up in beach garb that included sunglasses, a sun hat and Hawaiian leis. They also had margarita glasses filled with candies.
She sent the photos of herself at the "beach" with team members to her seven brothers and sisters.
"I joke that I'm at the 'beach' with nice breezes (the air conditioning) and salt water (chemotherapy solution)," Mary said. "They see a photo of me at the beach and they know I'm OK. I tell them I'm OK, but a picture is worth a thousand words."
The Tropical island Room is one thing that makes Mary's chemotherapy palatable. But, she says it's the infusion team that makes the experience pleasant and even a happy time.
"They are my buddies who come with me to the beach," Mary said. "Believe it or not, I actually
ENJOY
coming to chemo because of these people. This is not traumatic for me. They are beyond nice. If you have to go through something like this, this is the perfect place to have it done and it's because of them. It's hard not to have a good attitude surrounded by these wonderful, warm people."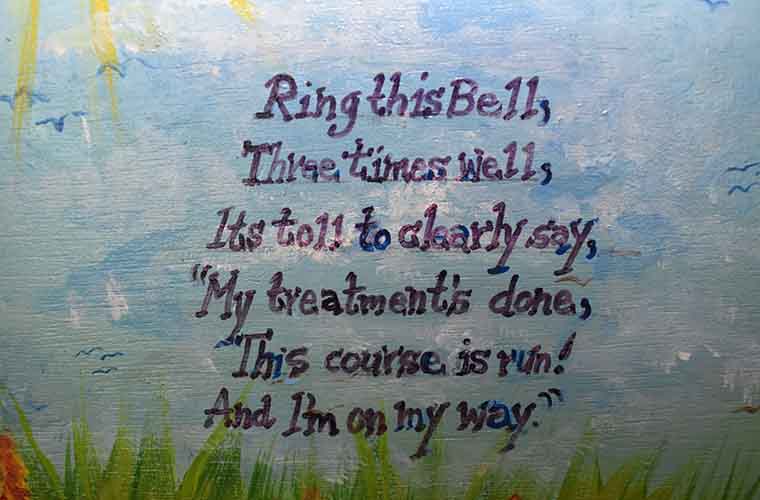 A poem in the infusion center about what the chemotherapy bell signifies
Mary has similar sentiments about her cancer journey at St. Joseph's Hospital-North.
"They made me feel special," Mary said. "That my cancer was special. I felt that way from the moment I came in for my surgery, to my pre-op (pre-operation), post-op to the nurses on my floor. They greet you in a friendly way in the hospital. You have an escort that takes you places you need to go. The way it's done here is comforting, especially for someone going through surgery."
Mary hopes to ring the bell in the infusion center sometime this summer to signify the end of chemotherapy. Then, soon after, she hopes to return full-time to her active lifestyle that includes playing tennis.
"It's Mary's positive energy and positive mental state that gets her through this tough journey," said Rubi Ison, St. Joseph's Hospital-North's lead oncology nurse. "She has this wonderful, wonderful positive energy that she comes in with and emits to everybody around her. That really helps a person's state of mind going through chemotherapy. She doesn't let anything hold her back. She's a fighter."
Mary, St. Joseph's Hospital-North is also looking forward to the day you trade in your chemo beach chair for a tennis racquet. Right now, you're beating cancer 40-Love at match point. Finish cancer off with an overhead slam!