10 Years Later, A Hollywood Wedding Story at St. Joseph's Hospital-North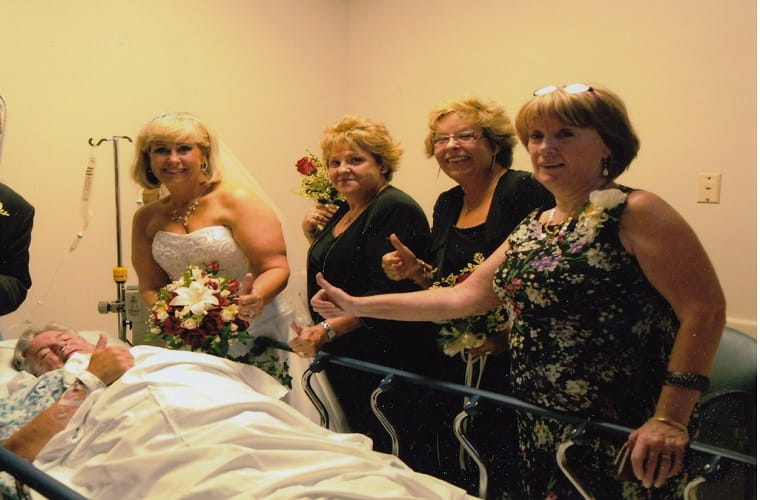 With Les and Dianna, from left, Judy Kiszonas, Carolyn Stacey and Lynn Redmer
Patient and family emotions at a hospital range in the extremes. Sadness. Joy. Concern. Elation. Fear. Relief. It is the stuff Hollywood has made into hospital television dramas. Tampa's Dianna and Les Vickers experienced all those emotions in a single day at St. Joseph's Hospital-North on July 16, 2011. It was their wedding day and their happy day took an unexpected turn – they got married in the hospital's emergency room. The type of story that Hollywood loves.

The wedding was scheduled for nearby Idlewild Baptist Church in Lutz. Prior to the wedding, Dianna and Les were posing for wedding photographs with their wedding party. Les, who has diabetes, mentioned he was feeling lightheaded. While the group sought out a chair for Les to sit down and rest, Les keeled over backward and hit his head on the floor. EMS was called and determined that Les needed to go to the hospital.

The pastor who was to perform the ceremony went to the hospital with Les. Dianna stayed back at the church. The hope was that Les would get treated for his diabetes reaction, be discharged and the pastor would bring him back to the church for the wedding. It was not to be. Les had a brain bleed from the fall and could not be released.

"We had planned a traditional wedding so I had not seen Dianna in her gown," Les recently said. "The story I like to tell is that when I saw her for the first time in her wedding dress for the pictures, I was so swept off my feet that I fell straight down and banged my head."

Les was asked what he wanted to do because he was not leaving the hospital. "I said today is supposed to be my wedding day and that's what I want to do," he said. "We're going to get married right here in the hospital."

Les's wish was relayed back to Dianna at the church. She was 57 and was never married before. The irony of the situation did not escape her.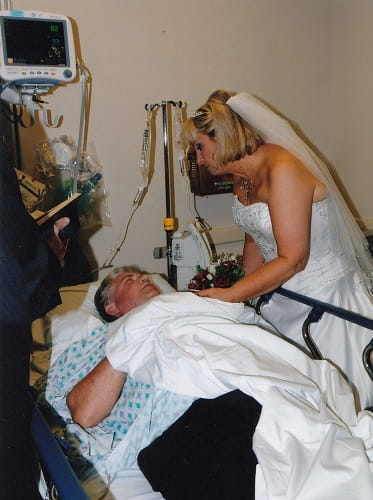 "I was concerned about Les and his health," she said. "But the thought did go through my mind, here I wait 57 years to get married and I'm going to get married in an emergency room!"
The pastor returned to the church where there were 250 guests. Dianna was walked down the aisle at the church and the preliminary parts of the wedding service were performed there.
"They loaded me up in my wedding gown with my bridesmaids and we were brought to the ER," Dianna recalled. About 40 other guests went to the hospital in a wedding cavalcade and waited near the emergency room.
They were officially married with Les in his emergency room bed hooked up to various medical apparatus and equipment.
After the improvised ceremony, Dianna was escorted from Les's room to the emergency room waiting area where the guests congregated. The group broke out in applause.
Les eventually spent 5 days in the ICU before being discharged. Their honeymoon got postponed but they went to their honeymoon spot a year later. All's well that ends well.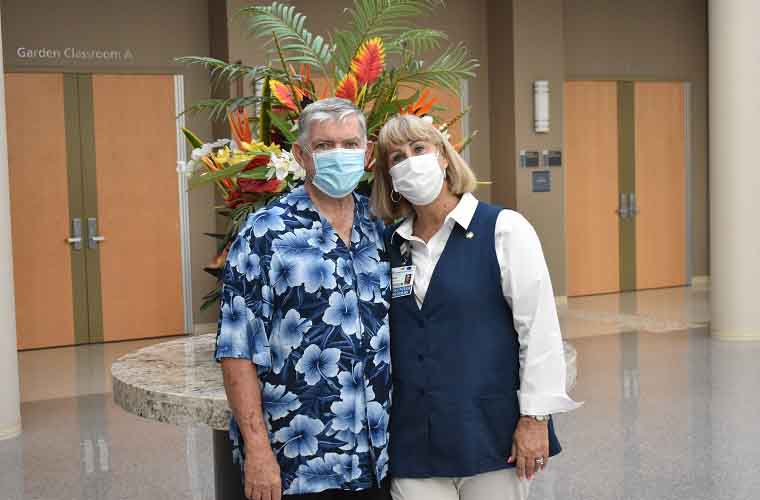 Les and Dianna Vickers in 2021
"Here we are 10 years later, back to normal," Dianna said.

Throughout the years, the couple has celebrated their anniversary day by having lunch in St. Joseph's Hospital-North's Twigs Café.

For the past three years, Dianna has volunteered at St. Joseph's Hospital-North. While volunteering at the hospital, Dianna runs into team members who remember July 16, 2011 or have heard about it.

"They'll say, 'I know you, you got married in our hospital,'" Dianna said.

A Hollywood happy ending.