What You Need to Know About the Seasonal Flu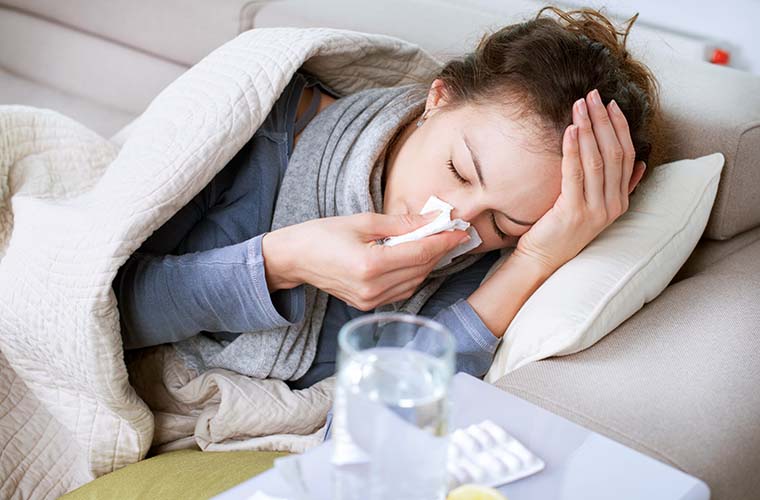 Flu, colds and other respiratory infections affect millions of people around the world every year.
While flu numbers have decreased this season due to COVID-19 safety measures, it's still important to take precautions to protect yourself and your family from getting sick.
That's why Dr. Nathan Keith Waldrep, chief medical officer for BayCare Urgent Care and Occupational Health and medical director for Telehealth, provides helpful tips on how to keep flu, colds and viral infections at bay during this winter season.
What is Flu
Flu, also known as influenza, is a respiratory infection that affects the nose, throat, and lungs. Flu can be very contagious and can vary from minor to severe. This infection hits its peak in the fall-winter months and can spread quickly in various environments affecting children and adults of all ages. There are two types of tests that can detect the flu: The swab test, which is used to take a sample from your nose or throat, and the nasal aspirate, a saline solution injected into the nose and removed for virus collection.
Flu Symptoms
Flu signs and symptoms usually happen suddenly and in different ways. Dr. Waldrep says people who are sick with flu often feel symptoms including fever, chills, cough, sore throat, runny or stuffy nose, muscle and body aches, headaches, fatigue, vomiting and diarrhea.
Vaccines
It's important this season more than ever that people get the flu vaccine. Dr. Waldrep says it's not too late to get vaccinated if there's flu activity in your area. The vaccine will help reduce the severity of flu illnesses, hospitalizations and even deaths. "As we go through the COVID-19 pandemic, it's important people stay as healthy as possible and out of the hospital," he says. Flu vaccines will not prevent COVID-19, but they will reduce the number of flu illnesses, and reserve health care resources for COVID-19 patients.
Treatment
If you get sick with flu, antiviral medications may be good treatment options. Dr. Waldrep says antiviral drugs can help reduce symptoms and shorten the time a person is sick with flu and viral infections. These medications also can prevent serious flu complications, like pneumonia. "If you're at high risk for flu complications, always check with you physician before using any medications," says Dr. Waldrep. It's important to mention that flu antiviral medications are not designed to treat COVID-19. Check with a doctor if you're experiencing COVID-19 symptoms.
Distinguishing Flu from COVID-19
Some flu symptoms are similar to COVID-19 that at times can be difficult to tell the difference between the two. However, diagnostic testing helps determine if you are sick with flu or COVID-19. BayCare offers flu testing at BayCare Urgent Care centers and primary care offices across the system. BayCare also offers various testing options for COVID-19 including three drive-thru testing sites, nine BayCare Urgent Care locations and Tampa International Airport.
Safety Precautions
To help prevent flu and viral infections, it's important to continue to practice safety measures. Dr. Waldrep says wash your hands frequently, avoid close contact with people who are sick, cover coughs and sneezes, and avoid touching your eyes, nose and mouth. "If you're sick, stay home to prevent infecting others," says Dr. Waldrep. "You should also clean and disinfect surfaces at home, your digital devices and other objects that may be contaminated."
Get Care Now
If you think you're experiencing flu or cold symptoms, BayCare provides convenient access to different care options and services for patients and their families. BayCare's telehealth services and multiple convenient locations provide access to the right care at the right place for the right price to our patients and the community.
Patients can conveniently see a doctor using BayCareAnywhere, a 24/7 mobile application offering virtual visits through a smartphone, tablet or computer. They can also see a doctor at 36 Walk-In Care locations at select Publix Pharmacies throughout the Tampa Bay area. BayCare's 19 urgent care locations throughout Pinellas, Hillsborough, Polk and Pasco counties, also offer quick, high quality health care for adults and children ages two and older.
For more information, visit BayCareGetCareNow.org.