Patient Who Had Multiple Heart Surgeries at St. Joseph's Children's Hospital as a Child Returns to Deliver Her Baby in a Very Special Way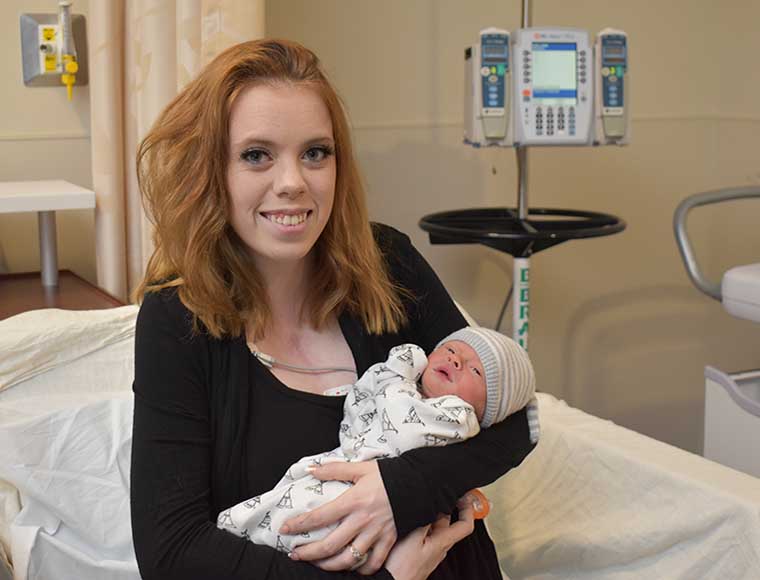 Danielle Kern, age 24, underwent her first open-heart surgery at St. Joseph's Children's Hospital when she was just a few hours old. Born with only one working ventricle (pumping chamber) rather than the two required for normal blood circulation, the surgery was a short-term solution to balance the amount of blood flow between her body and lungs until she could grow stronger.

In complex congenital heart defects like Danielle's, a staged reconstruction performed during three open-heart surgeries over several years is the patient's best chance for survival.

During the second surgery at 5 months, a vein from her heart was detached and redirected to the arteries leading to her lungs, rerouting blood to bypass the heart in preparation for the third surgery. At 19 months old, she underwent the final stage of the heart reconstruction, a solution that allows the blood without oxygen to flow directly to the lungs, bypassing the heart and increasing oxygen levels to near normal.

More than two decades later, Danielle put her trust in St. Joseph's again as she approached the delivery of her baby. Her search for a specialist who was familiar with her congenital heart defect and the unique challenges that might arise during childbirth as a result led her to Dr. Joel Hardin, adult congenital cardiologist at St. Joseph's Hospital.

"Complications can develop during any pregnancy, but when you have a mother like Danielle, whose heart does not function like a normal one, the strain on her heart during delivery is immense," said Dr. Hardin. "One of my main concerns was the potential for the development of fatal blood clots."

Because of her very complex heart defect, her scheduled delivery took place in St. Joseph's Hospital's cardiovascular surgical suite instead of across the street in St. Joseph's Women's Hospital's Labor & Delivery unit.

On Jan. 5, 2021, a team of cardiologists, neonatologists, high-risk obstetricians, anesthesiologists, nurses and technicians were assembled, prepared for any cardiac issues that might arise because of the strain the delivery put on Danielle's heart.

"I was nervous about what might happen, but I knew if anything did go wrong that I had a team of specialists right outside the door who would do everything possible to save me and my baby," said Danielle.

She adds that another comfort was that the cardiothoracic surgeon who assisted with her the open-heart surgeries all those years ago, Dr. Victor Morell, is still a part of St. Joseph's Children's Hospital's cardiac team through its partnership with UPMC Children's Hospital of Pittsburgh, where he serves as chief of the division of pediatric cardiothoracic surgery.

Both mom and baby made it through the delivery with no issues. Dustin Leon Corbin II arrived at 8:31 a.m., weighing 6 pounds, 7 ounces. Danielle was overjoyed to learn that Dustin's heart is completely healthy. As for her, she will remain under Dr. Hardin's cardiology care and is grateful to have found an adult cardiologist with the expertise to treat what was once considered only a childhood disease.

"Medical advances have made it possible for more individuals born with a congenital heart defect to survive into adulthood. In fact, adults with a congenital heart defect now outnumber children," Dr. Hardin said. "But it's important to remember that these individuals still require life-long cardiac care. Heart surgery in childhood did not cure the defect but only repaired it, and many will need additional treatment as they age."

Dr. Hardin is one of only approximately 500 physicians in the United States who are certified adult congenital cardiologists. St. Joseph's Hospital was the first in the region and second facility in Florida to earn accreditation from the Adult Congenital Heart Association in recognition of its expertise in serving adults with congenital heart disease.
St. Joseph's Children's Hospital is home to the Tampa Bay area's only comprehensive congenital heart disease program, and its pediatric heart physicians perform hundreds of cardiac procedures each year to treat congenital and acquired heart conditions in children of any age, including newborns. A partnership between St. Joseph's Children's Hospital and the Children's Hospital of Pittsburgh of UPMC provides families across Florida with unprecedented access to the highest level of pediatric heart care available. Together, they provide highly specialized cardiovascular care for patients ranging from babies in the womb to adults with congenital heart disease.