Nurse Throws First Pitch at Yankees Spring Opener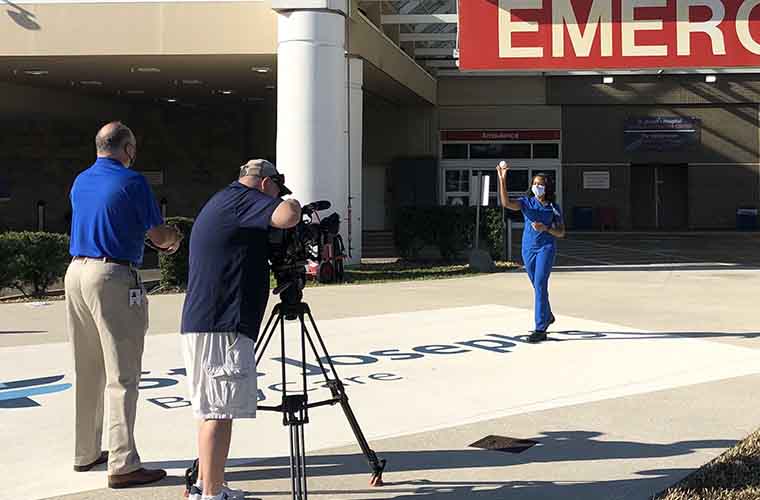 As nurse manager of 25 pulmonary unit beds at St. Joseph's Hospital, Jasmine Nicholas has been on the front lines of the fight against the new coronavirus for nearly a year. Now, she's on the jumbotron at a Major League Baseball game.

The New York Yankees honored healthcare workers on Sunday by having Jasmine throw the first pitch of their spring opener against the Toronto Blue Jays at George M. Steinbrenner Field. To ensure safety, Jasmine's pitch was videotaped outside St. Joseph's ahead of time and aired to fans before the first inning.

"I was born in New York and grew up a Yankees fan," says Jasmine. "I'm honored to be able to represent healthcare workers and take part such a great tradition."

Jasmine has been a BayCare team member since 2013, holding positions as clinical nurse, charge nurse, and nurse manager. Her commitment to promoting positive healthcare policies took Jasmine to Tallahassee in 2019, where she advocated for patients while meeting House and Senate leadership. When the Yankee's reached out, we knew she was the perfect pitcher to take the mound.

Despite her strong arm, Jasmine admitted she's more comfortable shooting jump shots than pitching strikes. Luckily her husband, SJH registered respiratory therapist Andrew Nicholas, used to play baseball and offered a few pointers before the throw.

The Yankees thanked Jasmine with an official team baseball cap and signed ball from starting catcher Gary Sánchez.

BayCare is proud of all it's extraordinary team members, an all-star team.