BayCare to Begin COVID Vaccinations for Vulnerable Populations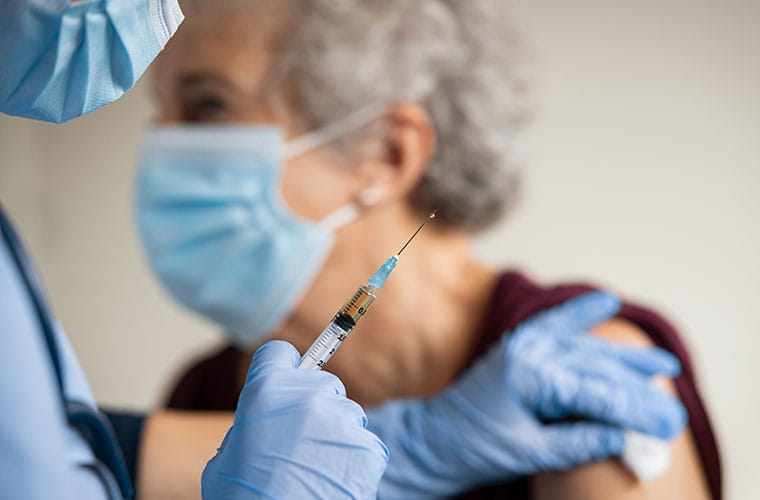 NOTE: As of May 1, 2021, BayCare has paused all vaccine scheduling due to significant vaccine availability from public and private providers across West Central Florida. BayCare encourages those still seeking a vaccine to visit BayCare.org/coronavirus/vaccines to find a list of providers in the region.

****
UPDATE: Starting Feb. 22, BayCare is further broadening its COVID-19 vaccine prioritization criteria for our medically vulnerable population aged 18-64 to include more conditions: chronic obstructive pulmonary disease (COPD), congestive heart failure and diabetes. BayCare announced its medically vulnerable vaccine program on Feb. 4 (see story below) in accordance with the State of Florida.
On Feb. 12, as vaccine supply allowed, BayCare broadened its criteria to patients with one (rather than two) conditions in the chart. This new update adds additional conditions to the chart.
Currently, BayCare's vaccine distribution is focused on patients of primary care physicians at BayCare Medical Group or who are part of BayCare Physician Partners. BayCare is contacting eligible patients to schedule a vaccine if they are 18-64 and have at least one of the conditions listed in the chart below.
***
BayCare Health System will begin vaccinating medically vulnerable individuals 64 and under across West Central Florida this week in support of the Florida governor's executive order. Due to the limited number of vaccines available, BayCare's efforts will use a clinically-defined process to focus on individuals deemed most vulnerable to complications or death should they contract COVID-19.
"We all wish that there was more vaccine currently available and that everyone who wanted a vaccine could just call for an appointment," said Tommy Inzina, president and CEO of BayCare. "But until there is more availability, BayCare is using its clinical judgement to identify outpatients who are among our region's most vulnerable individuals."
Criteria for the term "medically vulnerable" established by the Centers for Disease Control and Prevention (CDC) is extremely broad, while vaccine supply remains incredibly limited. BayCare has received just 1,000 vaccine doses so far for the medically vulnerable, even as millions across the region could fit into the CDC's medically vulnerable definition.
BayCare assembled a multidisciplinary team of clinical leaders to determine prioritization. The group carefully scrutinized the list of CDC criteria and narrowed it to those conditions that most greatly reduce patient's immune systems and make them the most vulnerable to serious illness or death from COVID-19 (see list below).
The team then agreed to first focus vaccine efforts on those patients who have at least two or more of the defined medical conditions. As more vaccine supply is available, BayCare anticipates its outreach will broaden to patients with one of the conditions.
BayCare, with 15 hospitals and extensive operations across Pinellas, Hillsborough, Polk and Pasco counties, has had health care encounters with roughly one-third of the region's population. It is the database of those medical visits that is being searched to identify initial recipients of vaccines for the medically vulnerable. Those patients will be contacted by BayCare to schedule a vaccination appointment on a rolling basis commensurate with vaccine supply.

There is no need for patients to call their doctors' offices. Vaccines reserved for the medically vulnerable will not be distributed on-demand but only through this clinically-defined process.

BayCare appreciates the community's high level of interest in the COVID-19 vaccine, which represents a valuable tool in helping West Central Florida move beyond the pandemic. Since starting in late December, BayCare has administered a total of 41,000 first- and second-doses to its health care workers, other healthcare workers in the community and patients 65 and older patients. BayCare will continue to work with government and health care partners to support access to the vaccine in addition to its primary role of providing medical services at hundreds of other locations throughout the region.

For more information about BayCare services and resources related to COVID-19, visit the Coronavirus Resource Center at BayCare.org/Coronavirus.
Individuals who have two or more of the following medical conditions and are 64 or younger will be prioritized initially by BayCare for receiving vaccines reserved for the medically vulnerable.
**Chart updated: Feb. 22, 2021**