BayCare Team Members Invited to Attend Super Bowl LV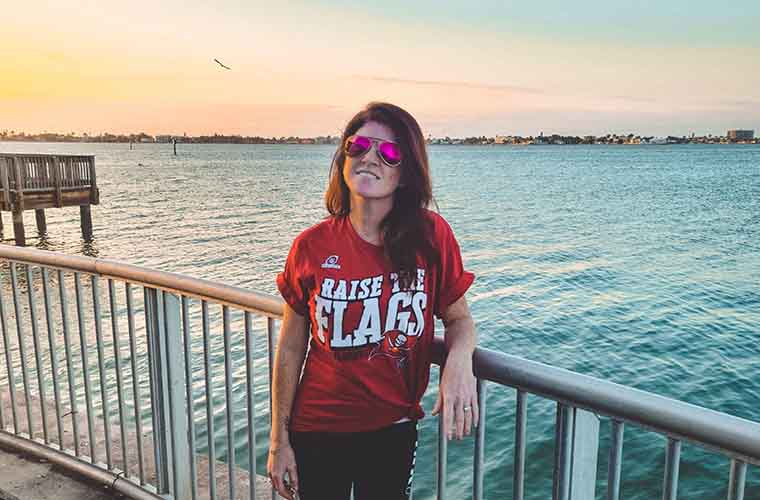 Katy Pivato, an assistant nurse manager at BayCare's Morton Plant Hospital Emergency Department
After a year of taking care of COVID-19 patients in hospitals, medical offices and homes across West Central Florida, a lucky cadre of BayCare team members and providers will enjoy a welcome counterpoint this Sunday, Feb. 7: Super Bowl LV at Raymond James Stadium in Tampa.
"It's surreal to learn that I'm going to the Super Bowl," said Katy Pivato, an assistant nurse manager at BayCare's Morton Plant Hospital Emergency Department. "It's exciting and uplifting to be honored and recognized after what we've been through during the COVID-19 pandemic. It's an incredible feeling."
Pivato, like all her colleagues going to the game, has received both doses of the COVID-19 vaccine. The double doses were a requirement for all the 7,500 health care workers from across the country that the National Football League is hosting in honor of their extraordinary service during the pandemic.
"I'm thrilled to be part of this once in a lifetime experience, especially now that the Buccaneers will compete for the Vince Lombardi Trophy," said, Pivato, who is a loyal Buccaneers fan. "This is a historical game for us Bucs fans and I'm thankful to witness everything unfold right here in our hometown, inside the Raymond James Stadium."
David Mohr, catering supervisor at BayCare's Mease Countryside Hospital, is also grateful to join other health care workers in attending the game.
"It's always been my dream to go to the Super Bowl," said Mohr, who is a diehard fan of Kansas City Chiefs. "To have all the stars align and watch my team play in the Super Bowl just down the street from where I live is beyond my wildest dream. I am ecstatic."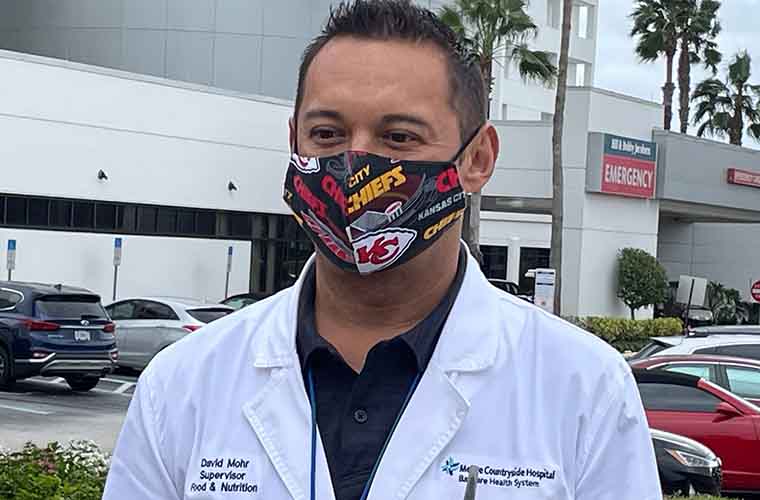 David Mohr, catering supervisor at BayCare's Mease Countryside Hospital
BayCare is one of the health care organizations in West Central Florida provided an allotment of tickets by the NFL to distribute to double-vaccinated health care workers. BayCare team members and providers going to the game were picked from a randomized drawing of those who'd had both vaccines by Jan. 19 and answered an invitation to participate.
"BayCare is grateful to the NFL for recognizing the incredible dedication and service of our team members and providers," said Tommy Inzina, president and chief executive officer of BayCare. "Their tireless work and continued sacrifice during these challenging times have made a tremendous impact in the Tampa Bay area and West Central Florida. All of our team members, not just those at the game, deserve our thanks."
For at least one team member, the Super Bowl brought an additional surprise. Kim Dzvonik, respiratory therapist at BayCare's Winter Haven Hospital Intensive Care Unit, learned nearly a week ahead of her colleagues that she'd be going to the game, when the Tampa Sports Commission and NFL arranged for her to receive a surprise call from Rod Woodson, NFL Hall of Famer and former cornerback for Pittsburgh Steelers. Watch the moment here.
"I was shocked and overwhelmed to get a surprise from Woodson over Zoom," said Dzvonik, who is a Pittsburgh Steelers fan. "I'm thankful to the NFL and BayCare for recognizing our work. It's been a rough 2020 mentally and physically. We've seen patients and their families suffer. I'm grateful we can bring back some joy into our lives for a day and experience this big event in person."
Jasmine Nicholas, RN, nurse manager of pulmonary at BayCare's St. Joseph's Hospital, is thankful to be joining other health care workers at the Super Bowl.
"This is a great experience and morale booster for us who have been working hard during such a challenging year," said Nicholas. "I appreciate NFL for recognizing us. It's exciting."
Rafael Ramon, patient services specialist for BayCare Home Care, is another team member attending Super Bowl. Ramon is thrilled to watch quarterback Tom Brady play the Buccaneers against the Kansas City Chiefs, calling it, "Unbelievable."
In addition to the tickets, NFL will hold a gameday experience for health care workers headlined by super star Miley Cyrus.
"I feel like 2021 will be a good year," said Dzvonik. "We see light at the end of the tunnel."