Recipe: Holiday Pumpkin Maple Almond Drops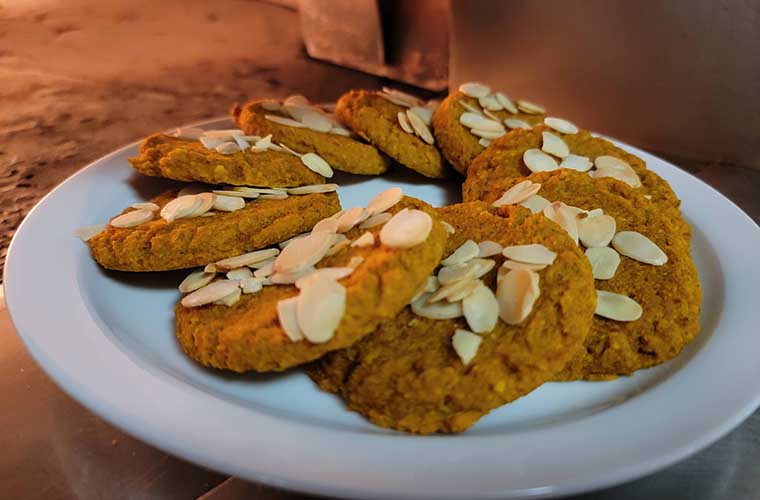 Enjoy our recipe for pumpkin maple almond drop cookies. They're a gluten-free, vegan, low sugar option that's perfect for the holiday season.
These pumpkin maple almond drop cookies, prepared by Executive Chef JJ at BayCare's St. Joseph's Hospitals, are a gluten-free, vegan, low sugar option for the holiday season. They're not overly sweet and are great with a cup of black coffee to warm your holiday spirit.
Ingredients
1 cup uncooked oatmeal
1/2 cup uncooked rice, brown, long grain
1/4 cup cornstarch
2 tsp ground cinnamon
1 tsp ground ginger
1/2 tsp ground nutmeg
1 tsp fine kosher salt
1/4 cup maple syrup
1/2 cup unsweetened applesauce
1/4 cup extra virgin olive oil
15 oz canned pumpkin
1/3 cup sliced, blanched almonds
Directions
Combine uncooked oatmeal, rice, cornstarch, spices and salt in a dry blender and grind until a fine powder is achieved.
In a separate bowl using a stand mixer, combine syrup, applesauce, olive oil and pumpkin. Use a paddle attachment to mix on medium speed for 2-3 minutes until uniform and smooth.
Combine wet mix and the bowl of dry ingredients on low mixer speed for an additional 2-3 minutes until a thick dough has been achieved.
Cover for at least 30 minutes to allow dough to hydrate.
Line sheet pan with parchment paper and using a medium portion scooper (#30 scoop), portion 2 tablespoons of cookie dough onto parchment paper. Using a firm even motion, drop or tap pan on counter to flatten cookies to 3/8 inch high.
Top cookies with a few almond slices.
Bake in a 350F conventional oven (325F convection oven) for about 12-14 minutes or until edges of cookies are light brown and bottoms appear done.
Remove cookies from oven and allow to cool for at least 5 minutes before removing from sheet pan.
Yield: 24 cookies
Per cookie:
Calories 80
Fat 3.5g
Cholesterol 0mg
Sodium 140mg
Total carbohydrates 11g
Protein 1g

Sugar 2g