BayCare Therapy Dog Families Share Rescue Stories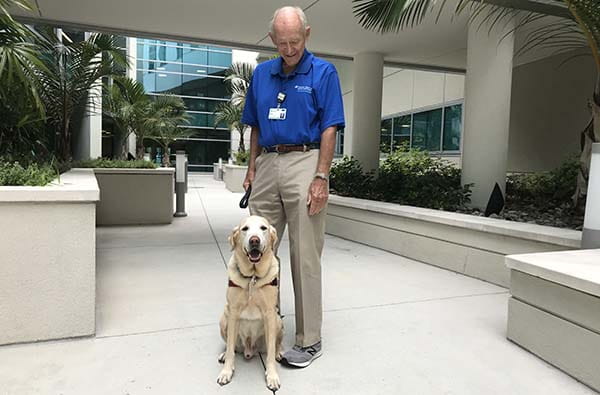 BayCare pet therapy team Louie and Rick.
It should have been the prime of his life, but at 5 years old, Labrador Retriever Louie, was 20 pounds underweight and severely neglected. Like tens of thousands of dogs and cats each year in Florida, he was left at an animal shelter.
"The shelter said his days were numbered. At the age of five, they said no one will adopt him," says Rick Owens, Louie's fur daddy.
Louie was saved by a canine rescue which then reached out to Owens about adopting Louie.
"We just said send him!" says Owens.
Louie is now 9 years old and a trained therapy dog volunteering at Morton Plant Hospital in Clearwater.
"He's very intuitive. When we started volunteering, he instantly picked up that being in a hospital is very different from home," says Owens. "There's something about a rescue dog. I really do believe they get it."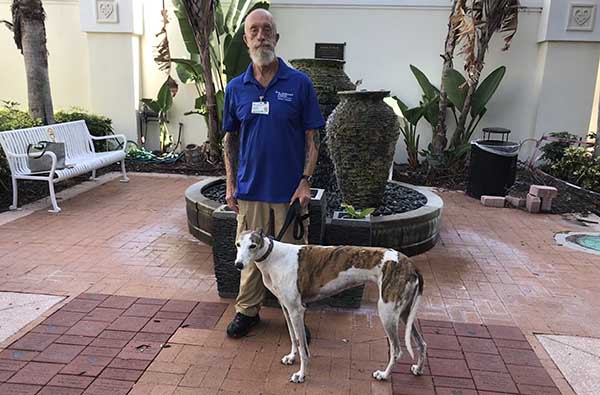 BayCare pet therapy team Maggie and Rich.
Like Louie, Maggie's days were also numbered. Her time competing at a Greyhound racetrack was over. She needed surgery to repair a broken right leg, wound care to heal an infected left leg, plus laser therapy and acupuncture. A volunteer animal adoption program nursed Maggie nearly back to health. Retired physical therapist, Rich Pollin, did the rest.
"Maggie was three and a half years old when she came to me," says Pollin, Maggie's fur dad. "She was very quiet, a bit nervous and not very outgoing at the time."
But time heals wounds and a few years later, Maggie was healthy, certified as a therapy dog, and ready to visit patients and staff at St. Anthony's Hospital in St. Petersburg.
"She loves people and loves being petted," says Pollin. "She will make eye contact and discreetly be like, 'come on over.' She gets your attention and really likes the attention."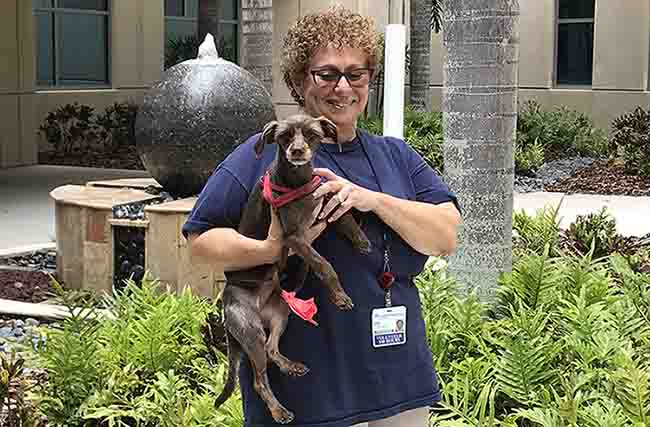 BayCare pet therapy team Louie and Pam.
If there was a canine born to be a hospital therapy dog, Pam Provenzano believes it's her Louie. The 10-pound, mixed-breed Shih Tzu, Dachshund, Chihuahua and Terrier was adopted from a shelter at just eight weeks old. Now 2 years old, he volunteers with Provenzano at St. Joseph's Hospital-South in Riverview.
"He just wags his tail, sniffs and loves on people," says Provenzano, Louie's fur mommy. "Face masks and illness don't seem to faze him."
Provenzano says her home has always been filled with dogs or cats that were once strays or rescues.
"All dogs need a home, even the ones being bred, but there are so many animals out there who need homes, and rescues are free or the fee to adopt is minimal, why not give them a chance," she says.
Pollin and Owens agree that adopting a pet has been a wonderful, life-changing experience for them and they enjoy sharing their fur families with hospital patients and staff.
"Rescue Greyhounds are really great dogs," says Pollin. "They're smart and affectionate."
"My Louie and I are extremely close. I've never had a dog that I've bonded with like Louie," Owens adds. "He gives unconditional love."
Learn more about our pet therapy programs and volunteering at BayCare hospitals.