Healthy Living Coach Program Supports Diabetes Education in Underserved Communities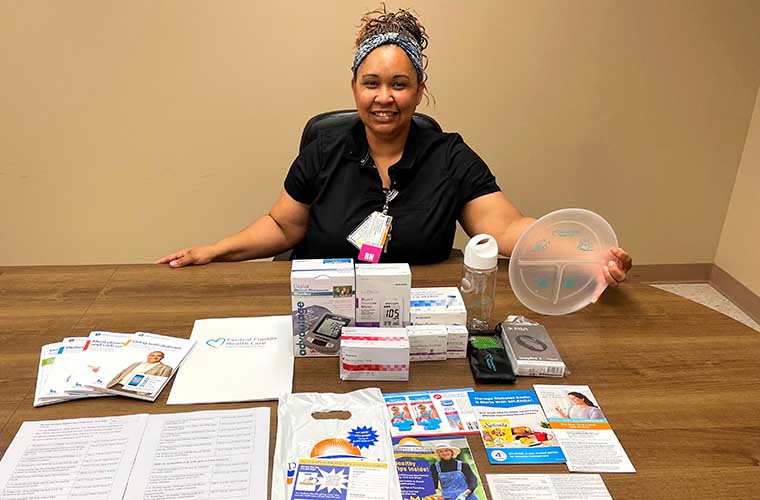 Motivating someone else to change can be an uphill battle, especially where lifestyle changes are involved such as exercising more and eating healthy. Still, Tanita Montgomery, RN, Healthy Living Coach with the Central Florida Health Center in Winter Haven, is up for the challenge.
"I provide encouragement and motivation for adults who have diabetes and those who are prediabetic," says Montgomery. "I'm here to guide them on the path to where they want to be. If they are diabetic, I provide one-on-one coaching on the importance of eating healthy and taking medications to control diabetes. For people who are prediabetic, I help educate them about their glucose levels, body mass index, blood pressure and blood lipids and help them better understand diabetes."
Diabetes is a long-lasting health condition that affects how your body turns food into energy. According to the Centers for Disease Control and Prevention, 1 in 3 Americans is prediabetic and most don't know it.
The Healthy Living Coach Program at the Central Florida Health Center, as well as diabetes coaching services at five other Federally Qualified Health Centers (federally supported community-based health care providers), is funded by BayCare.
"In 2019, we took part in a Community Health Needs Assessment to learn what our many diverse communities need from us to achieve better health," says Lisa Bell, manager, BayCare Community Benefit. "One area identified, was better access to health services around exercise, nutrition and weight management in communities that are higher risk for diabetes. Seeing this need, we identified the Central Florida Health Center to work with, design and fund the Healthy Living Coach Program."
In addition to funding Montgomery's position, BayCare's support provides program participants with a motivational welcome package that includes a water bottle, exercise fan, a plate that makes it easy to determine healthy food portion sizes, a measuring cup, blood pressure cuff and blood glucose monitoring supplies.
"Whatever they need to encourage a healthier lifestyle, we provide," says Montgomery.
Montgomery coaches an average of 55 people referred to the program by Central Florida Health Center. She checks in with each participant by phone each month and meets in person every three months.
"I work to find the root cause of why they're struggling with their health and get them back on track. I do have people who have changed their lifestyle and are successful managing diabetes," says Montgomery. "They're exercising and eating right. If they really, really want to make a change, they can do it."
Because the Healthy Living Coach Program is fully funded by BayCare, there is no cost to participants.
"Most participants do not have health insurance and normally they would be afraid to come to a health center for fear of an expense. But if I'm here to talk to them, they like that," Montgomery explains.
"Our mission is to improve the health of the communities we serve. We're proud to support this program and the positive impact it's having," adds Bell.
For questions about the Healthy Living Coach Program at Central Florida Health Center, please call 866-234-8534.