South Florida Baptist Hospital Adds New Nuclear Medicine Technology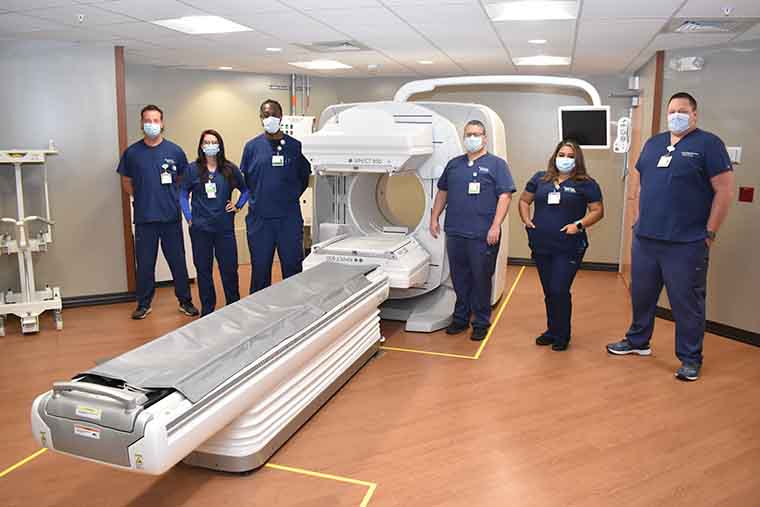 PLANT CITY, FLA. (April 23, 2021) – South Florida Baptist Hospital radiologists can pinpoint the exact location of abnormalities with greater ease and precision with a new combined nuclear medicine-SPECT CT system. The new system is the newest technology and helps physicians make more accurate decisions in planning for medical or surgical intervention, radiation therapy or evaluating tumors.

The new system combines the functionality of a nuclear medicine exam with the superior image quality of a CT Scan, according to Lee Silas, South Florida Baptist Hospital's nuclear medicine coordinator.

"It's like having two imaging tools in one," said Silas.

Nuclear medicine can determine whether the heart, liver, thyroid and other organs are healthy and functioning properly. It can also help identify blood clots in the lungs and whether pain in the bones might be related to a hairline fracture, an infection or a malignancy. But unlike a CT Scan, nuclear medicine doesn't offer clear, precise images, or identify the specific part of the anatomy that may require a biopsy or intervention.

In the past, said Silas, patients might be scheduled for both a nuclear medicine exam and a CT Scan. Now, both technologies are combined into one high-tech unit that delivers a very low dose of radiation. There are many benefits for patients.

"It's a major development that can give us greater knowledge about the patient's condition and help ensure a more accurate diagnosis," said Silas. "The versatility and flexibility of being able to combine nuclear medicine and a CT scan is key."

It also improves patient comfort. The time it takes to complete the scan is shortened, reducing the amount of time patients need to remain still without moving.

"Exams that required multiple days of scanning can now be completed in one day," said Sandra Moran, South Florida Baptist Hospital radiology imaging manager. "It can reduce patient's length of stay in the hospital or decrease the number of days they have to come back for testing."

Extra padding on the imaging table also increases patient comfort.

"We are looking forward to offering patients this new imaging technology right here at South Florida Baptist Hospital," said Silas. "It's satisfying knowing they do not have to travel far from home to benefit from this important medical advance."

About South Florida Baptist Hospital
Since 1953, South Florida Baptist Hospital has served Plant City and surrounding areas as a not-for-profit community hospital. The progressive, 147-bed acute care facility offers a full range of diagnostic, rehabilitative, surgical, therapeutic and women's services, including obstetrics. South Florida Baptist Hospital is part of the BayCare Health System, a family of health care providers consisting of the 15 leading not-for-profit hospitals in the Tampa Bay region. In August 2020, South Florida Baptist Hospital announced plans to relocate within Plant City and build a new facility. Land for the new hospital is off Exit 22 of I-4, east of the intersection of E. Sam Allen Road and N. Park Road. Construction is expected to begin in Summer 2021 and take about 30 months to complete.