Morton Plant North Bay Unveils New 21-Bed Unit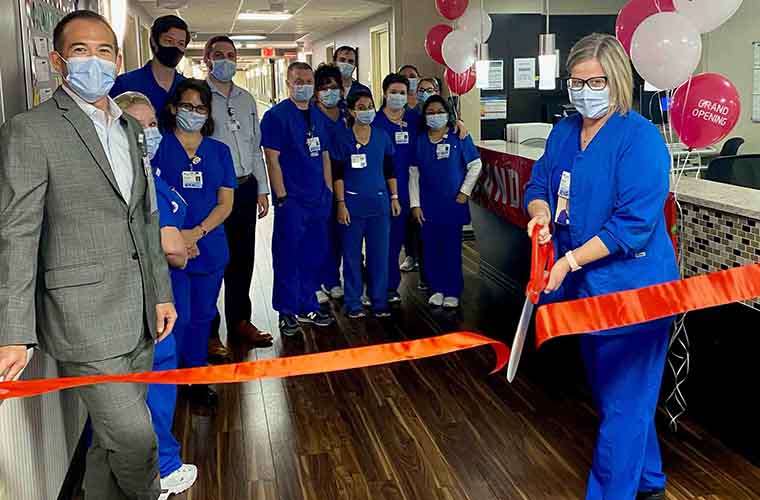 There was a sense of anticipation and excitement as nurse manager Nicky Mason stood poised over the orange ribbon, balloons in the background, with a giant pair of scissors. This ribbon cutting had special meaning for Morton Plant North Bay Hospital.
After nearly a year of preparation, the hospital opened a 21-bed acute care medical unit on Monday, March 29. The fact that it filled on the first day spoke to its need.
"Of the many benefits this change brings to the community, the most significant is our increased ability to meet the current demand, and growing need, for acute medical space,'' hospital President Brandon May said. "It's a beautiful unit.''
Last year, leadership made the difficult decision to split Mitchell Rehabilitation Hospital into an inpatient rehab unit and this acute care inpatient medical unit. Though smaller, Mitchell Rehab will continue to provide the remarkable inpatient rehabilitation services it always has.
"Our commitment to the community has not wavered,'' May said. "Mitchell Rehab is a vital part of our hospital, and it will continue to be for years to come.''
The new First Floor Tele Unit, as it's called, features private rooms, all refurbished, with visual monitoring and telemetry capabilities. In a telemetry unit – tele for short - patients are on heart monitors to detect abnormal heart rhythms. Patients in this unit often come from the emergency room.
Mason's total staff is roughly 40. Some came from the rehab staff, some transferred from other BayCare hospitals, and some were new hires. Many trained on other units throughout the hospital while work was underway on the new unit.
Mason has been with Morton Plant North Bay for eight years and a nurse for 32. She previously was the hospital's daytime Administrator on Duty.
"This is a new challenge, a massive challenge, but I'm learning every day,'' she said. "I'm well-supported and have a great team.''
The transition for her team has been smooth, Mason said. "They've embraced the challenge, and after working on other units, are excited to have their own home. They're doing a fantastic job.''
The new unit not only offers more acute care beds for the community, but in so doing, relieves pressure throughout the hospital. While COVID-19 impacted ERs across the nation, Morton Plant North
Bay has rebounded and continues to see visits increase and, subsequently, admissions from the ER.
"By having these additional 21 telemetry beds, we are able to provide much-needed relief to our ER and overflow areas,'' May said.
For many reasons, there's cause to celebrate.