Bishop Blesses BayCare Medical Respite at Pinellas Hope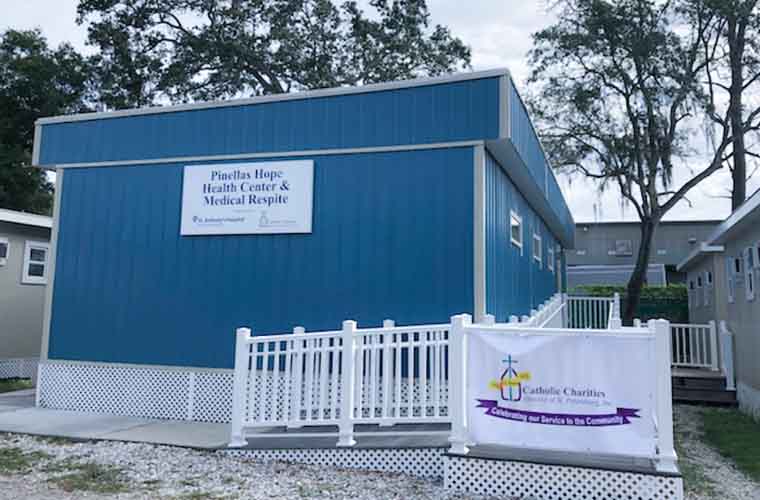 ST. PETERSBURG, Fla., (Oct. 20, 2020) - The BayCare Medical Respite Program located at Pinellas Hope celebrated its new facility with a blessing by the Most Reverend Gregory L. Parkes, Bishop of the Diocese of St. Petersburg, at 10 a.m. Tuesday, Oct. 20. Pinellas Hope is located at 5726 126th Ave N, Clearwater.
St. Anthony's Hospital, which oversees the coordination of the Medical Respite Program, allocated $200,000 from its Community Health Needs Assessment fund to replace and update the facility. The larger unit provides increased medical access to clients of Pinellas Hope, which works with individuals experiencing homelessness.
The Medical Respite Program provides housing, medications and other health care services to support patients' recovery. After being discharged from one of four BayCare hospitals – St. Anthony's, Morton Plant, Mease Countryside and Mease Dunedin – patients can go to the Medical Respite to receive additional care.
"We are proud to be able to provide our quality care to this vulnerable population," said Sr. Mary McNally, OSF, St. Anthony's vice president of mission services. "For more than a decade, we have worked to provide these crucial medical services to those who are experiencing homelessness."
The medical respite program is a collaborative partnership between Pinellas Hope – Catholic Charities of the Diocese of St. Petersburg and BayCare. As part of the larger Pinellas Hope community, the medical respite program provides medical services while working toward increased health education and access to basic medical care for clients of the program. The goal is to help clients heal while decreasing the need for hospitalizations and emergency room visits.
"Catholic Charities is grateful for our continued partnership with BayCare," said Maggie Rogers, executive director, Catholic Charities Diocese of St. Petersburg. "Their support of our most vulnerable clients, especially during these trying times, demonstrates they live their mission to provide high-quality, compassionate care throughout the community."
Each Medical Respite client resides in a cottage, a small one-room housing unit, and receives daily care and support. Some clients simply need a stable place to regain their strength while others need continued medical treatment. Clients who need such services as wound care, IV antibiotics or other medical treatment receive visits from BayCare Home Care Services.
Before a client is discharged from the program, an appointment is established for the client with a primary care provider, which ensures access to medications. Each client moves into some type of housing, including the Pinellas Hope camp if needed. The program assisted more than 1,200 clients last year.
About St. Anthony's Hospital
St. Anthony's Hospital is a 393-bed hospital founded in 1931 as a ministry of the Franciscan Sisters of Allegany. St. Anthony's has a rich history dedicated to improving the health of the community by providing high-quality, innovative and compassionate care. It was one of the first hospitals that joined together to form BayCare Health System. For more information on St. Anthony's, call (727) 953-6993 or go to www.BayCare.org/SAH.
About BayCare
BayCare is a leading not-for-profit health care system that connects individuals and families to a wide range of services at 15 hospitals and hundreds of other convenient locations throughout the Tampa Bay and central Florida regions. Inpatient and outpatient services include acute care, primary care, imaging, laboratory, behavioral health, home care, and wellness. Our mission is to improve the health of all we serve through community-owned, health care services that set the standard for high-quality, compassionate care. For more information visit www.BayCare.org.