Recipe: Ginger Grilled Sweet Potatoes with Black Pepper Honey and Baby Arugula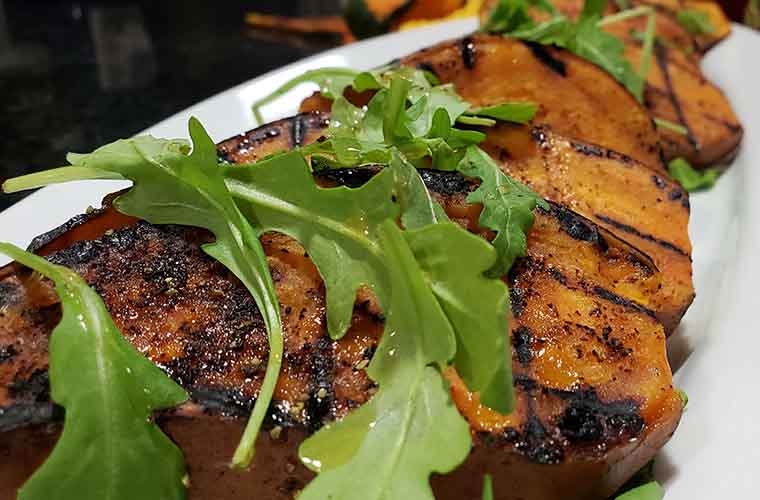 Sweet potato is a healthy and delicious starchy vegetable. JJ Layton, executive chef at BayCare's St. Joseph's Hospital, shares a sweet potato recipe that's low in sodium and full of flavor.

Ingredients
6 each - Medium sweet potatoes
12 sprays - Nonstick pan spray
2 Tablespoon - Salt-free seasoning (your preference)
1 "Thumb" - Ginger, fresh (approximately the size of a cherry)
1 each - Medium onion
1/2 cup

- Water
2 cups - Baby arugula
1/4 cup

- Clover honey
1 teaspoon - Black pepper, fresh ground if possible
Directions
Heat a backyard grill or cast-iron grill pan over medium heat for approximately 10 to 15 minutes, (until 450 degrees)
Wash and split sweet potatoes in half lengthwise.
Spray cut side of potatoes with nonstick pan spray and sprinkle on salt-free seasoning.
Place the potatoes, cut side down on the grill and mark for 1-2 minutes. Then rotate 90 degrees and mark for another 1-2 minutes. You are looking to "cross-hatch" the sweet potatoes. This will help to add a layer of flavor as the sugars in the potato caramelize.
Remove the potatoes from the grill and transfer to a 9 by 13 baking dish.
Slice the ginger into coins (no need to peel) and slice the onion into 1/4-inch slices. These are used to perfume the sweet potatoes and will not be eaten at the end of the dish.
Place the ginger and onion on top of the sweet potatoes and add 1/2 cup water to the dish.
Tightly wrap with tin foil and bake in a 350-degree oven for approximately 45 minutes or until the sweet potatoes can be easily pierced with a fork.
Remove the potatoes from the oven and allow to rest for 10 minutes.
Meanwhile mix the honey with the black pepper.
Top the sweet potatoes with the arugula and drizzle the black pepper honey on top.
Yield: 12 1/2 sweet potato portions.

Per serving
Calories: 134
Carbs: 29.5 gm
Protein: 2.1 gm
Fat: 1.1 gm
Sodium: 64 mg