BayCare to Continue Drive-Thru COVID-19 Testing Sites After a Two-Day Break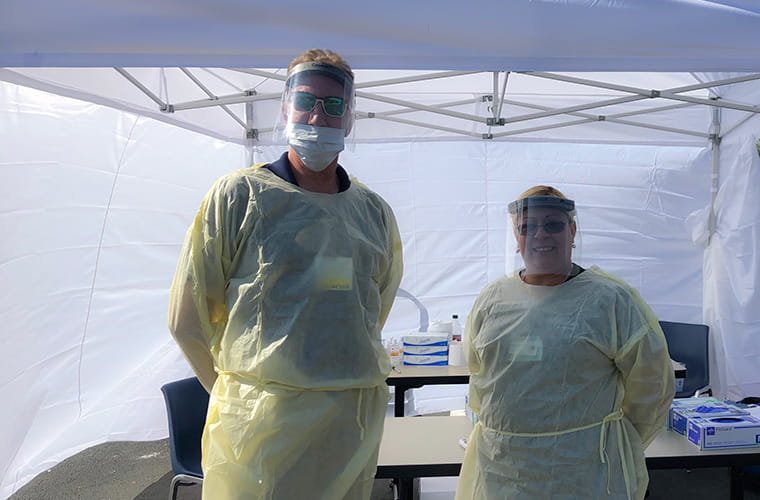 CLEARWATER, Fla. (March 27, 2020) -- BayCare Health System announced Friday that it is continuing its drive-thru COVID-19 testing sites across West Central Florida counties, but it's taking a two-day break in service to align resources, including medical supplies. BayCare will resume testing Monday from 9 a.m. to noon at locations detailed below.
BayCare anticipates providing the service at least five more days, but will make the decision on a day-to-day basis based on supplies and other considerations. Like health care providers nationwide, BayCare is experiencing uncertainty in its supply lines for personal protection equipment as well as testing supplies. It is also seeing a growing need to shift personnel back to provide treatment services in its Urgent Care centers and hospitals.
"There is incredible value in testing the public so we can raise awareness of infected individuals and encourage them to isolate so they don't infect many, many more," said Dr. Nishant Anand, chief medical officer for BayCare. "BayCare also has a responsibility to make sure we are prepared and available to meet the treatment needs of patients, particularly as this pandemic's impact on our region grows."
As of Friday, BayCare has screened more than 8,600 patients in Hillsborough, Pinellas, Pasco and Polk counties. It has tested more than 5,250 individuals, in some cases doubling the number of people in a county who have been tested. Earlier this week, BayCare took part in the test collection site that operated at Raymond James Stadium in Tampa, led by Hillsborough County and the City of Tampa. That site collected about 900 individuals' specimens before closing Friday due to a lack of testing supplies. It is expected to re-open next week with supplies provided by the State of Florida and BayCare will provide support.
Results for patients who've visiting the BayCare drive-thru COVID-19 testing sites have begun to come back from the private laboratories where they were sent, though not nearly as quickly as BayCare had expected. Nationally, labs processing COVID-19 tests are facing longer and longer backlogs. Originally expected to take about five days to be returned, results from private laboratories have increased several days as the volume of testing nationwide has grown. When results are returned, BayCare calls the patient and also reports results to the Florida Department of Health as required by law.
Testing sites open Monday, 9 a.m. to Noon:
BayCare Urgent Care (Carillon)
900 Carillon Parkway, Suite106, St. Petersburg, FL 33716
Gulf High School
5355 School Rd, Port Richey, FL 34652
BayCare Urgent Care (Haines City)
36245 U.S. Highway 27, Haines City, FL 33844
About BayCare Health System
BayCare is a leading not-for-profit health care system that connects individuals and families to a wide range of services at 15 hospitals and hundreds of other convenient locations throughout the Tampa Bay and central Florida regions. Inpatient and outpatient services include acute care, primary care, imaging, laboratory, behavioral health, home care, and wellness. Our mission is to improve the health of all we serve through community-owned, health care services that set the standard for high-quality, compassionate care. For more information, visit www.BayCare.org.