BayCare Nurses Work Front Lines of COVID-19 Test Site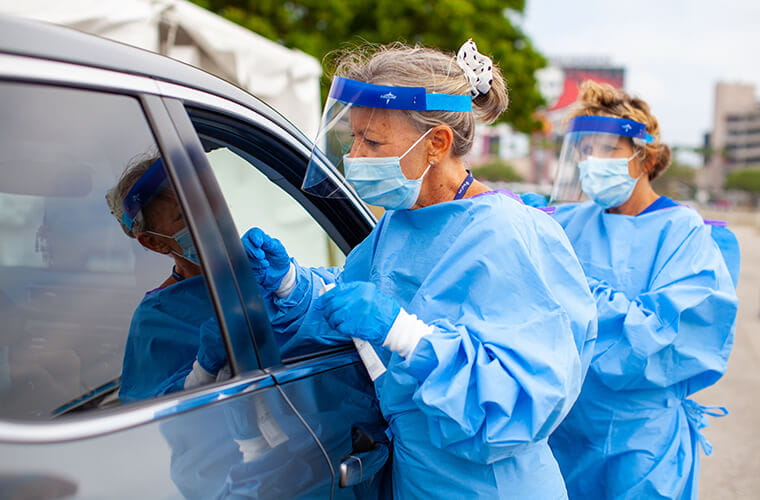 As the hot sun beats down on Raymond James Stadium in Tampa, the stadium sits empty. The surrounding streets are nearly silent, yet cars are winding through the south parking lot. Drivers are patients with symptoms of the novel coronavirus desperately seeking testing to determine if they have COVID-19. They've come here to get the last of tests publicly available today in Hillsborough County.
Patients remain in their cars and move through a series of four stations, greeted at each one by BayCare team members who are all stepping into new roles that didn't even exist just two weeks ago.
"My background is critical care," said Julia James, RN, who serves as a charge nurse for BayCare's Carillon Outpatient Surgery Center. "I've been through all of the SARS and H1N1 and all of the flus where people have been isolated for weeks on a ventilator. For me this was the next thing to do."
Meanwhile, her regular work is on-hold because the facility is closed through April 30 as part of BayCare's effort to adapt operations to respond to the novel coronavirus.
"We have to be calm even though we have a lot of fear and a lot of anxiety about what life is bringing right now," James said. "Even though we don't know what the outcome is going to be, we're doing our part. It's a really good feeling to know we're serving people."
Jamie Yager, RN, works for BayCare's Community Health team and volunteered to work the last three days at the county testing site. On a typical day, you can find her working at community and corporate events screening for cholesterol, blood sugar, blood pressure and BMI or teaching classes about weight management and diabetes. She never imagined an event like this one.
"It's extremely hot, we're all dripping wet (with sweat under masks, face shields, gloves and gowns), Yager said of working the drive-thru test line. "We try to get the patients to relax and be comfortable. We've had some in tears; they're just afraid of the unknown. Some are very matter of fact about it. Most everyone is very grateful. They appreciate the work we're doing, so it's been a very heartwarming, uplifting experience for me."
The COVID-19 test collection site at Raymond James Stadium is a cooperative effort lead by Hillsborough County and City of Tampa governments and supported by BayCare, Tampa General Hospital, AdventHealth and HCA-West Florida Division. Test supplies have been provided by the Florida Division of Emergency Management.