Tom Garthwaite Named President of St. Joseph's Hospital-North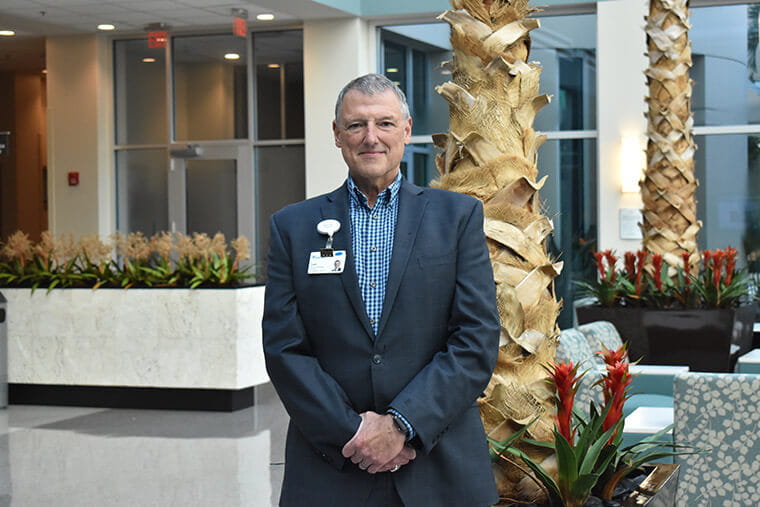 Tom Garthwaite is the new president of St. Joseph's Hospital-North in Lutz. Garthwaite began his new role March 23, succeeding Paula McGuiness who retired in April after more than 35 years of service to St. Joseph's Hospitals.
Prior to his new position, Garthwaite served St. Joseph's Hospital in Tampa since December 2014 as operations director.
Garthwaite was appointed by Kimberly Guy, BayCare senior vice president and market leader for Hillsborough and east Pasco counties.
"Tom has helped ensure smooth and efficient operations of St. Joseph's Hospital," Guy said. "I am confident that his proven leadership skills will be a great asset to our team at St. Joseph's Hospital-North as it starts its second decade of service to our community," Guy said.
St. Joseph's Hospital-North turned 10 years old on February 15, 2020 and recently completed a $75 million expansion that doubled the hospital's bed capacity from 108 to 216 and increased other services.
During his tenure at St. Joseph's Hospital in Tampa, Garthwaite was instrumental in:
The hospital's response to Hurricane Irma in 2017

The acquisition of the TrueBeam™ and Novalis® radiotherapy programs for the Cancer Institute

The opening of the Seasons Hospice & Palliative Care inpatient center

Defining processes to reduce patient length of stay

Implementing the Comprehensive Care for Joint Replacement (CJR) model for total joint replacement, in accordance with the Centers for Medicare and Medicaid Services (CMS).
Prior to St. Joseph's Hospital, Garthwaite was at Halifax Health System, Daytona, Florida, as administrator for oncology, pharmacy, research and transplant/dialysis.
A native of Florida, Garthwaite earned a Bachelor of Science in Radiologic Technology from the University of Central Florida and a Master's of Science in Health Service Management from the Florida Institute of Technology. He began his medical career in diagnostic radiology.
Garthwaite became the new president of St. Joseph's Hospital-North during the nation's greatest health crisis in more than 100 years. He started the position at the Lutz hospital during the onset of the COVID-19 pandemic.

He cited the St. Joseph Hospital-North staff and medical team for its work in combating COVID as he transitioned into his position as president.
"What made it easier for me is the team here," he said. "The leadership and the medical staff do a fantastic job. All of that was in place when I came here. It was easier to step in with an experienced team who were prepared, although we didn't know exactly what we were preparing for. They were ready and set to go."
"His stewardship during this time will have a lasting positive impact as we move ahead," Guy said. "St. Joseph's Hospital-North has not only endured during the pandemic but was able to thrive. Tom and his team have risen to the occasion."
Despite becoming a hospital president in a tumultuous time for health care, Garthwaite is optimistic about the future.
"I'm grateful to BayCare for the opportunities I have been given and look forward to leading the St. Joseph's Hospital-North team as we continue to grow," he said.