BayCare Face Mask Project Plays Role in Marriage Proposal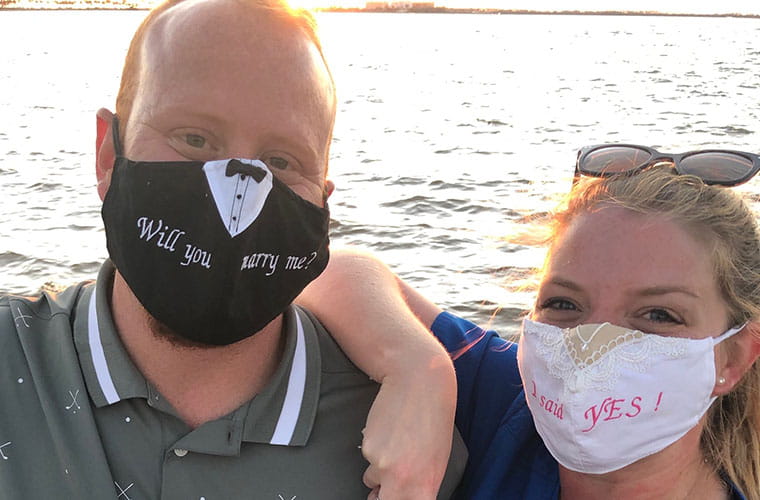 When Rhett Franklin started working on the personal protection equipment project at BayCare's system office, little did he know what an important role it would play in his personal life as well as his professional life.
A case management assistant, Franklin works on special projects for BayCare, and when COVID-19 struck there were shortages of personal protection equipment for health care workers nationwide. A group of creative team members, led by Sue Milliken, director of nursing systems and resources, took the matter into their own hands.
The group includes those who sew and others, such as Franklin, who could help with tasks such as wiring or packing. They set up shop at BayCare's system office in March and worked day in and day out to produce thousands of surgical-grade masks for BayCare's front lines. The team became close.
During that time, Franklin had something else on his mind: He wanted to propose to his sweetheart, Lauren Gray. They met in December 2017 when he worked in registration at Mease Countryside, where she is an ER nurse.
When Franklin became serious, his first thought was to propose during a vacation planned with her family to Nottingham, England. Gray's grandfather had been stationed there while in the air force, and that's where he met her grandmother. Gray was close to her grandparents, and this would have special meaning for her. Franklin bought the engagement ring, and they were booked to go in March.
COVID-19 nixed those plans.
Undeterred, Franklin had a Plan B. He had been working on his Master's in Health Care Administration online through Grand Canyon University, and the couple had planned a trip to Arizona for a graduation celebration the first weekend in May. They were going to go hiking in Sedona, and he planned to propose on the scenic Devil's Bridge Trail.
COVID foiled that plan, too.
Conjuring up a Plan C took a group effort. Franklin had told a few of his co-workers on the personal protection equipment project about his plans that had been squandered. A new idea began to emerge, and naturally, it involved a face mask during the proposal.
It just so happened that Linda Gentile, a physical therapist assistant at St. Joseph's who also was working on the project, not only sews but has an embroidery machine. She made two masks for the occasion. One, designed like a black tuxedo, said "Will you marry me?" The other, designed like a white wedding dress, said, "I said Yes.''
"I did get somewhat discouraged by the proposals that didn't work out,'' Franklin said, "but I knew eventually something good was going to come out of this. Once I saw the masks, I got real excited.''
He decided to return to the scene of his first date with Gray at the Dunedin Causeway. He lured her there for sunset.
It all came together, finally, on Friday, May 1. Wearing his special mask, he got down on one knee and proposed. She said yes.
"Plan A would have been cool, but the way it all worked out with the coronavirus, I got to meet Sue, I got to meet Linda,'' Franklin said. "They were a big aspect of the idea.''
Gray had no inkling so many potential proposals had been thwarted but thought Plan C turned out to be the best of all.
"It was super sweet how he pulled it all together,'' she said. "The face masks were hysterical.''