St. Joseph's Hospital-North Increases Robotic Surgery Services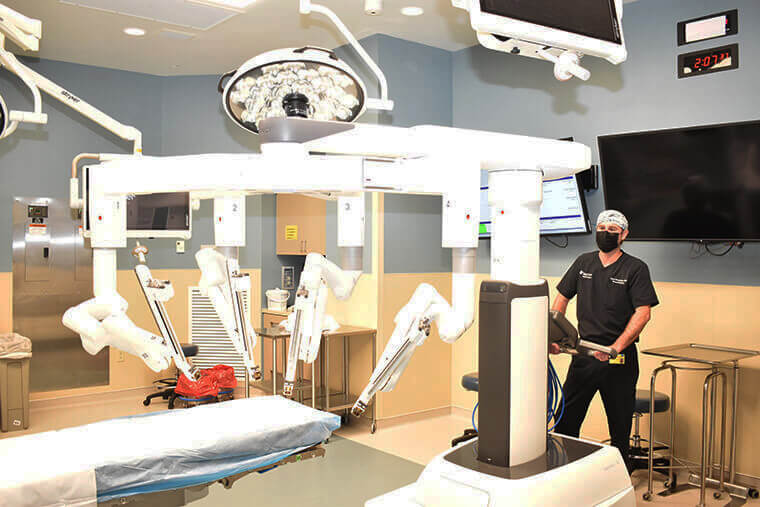 Dr. Brett Armstrong operates the da Vinci Xi surgical robot.
LUTZ, Fla. (July 28, 2020) – St. Joseph's Hospital-North in Lutz has expanded its surgical services with the addition of a second da Vinci® surgical robot.
The da Vinci surgical robot provides superior dexterity, enhanced vision and improved surgical access compared to conventional minimally invasive surgery or traditional open surgery. The robot navigates a precise approach to areas that traditional surgical instruments are unable to reach.
"The robot is an extension of the surgeon using it," according to Dr. Brett Armstrong, a BayCare Medical Group general surgeon affiliated with St. Joseph's Hospital-North. "The robot works with the expressed command from the operating surgeon. Advanced technologies that are offered through robotic surgery help us visualize things we might not otherwise be able to see."
St. Joseph's Hospital-North's newest addition is called the da Vinci Xi robot, which includes visual enhancement of infrared imaging with an expanded range of motion.
The surgeon operates the da Vinci from a console that has four interactive arms and a high-resolution screen that projects 3-D images of the surgical site. The surgeon manually operates the instruments utilizing their hands and fingers. When the surgeon moves, the instruments respond precisely to those movements in real time. The instruments work identically to the movement of a human arm, human elbow and a human wrist, however with an enhanced range of motion.
Other benefits of the da Vinci robots used by St. Joseph's Hospital-North surgeons include:
Precise surgical incisions, allowing unhealthy tissue to be removed without affecting surrounding healthy tissue

Smaller incisions that prevents less trauma and pain to a patient's body

Smaller incisions that alleviates blood loss and lowers infection risk

Robotic surgeries may result in a shorter length of stay in the hospital

Recovery from robotic surgery may be quicker due to smaller incisions

Smaller scars result from robotic surgeries
"For me, the biggest advantage to robotic surgery is less post-operative pain and faster recovery for the patient," Dr. Armstrong said. "There is significantly less pain after robotic surgery."
"The da Vinci Xi robot is state of the art technology," said Kathy Myers, director of surgical and procedural services at St. Joseph's Hospital-North. "We want to provide this service to our patients, physicians and the community. Robotic surgery makes it easier for our physicians to perform procedures."
BayCare and its hospitals are considered among the region's leaders for all types of minimally invasive surgery including robotic surgery. In addition to St. Joseph's Hospital-North, ten other BayCare hospitals offer robotic surgery.
"The addition of the second robot keeps St. Joseph's Hospital-North ahead of the curve with this innovative technology," Myers said.
"St. Joseph's Hospital-North is striving to become the robotics leader in Tampa Bay," Dr. Armstrong said.
Dr. Armstrong also noted that St. Joseph's Hospital-North's proficiency with robotic surgery helps with attracting the best physicians and staff.
"Our robotic surgery is definitely a recruiting tool," he said.
Robotic surgeries are performed in colorectal, gynecologic oncology, gynecology, pediatric urology and general surgery. Thirteen surgeons currently perform robotic surgeries at St. Joseph's Hospital-North.
St. Joseph's Hospital-North performed 263 robotic surgeries in 2019.
Visit StJosephsNorthRobotics.org for more information about the robotic surgery program at St. Joseph's Hospital-North.
For more on robotic surgery at BayCare hospitals, visit https://baycare.org/services/surgery/robotic-surgery.