Service Updates for BayCare COVID-19 Drive-thru Testing Sites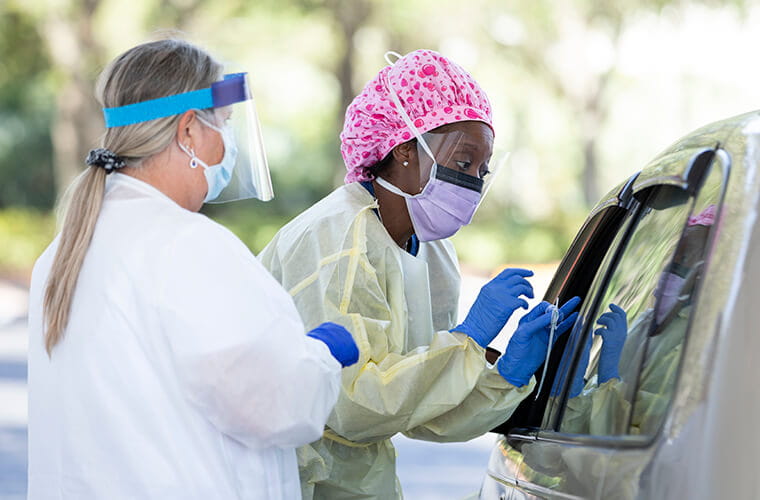 Pinellas and Pasco locations shifting to meet community need
CLEARWATER, Fla. (July 30, 2020) – BayCare Health System announced service changes Thursday to drive-thru test collection sites to align resources with community need and further collaborate with government partners.
Friday, July 31, will be the final day that BayCare offers drive-thru test collection service at two locations: Gulf High School in Port Richey and Tropicana Field in St. Petersburg.
Starting Monday, Aug. 3, BayCare and the Florida Department of Health (FDOH) in Pasco County will open a new testing site at Gulfview Square Mall, 9409 U.S. Highway 19, Port Richey. Hours of service will be Monday through Friday, 8 to 11 a.m.
Soon, BayCare and Pinellas County government anticipate announcing a new drive-thru testing location with closer access for central and north Pinellas residents. Location and service details will be shared as soon as they are confirmed.
"The beauty of the drive-thru testing model is that it can be nimble and it can respond when conditions shift," said Jim Cote, senior vice president for
BayCare Ambulatory Services. "With other COVID testing options now available in St. Petersburg, we are moving to make sure others in our community have access as well."
Since late June, BayCare has worked with Pinellas County, the City of St. Petersburg and FDOH in Pinellas County to operate the Tropicana Field site to provide testing. Once the State of Florida opened a large-capacity drive-thru site at nearby Mahaffey Theater on July 8, neither location has consistently experienced full capacity, prompting BayCare and Pinellas County to consider relocating the Tropicana Field service.
BayCare was among the first in West Central Florida to provide public access to COVID-19 testing. Since mid-March, BayCare has been operating and supporting drive-thru test collection sites in Hillsborough, Pinellas, Polk and Pasco counties.
BayCare's sites serve patients with a doctor's referral or those who are symptomatic in order to make sure limited testing supplies are also available for patients who need care in BayCare's hospitals. Individuals who show up at a drive-thru site without a doctor's referral are screened based on guidelines set by the Centers for Disease Control and Prevention (CDC). Those who meet criteria have a specimen collected for testing. To view BayCare's Coronavirus/COVID-19 Resources, including testing site locations, visit www.BayCare.org/coronavirus.
About BayCare Health System
BayCare is a leading not-for-profit health care system that connects individuals and families to a wide range of services at 15 hospitals and hundreds of other convenient locations throughout the Tampa Bay and central Florida regions. Inpatient and outpatient services include acute care, primary care, imaging, laboratory, behavioral health, home care, and wellness. Our mission is to improve the health of all we serve through community-owned, health care services that set the standard for high-quality, compassionate care. For more information, visit www.BayCare.org.