COVID-19 Vaccine: What You Need to Know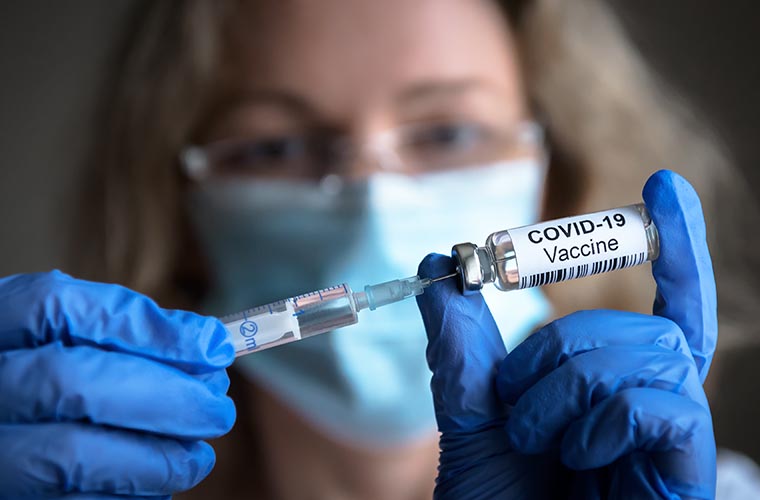 As COVID-19 continues to spread, newly developed vaccines show promise as new tools in the fight against the pandemic.
With vaccines beginning to receive approval for emergency use by U.S. Food and Drug Administration (FDA), vaccinations among front-line health care workers are already taking place across the country, and, sometime in 2021, they'll be available to the general public, though the timing is uncertain.
While information on COVID vaccines continues to develop, BayCare provides some answers about common vaccination questions and what you can expect.
Benefits of the COVID-19 vaccine
Vaccines have long been a tool to help mitigate the spread of infectious diseases. Vaccines help the body produce antibodies that can fight off a specific disease and has two benefits: It helps prevent people from getting infected and, therefore, it can also help reduce the spread of the disease. Health care experts hope the COVID-19 vaccine will help people from getting seriously ill even if they get infected with COVID-19. However, they recommend that people who get the vaccine should continue to take safety precautions.
Types of COVID-19 vaccines

Several biomedical companies are working on vaccines. There are a few completed vaccines and others still in different phases of clinical trials.
The vaccine developed by Pfizer Inc. and BioNTech SE has been approved for emergency use authorization by the FDA, and is currently being distributed across the U.S. This vaccine, which shows to be more than 95 precent effective, may help prevent people age 16 and older from getting infected. Patients receive two doses of this vaccine 21 days apart.
Another vaccine developed by Moderna Inc. has received emergency use authorization by the FDA. This vaccine is about 95 percent effective. This vaccine can reduce infections among asymptomatic individuals and could potentially help prevent the spread of the virus from person to person. The Moderna vaccine is given to patients in two different doses 28 days apart.
Is the vaccine safe?
While scientists around the world have raced against time to develop a COVID-19 vaccine, the FDA's rigorous review classifies them as safe and effective. The vaccines have shown promising results and no major side effects. To help track any issues, the Centers for Disease Control and Prevention (CDC) has developed several tracking tools for people to share any side effects after getting the COVID-19 vaccine.
Who will get the vaccine first?
The vaccines are being distributed based on guidelines set forth by the CDC. Due to limited supply, the CDC is first making the vaccine available to front-line health care workers and long-term care facility residents. The CDC will expand the vaccination recommendations to other groups when vaccine availabilities change.
How many doses do you need?
So far, COVID-19 vaccines are given out in two doses, three to four weeks apart. People must receive two doses to ensure they're protected from getting infected with COVID-19.
Who should not get the vaccine?
There is currently limited data available on the safety of COVID-19 vaccines for people who are pregnant, breastfeeding, or those under 16 years old. People over 16 years old can receive the COVID vaccine. Individuals with a history of severe allergic reactions to vaccines should check with their physician before getting the vaccine.
What are the side effects?
After the COVID-19 vaccination, some people have reported side effects that went away after a few days. This is a normal sign that your body is building protection. The side effects from COVID-19 vaccination may include redness or swelling where the shot was given, fever, fatigue, headache, muscle pain, chills and joint pain.
Can you get COVID-19 from the vaccine?
COVID-19 vaccines will not give people COVID-19. The vaccine protects the human body from getting infected. It typically takes a few weeks for the body to build immunity after vaccination.
Does the vaccine have a cost?
According to the CDC, COVID-19 vaccines will be given to every American at no cost. However, providers who administer the vaccine will be able to charge an administration fee for giving the shot to someone. Vaccine providers can get this fee reimbursed by the patient's insurance or, for uninsured patients, by the Health Resources and Services Administration's Provider Relief Fund.
Should I stop my safety precautions?
While vaccinations have started, people need to continue to practice safety measures. As fatigued as everyone may be, it's important to continue to be vigilant to help slow the spread of the virus. First and foremost, wear a mask when social distancing is hard to maintain. Practice social distancing by staying at least six feet from those outside your household. Frequently wash your hands and try not to touch your nose and mouth. The more frequently you wash your hands, the less likely the virus or other contagions will be able to infect you or others.
For more information on the COVID-19 vaccine developments, visit CDC.gov.